The term business casual pants sound contradictory because how can pants be both? People to whom fashion comes naturally might be good at dressing up in business casual but it is not a breeze. The confusion often leads to people dressing completely out of sorts and getting called in by the boss. There is no one definition of business casual to be followed. Every industry and business seems to have different meanings for the term. It is easy to see how people can get flummoxed.
We thought that we might break it down for you folks and make your life easier. Business casual does not refer to business which means you cannot dress in a suit. But it does not mean only casual, so no shorts or sundresses. There is a certain balance that you need to find and live in that gray area. The first thing that you need to comprehend is that business casual means you can dress a bit comfortably. It translates to the dress code being not so strict. This is good news because it gives you a lot of options.
But what about pants that fall under this category? We would encourage you to surf the internet to find out the meaning of business casual dress code. It will give you the basic idea of the concept. Business casual certainly means that you are good to go if your taste in clothes is professional enough but what does it exactly entail? Believe it or not, pants is the clothing item that people get most confused about. If you are wearing a dress shirt and jeans, is it business casual enough? There are so many questions like that that go unanswered but we are here to help.
Business Casual Pants; Are Jeans Business Casual?
If you go for dress pants then you would be leaning in too much into the "business" aspect. It might make you seem a bit uptight. If you browse the internet, you would find different opinions on jeans falling under the category or not. Indeed, jeans are generally seen as more casual but you just need to pick the right ones. When you pick a pair of jeans, we recommend that you stand in front of a mirror and imagine your boss's reaction to them. Do you think that your boss will think they are appropriate? Better yet, if your company has a dress code policy, dive into that. If you are still unsure, you can take the matter up with the HR department.
Business Casual Jeans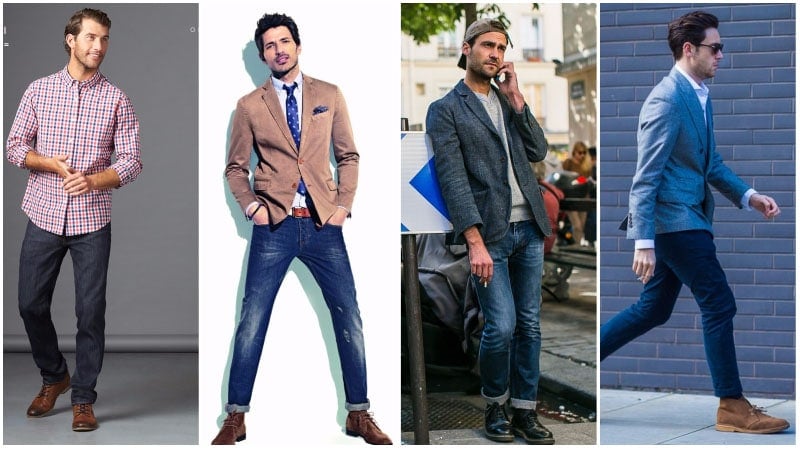 The key is to pick the right kind of jeans. The first rule is that the jeans should fit you perfectly. The key is to not look sloppy. You cannot wear a relaxed, low waist, loose, boot-cut, or flare jeans. When we say the right fit, it means that they should hug your body but not be revealing. It is best to go for straight jeans. They are the kind that will never put you at fault. Skinny jeans might be acceptable in some industries but not all. You must never try to wear super skinny jeans to the office. They do not come under business casual as they are inappropriate for the workplace. The jeans need to fit your waist right. The cuffs should not go below your ankle too much. As for the color of the jeans, we always recommend going dark. The deepest shade of blue looks great for jeans and says business casual.
Business Casual Pants; Business Casual Khakis
We approve khaki pants for the business casual dress code. If you are a little careful, you can never go wrong with them. Khaki pants are basically pants in a light shade of brown plus a tinge of yellow added in. Most of the industries allow them under business casual attire. The best thing about them is that they look great with dress shirts and polo shirts. As with jeans, you need to make sure that they are the right fit. We emphasize on the fit because it can make you look sloppy or stylish. Make sure to accessorize your khaki pants with a leather belt. To complete the look, go for belts in the shades of brown. The best outfit would be a well-fitted dress shirt tucked in seemly khaki pants.
Business Casual Pants; Business Casual Shorts
Shorts in this category are in a dicey area because they lean more towards casual. It is true that many professional industries strictly prohibit men from wearing shorts to the workplace. They are often considered ill-suited for an office. Summer is the time when men itch to wear shorts and understandably so. Check your HR laws and if it says no shorts then there no room to wriggle. But if you find nothing then you are good to go.
If your office is having a casual day then this might be your chance. One tip here is to look at your itinerary and if it has any meetings with clients or your boss then be safe and stick to pants only. Do not risk being seen as unprofessional. Shorts should be worn on easy days when you just need to breeze through your usual office work. Only wear shorts that are tailored right and look like short pants. Leave the idea of wearing ones that have frayed bottoms or cargo pockets. You want to seem professional so choose ones that in shades of brown, blue or black. They should make you look sharp and should end just above your knees. Complete the look by opting for a collared shirt and nobody can criticize you.
When it comes to pants for business casual attire, you should check your company dress code policy. If it is not too strict then you might have some room to experiment. But always remember that it is imperative to look professional as that is the entire point. Anything you wear below the waist should peg you as a person who works in an office.