Short sides long top hairstyles are trending among the masses. These hairstyles suit most people and are very flexible. You can switch things around to try different looks without any hassle.
Moreover, these hairstyles are easy to maintain and are appropriate for workplace environment. The best part of haircuts like these is that you can style the top of your hair in different ways such as highlights or other hair colors.
We have a wide collection of many haircuts. Choose the one that works best for you.
1.      Straighter Look with Short Sides Long Top Hairstyles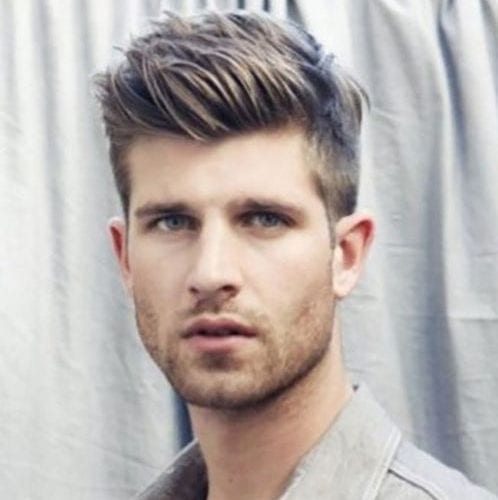 A look that requires you to have around medium length hair on top and shorter sides. To achieve this look, you must have straight hair.
You can either use hair gel or a hair straightener to get straighter hair. To replicate this look, a little bit of hair wax or gel could be used to build volume up front.
2.      Curly Fauxhawk for the Life of the Party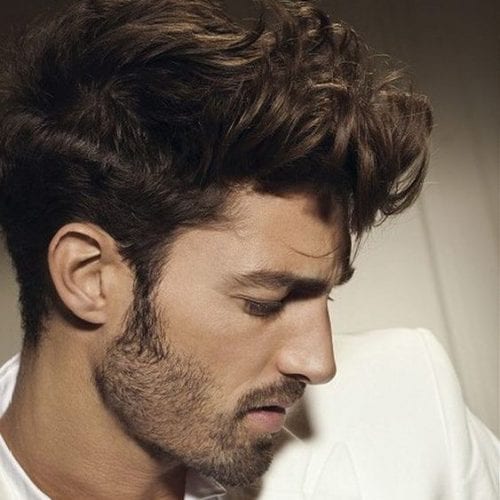 This is a stylish haircut that is extremely versatile. It works perfectly for men who are looking for a hairstyle that strikes a balance between their work and social life.
It has the elegance that is expected in a workplace and the carefree vibe that you need for your daily look.
Medium curly hair length is enough to style the fauxhawk. Shorter sides will complement the fauxhawk on top.
3.      The Bowl Cut with a Modern Touch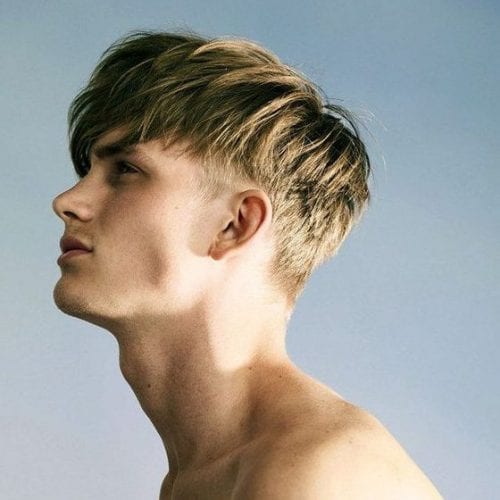 Bowl cuts may sound old school, but the modern renditions of this hairstyle are getting very popular. A variation of this hairstyle is sported by Cillian Murphy in the show Peaky Blinders in which he plays the notorious Tommy Shelby.
You can play around with this hairstyle by getting a tapered undercut. Moreover, a buzzed undercut could be opted for as well.
4.      Slicked Back Short Sides Long Top Hairstyles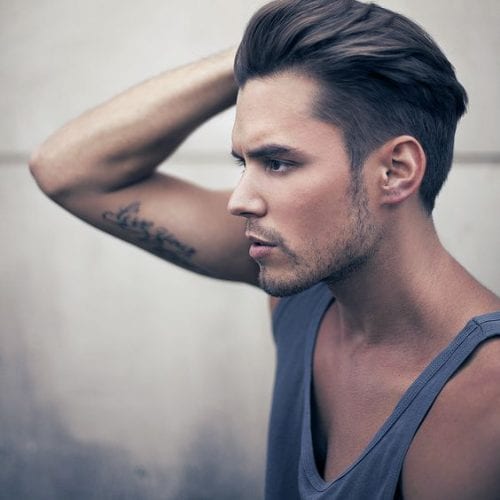 The famous slicked back hairstyle makes its presence in every hairstyle collection. This hairstyle is versatile and this is why a lot of men like this timeless haircut.
You should consider seeing a professional hairdresser to get the right proportion of hair on the top and sides. Moreover, you can either go for a flat top or go for a voluminous look by styling them in that way.
The options are numerous with this haircut.
5.      Pompadours with Side Parts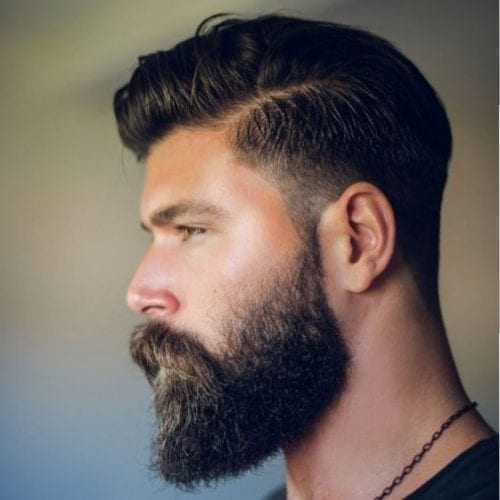 The pompadour is well-known for being a classic and timeless hairstyle. However, it does not hurt to mix things with older ideas for a modern fusion.
This hairstyle is a fusion of the present and the past. It builds upon the principles of a classic pompadour and has the side parts that are famous nowadays.
In this pompadour hairstyle, you are only required to slick back your hair to one side. Lastly, a fade on the sides helps to bring more attention to the pompadour on top.
6.      Bangs with Short Sides Long Top Hairstyles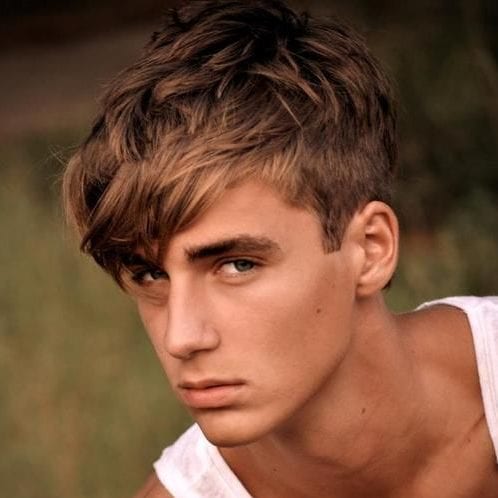 Bangs never seem to go out of fashion. This is what makes them a great styling option. You can wear this hairstyle and never feel out of sync with the latest fashion.
A little length of your hair in front of your forehead can help you to get a proportionate look. You can either go for layers, a tapered angle, or leave them straight when getting a haircut.
7.      The Casual Side Sweep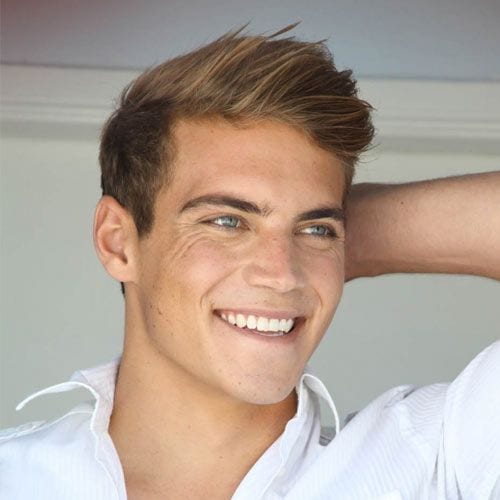 Nothing works better than a casual side swept hairstyle in a professional setting. Moreover, this stylish haircut is also a great choice for your daily needs.
It is a clean haircut that is famous for looking simple yet charming. The shorter sides will help to give more texture to the side sweep.
Furthermore, the side sweep can easily be achieved with the help of a fine comb and some hair wax or gel.
8.      The Disconnected Undercut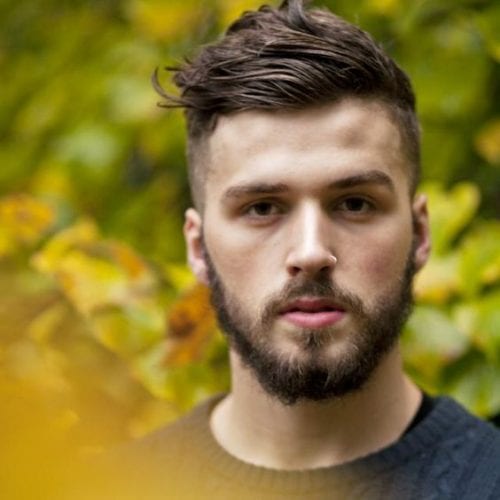 This variation of the undercut hairstyle is the most famous among men. It gets a lot of attention for its stylish and alluring look.
The shaved down or faded sides with long hair on top give it the disconnected look. A subtle fade looks best with a disconnected undercut.
Sweep the top of your head to a side or slick them back for a more complete look.
9.      Pompadours with Tapered Sides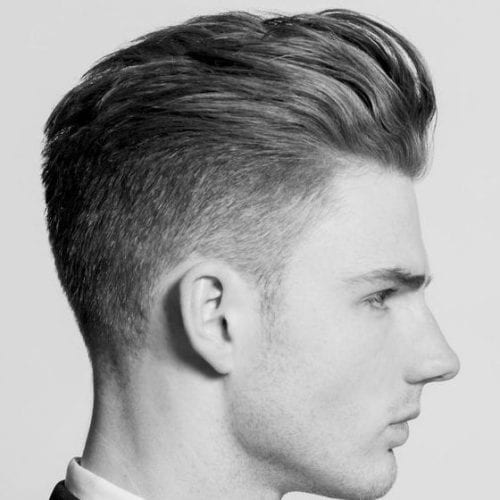 The pompadour does not necessarily need to have lots of height. You can go for a low profile pomp with only minimal height.
The tapered sides will complement the volume on top. The stark contrast between the two regions of your head gives a sharper look.
Use a high quality hair wax for the longest possible hold.