Slick back hair are not an uncommon sight. A style that was coined in the olden days is still very popular among the masses. A clean, sophisticated look that reeks of elegance.
During the times when undercuts and other military hairstyles were the norm, the slicked back hairstyle stood out as a prominent option that offered control and charm.
Today, we are bringing out some of the most exciting variations of the slicked back look. This article is a mix of retro and modern slicked back hairstyles.
From modern undercuts with the slicked back look to vintage hairstyles, you are bound to find a hairstyle that you love.
1. A Retro Look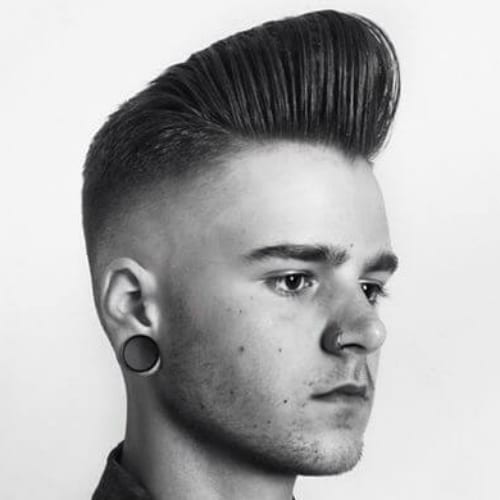 The first hairstyle that we have for you might seem as a bold option. However, if you want to distinguish yourself in a room packed with lots of people, then this is the look to go for.
This is a retro fade with a slicked back Mohawk crest. As you can see, this is a high maintenance hairstyle that requires high quality hair wax and frequent trips to the barber to look sharp.
2.      Slick Back Hair like Hipsters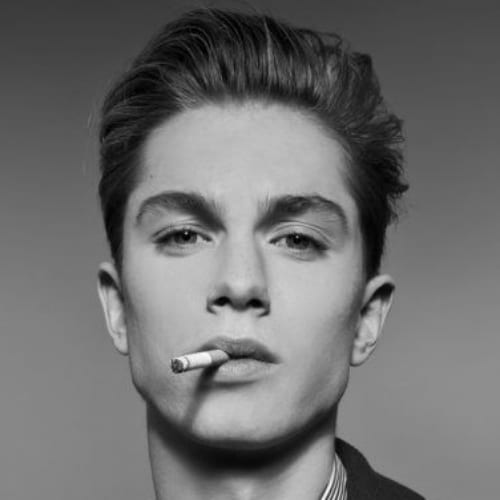 You do not always need to blend in with the crowd. This hipster slicked back look is a prime example of a youth-oriented hairstyle.
It is simple, yet unique in its own way. The swept up hair on the top helps to show your features in better light.
Moreover, this haircut allows you to play with your hair on front. You can style them according to your will to adopt many other similar hairstyles.
3.      Styled Front Bangs Slicked Back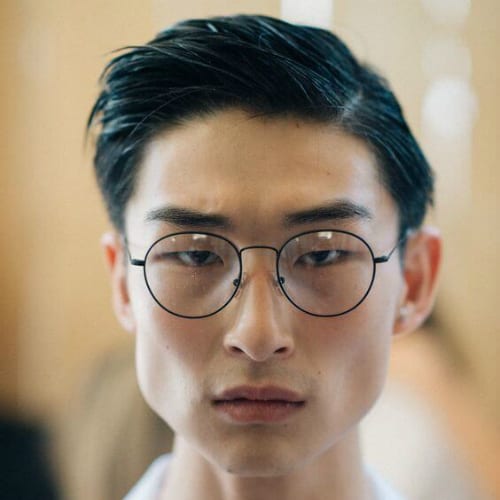 This is another hairstyle that we absolutely love. A perfect haircut for anyone who wants to for shorter hair length.
The longer hair on top will be swept to one side and slicked back for a clean look. Styling a side part with this fringe hairstyle is a good option.
4.      Slick Back Hair That Look Smooth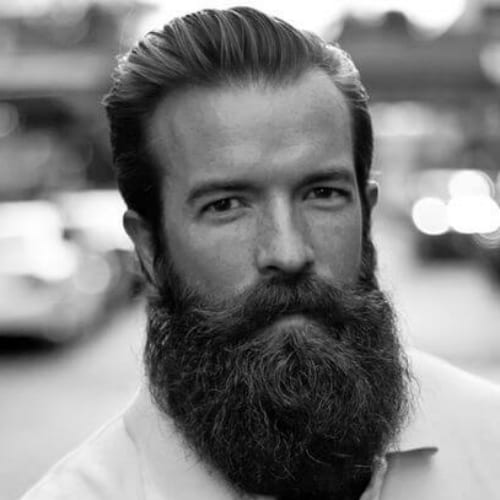 A classical look that has been adopted by thousands of men and rightly so. This neat slicked back hairstyle is a sophisticated option that fares well in a workplace.
Moreover, this hairstyle does not require a lot of maintenance. Get a fine comb and slick back your hair with some water or hair product for a fine look.
Furthermore, pair this look with a beard for a stunning makeover.
5.      Get Wet and Wild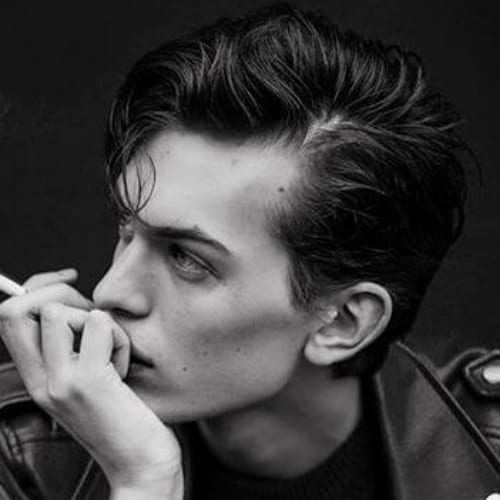 Inspired by the greaser's era, this hairstyle is an instant favorite among most men. It strikes the balance between a formal and fun hairstyle.
The wet look will complement your messy hair. This hairstyle is very similar to the look sported by the iconic late superstar, James Dean.
You need to do the bare minimum to maintain and style this hairstyle.
6.      Wavy Slick Back Hair with Tapered Sides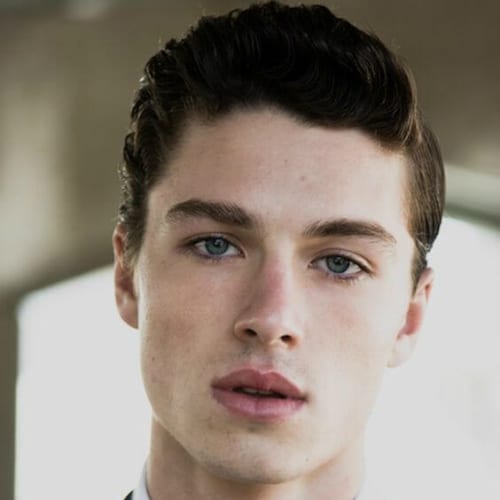 Wavy hairstyles are unique in their own way. This slick back hairstyle is a classy option that looks dapper when styled properly.
Wavy hair can be a little hard to slick back. A high quality hair product will work wonders in this case.
Taper the sides of your head to have shorter sides and longer hair on top. This difference in hair lengths helps to give an elegant disconnected makeover.
7.      Something Different From the Usual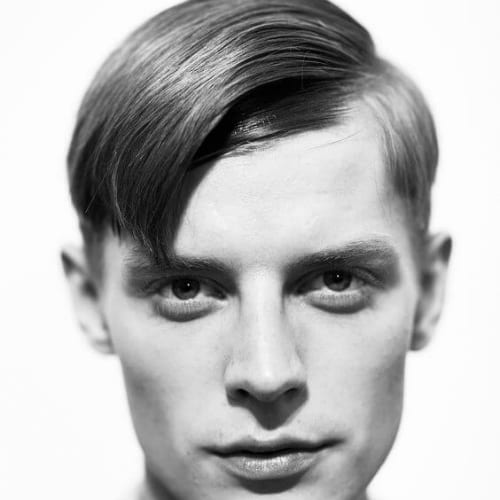 If you have a rounded face, then this is the perfect hairstyle for you. Instead of slicking back your hair in a straight line, you can rather have a curved slicked back.
This look is different from other slicked back options. The curved slick back creates an illusion that your face is less rounded.
8.      The Short Slick Back Hair Option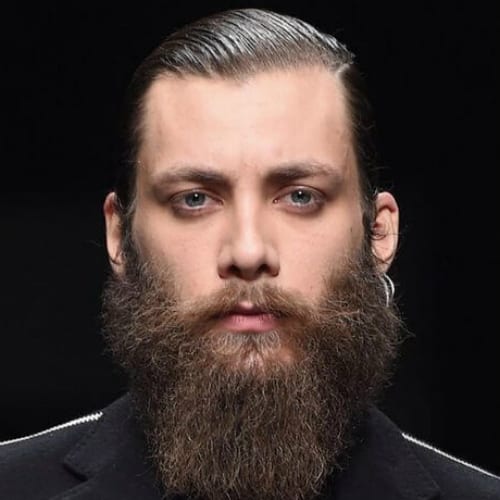 Hairstyles involving short hair are easy to maintain and style. Moreover, they are the most common hairstyles and look great on most men.
This hairstyle is no exception to what is mentioned above. A low profile slick back looks amazing and neat.
9.      A Variation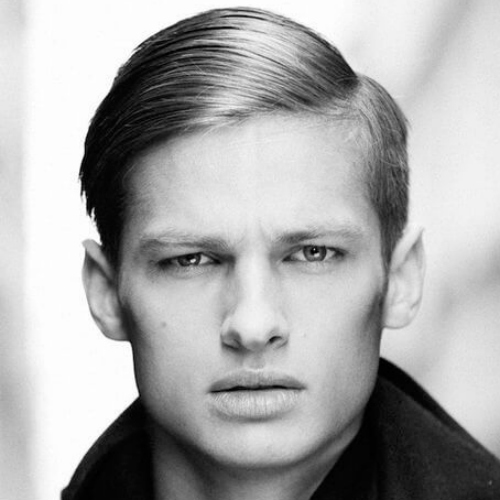 If you like to keep it simple and sophisticated, go for this slicked back look. The hairstyle is easy to maintain and is not flashy at all.
It reeks of class and is easy to wear on the daily. The sophisticated look makes it an easy choice for a more formal look in the workplace as well.
10.       The Sharp Bandhold Look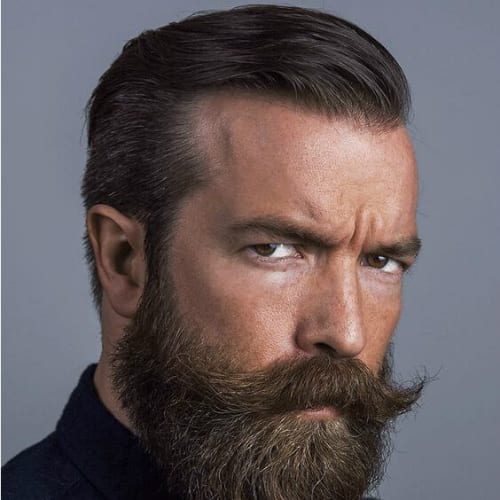 A makeover that speaks volume about a person without uttering a single word. A stellar hairstyle and beard makes it an instant favorite among men.
This hairstyle is trending and you can see many men sporting this. We advise you to go for shorter sides and a longer top for better texture.