Classic pompadour hairstyles are back and trending. A style introduced by the greasers in the 1950's became widely popular around the world for its appeal and look.
Pompadours are back on the screens with retro and vintage renditions on TV shows. Furthermore, celebrities are rocking this hairstyle as well, because of its iconic look.
A pompadour is considered a timeless hairstyle now. A hairstyle that was once rocked by your grandfather or father is still relevant.
Classic pompadours or modern pompadours, they all look great. If your hair has volume, you should definitely go for a pompadour.
They look clean and sharp if styled well. Moreover, if you are feeling confident, you can rock a flashy pompadour as well.
You need to have medium or long hair length to style a pompadour. A barber can help you to set your hair. You will require hair product to style a pompadour.
It is a popular hairstyle. There are numerous variations of classic pompadour hairstyles that you can opt for. Here are some that we picked for you:
1. The Classic Pompadour Hairstyle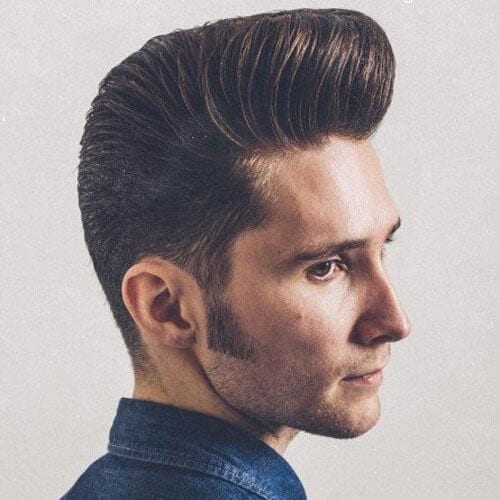 This is the retro pompadour which was famous back in the olden days. If you are looking for the classic style, this is what you should go for. Moreover, all the other pompadour styles are variations of the classic pompadour hairstyles.
The vintage look had longer sideburns. You can either go with the sideburn to rock it old school or get rid of them.
2. Curly Hair Can Be Styled Into a Pompadour Too!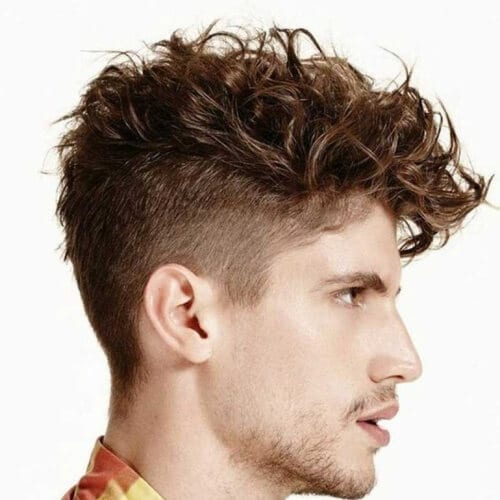 Most men with curly locks do not go for a pompadour. Pompadours traditionally look better with straighter hair. However, the messier version of the pompadour is now making rounds in men's fashion world.
Defy the societal norms by rocking a messy pompadour. If you are someone who likes to go against the flow, this is the hairstyle for you. Wavy hair looks great when styled this way.
Furthermore, you can let the natural texture of your hair take control when you rock this style.
3. The Modern Variation of the Classic Pompadour Hairstyles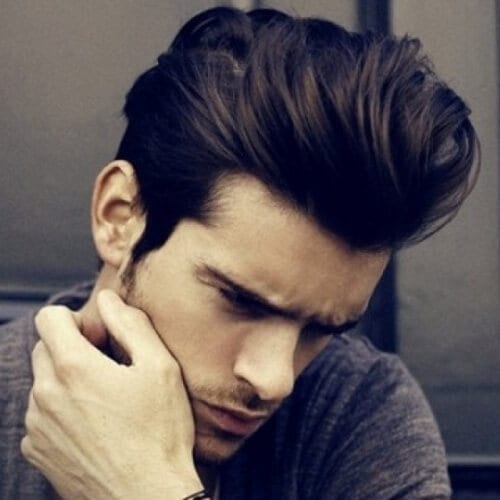 While the modern pompadour takes inspiration from the classic pompadour, it does has some major differences. The modern rendition is a messier version of the older style.
The modern look is wavier and is less rigid than the classic style. It gives off a carefree vibe. It is the perfect hairstyle if you are looking for a casual look
4. Rock a Pompadour with a Beard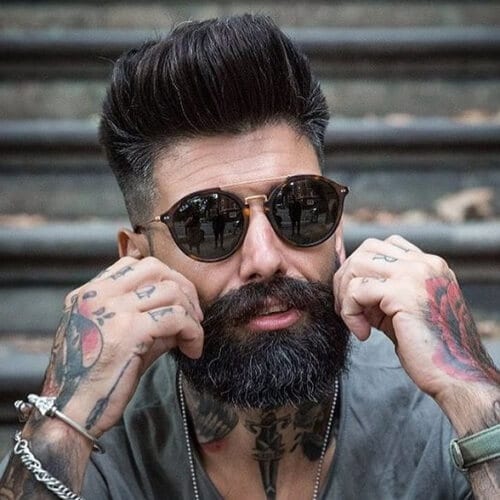 Unlike other vintage hairstyles, the pompadour pairs well with facial hair. You can transform your look entirely with a beard. You can shave off your beard with a different look as well.
Pompadours are now famous among men who want to keep a beard. Here is a style inspiration that you can follow.
5. Classic Pompadour Hairstyles Inspired by Undercut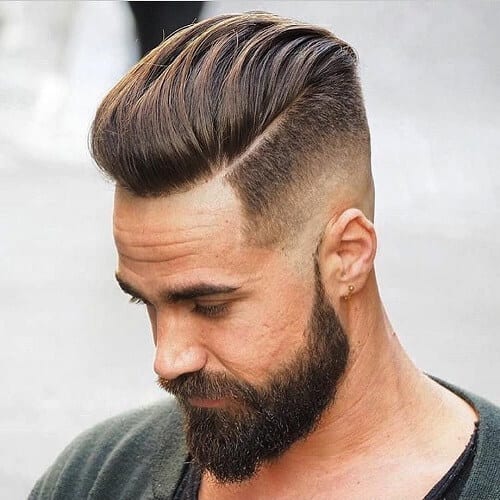 Modern styled pompadours are often paired with undercuts. This fusion is very popular among men these days. It is a style rocked by many A-list stars.
You can adopt this style as well. For this hairstyle, you will need long hair on top. You should book an appointment with your barber to get the necessary haircut. With a little bit of hair product, you will be able to get the desired look.
6. Medium Pompadour with a Touch of Fade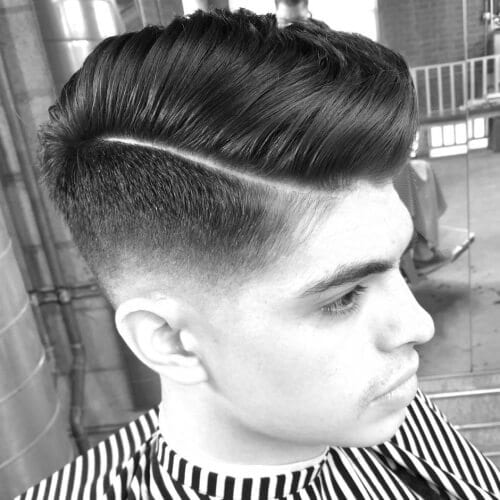 This hairstyle is the love child of undercut and fade. The top of your hair is styled in a typical pompadour. The sides of your hair and the back is partly shaven to give a faded look.
This particular hairstyle is famous among the teenagers. Barbers also like to call it the medium taper fade because the side of your head is gradually shaved as you go down.
This hairstyle is high maintenance. You should only go for this look if you are willing to invest some time in styling your hair. We do think that this hairstyle is worth the time and effort.
7. Classic Pompadour Hairstyles – The Angled Look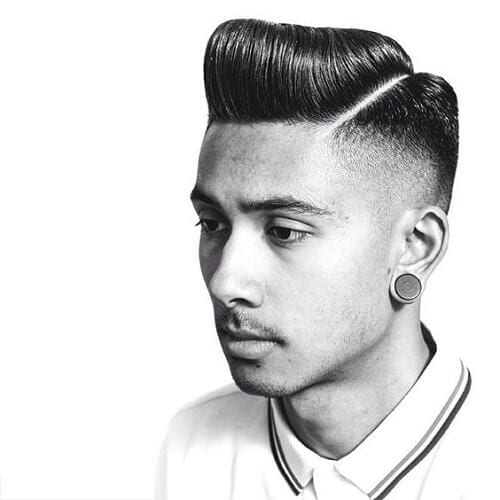 Let your hairstyle do the talking when you walk into the room. The angled pompadour is a massive style statement. It tells that you invest lots of time in taking care of yourself.
The angled look requires lots of time and effort, but looks amazing when pulled off the right way. It has a sharp look to it and pairs well with leather jackets.
It is perfect for the 50's greaser look. A high quality hair product and blow dryer are necessary to get the perfect angled look.