Tom Hardy hairstyles are inspirations to many men's haircuts. Tom Hardy is a fashion icon and he is looked upon for his fashion statements. The English actor usually likes to wear rugged hairstyles but throughout his long successful career as an actor, he has sported many haircuts.
Similarly, to celebrate his illustrious acting career and stylish persona, we have gathered list of some smart Tom Hardy hairstyles.
1. The Usual Rugged Hairstyle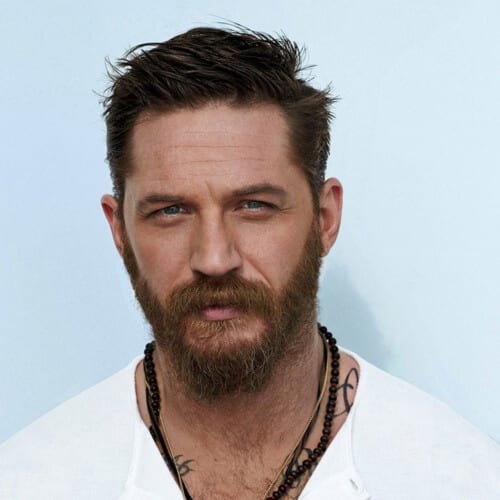 The rugged beard and messy hair on top has become the signature look of the Hollywood superstar. His signature look is the embodiment of masculinity and style. The messy hairstyle makes it a low maintenance look.
2. Tom Hardy Hairstyles From Lawless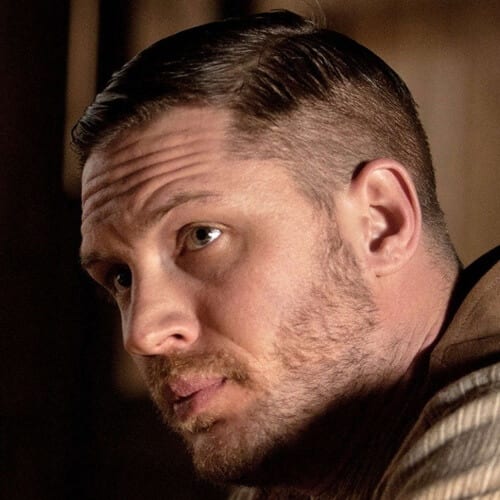 He played the lead role in Lawless, a movie based on the Wild West era. Tom played the character of Forrest in this movie that was released in 2012.
Forrest's haircut caught the eye of many stylists. It is a side part haircut with a mid to high taper fade on the sides. A short haircut like this looks neat and is easy to maintain.
3. The Comb Over With A Layered Approach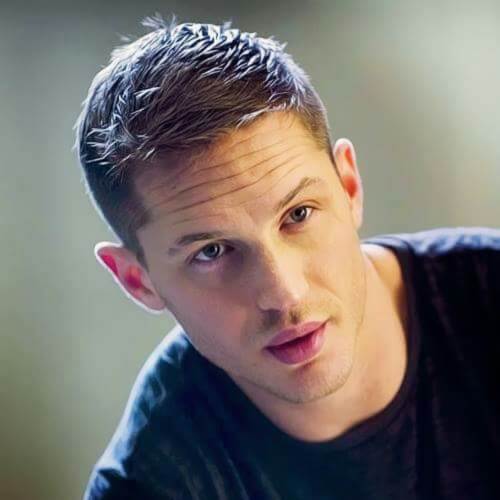 The veteran actor likes to play around with comb over haircuts. This haircut is one of the variations of the comb over haircut that he has worn over the years.
Unlike other comb over hairstyles, this variant has layers on top. We have seen Tom Hardy switching up the comb over hairstyles to make them his own. This one is no different.
4. Clean Short Sides with More Hair on Top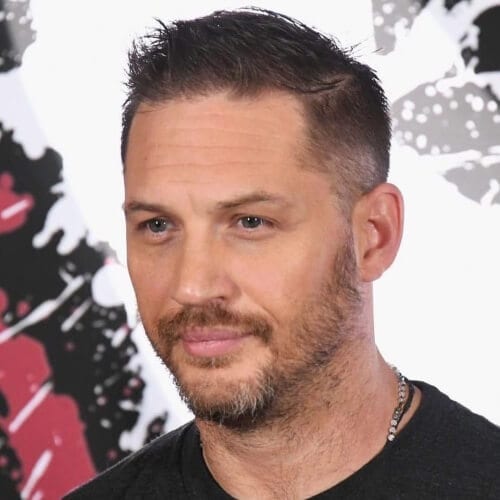 A lot of Hardy's haircuts are based on a simple formula: short sides and longer tops. You can use this style as an inspiration.
If you have similar facial features as Tom Hardy, then this haircut will look great on you.
5. Tom Hardy's Mad Max Hair Do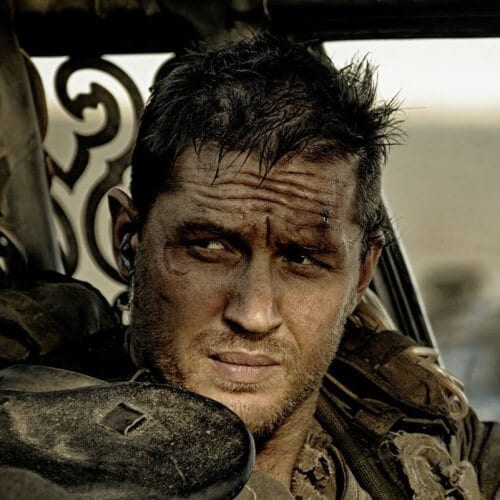 Mad Max: Fury Road was a box-office hit and Tom Hardy played a pivotal rule in its success. His Max Rockatansky look got very famous and was a common sight in many comic-cons.
Moreover, his textured, carefree hairstyle in Mad Max was widely copied as well.
6. Quiff Tom Hardy Hairstyles
The messy quiff is very popular with the English actor. You would often see him sporting this look. He likes to keep it natural and effortless.
This look is easy to maintain and you can pair this look with a beard for a more complete look.
7. The Crew Cut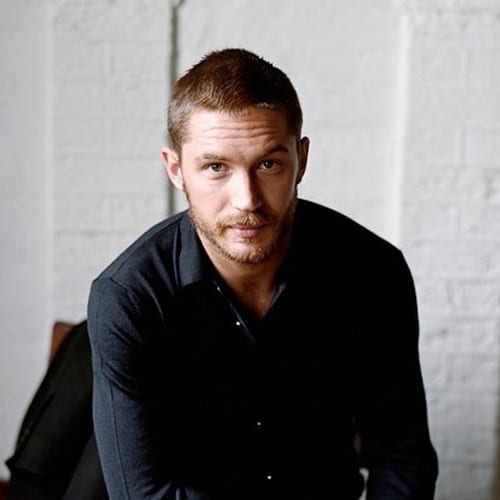 Tom Hardy can sport any hairstyle with confidence. Confidence and the right attitude is key when you want to stay updated with men's fashion.
The crew cut is a basic haircut but it looks fine and stylish on Tom Hardy. This is all because he wears it with confidence.
8. Double Roles in Legend, Same Hairstyle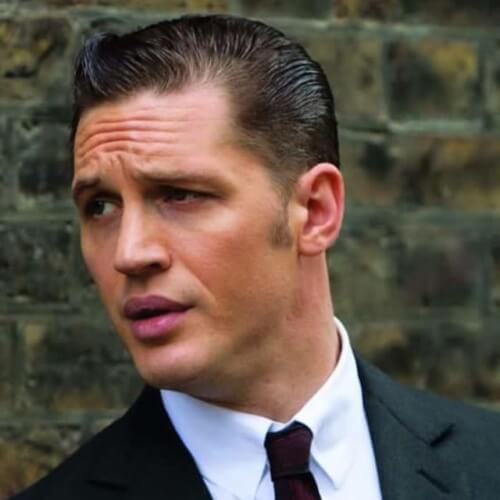 Tom Hardy left the audience in awe with his double role in the movie Legend. He played twins Reggie and Ronnie Kray in the movie and gathered much plaudit for his work.
His dressing and hairstyle caught many men's attention too. He rocked a neat, retro look with his carefully slicked back hair.
9. Medium Wavy Locks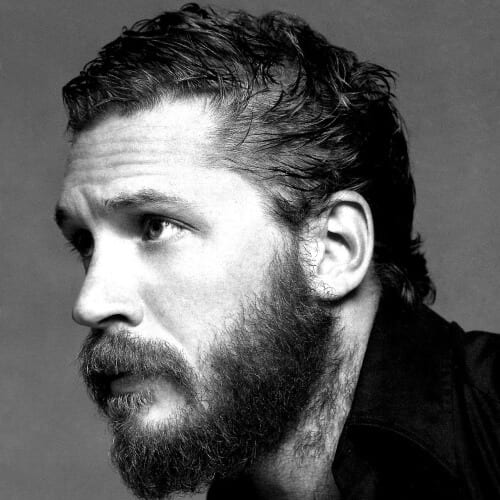 We all know that it is a rare sight to see Tom Hardy without an undercut or a taper fade. This wavy hairstyle is one of the rare sights when he left his locks to grow and be wavy.
10. The Taper Tom Hardy Hairstyles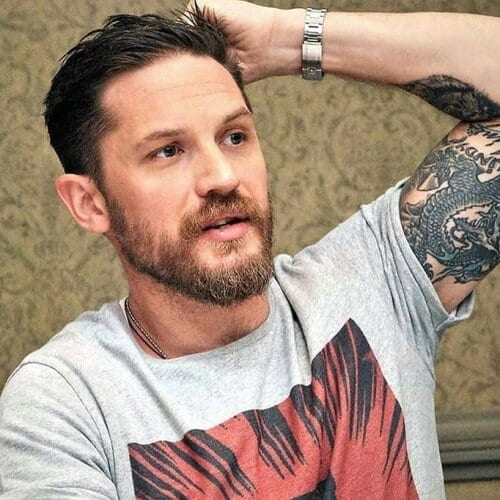 In this haircut, Tom has neatly tapered the back and the sides. This neat tapered cut makes it acceptable in most workplaces.
The tape on the sides and back allows you to play with hair on top. You can either cut them short or keep them long. You choose.
11. Venom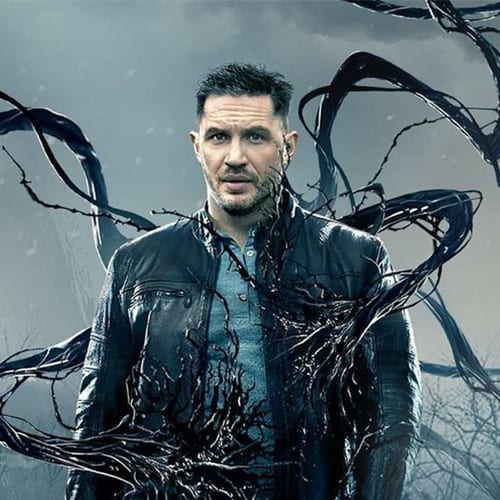 Hardy was praised for his work as the antihero when he starred in Venom. In Venom, Tom was seen rocking a sleek mid fade.
The top of the head featured a side tousled look.
12. Undercut Tom Hardy Hairstyles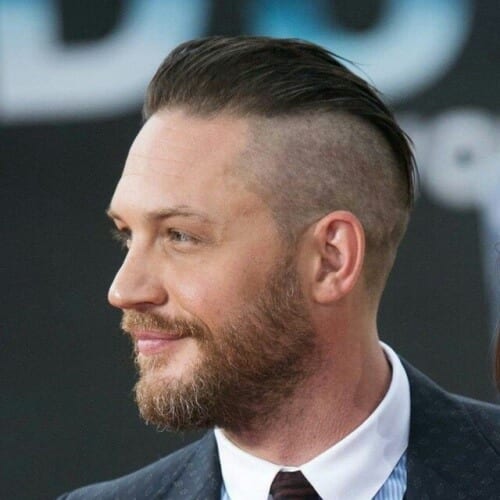 Undercuts and Tom Hardy are two words that go together in a sentence pretty often. He is famous for his fade and undercut hairstyles.
This hairstyle is a fusion between a slicked back and the traditional undercut. This cut features shaved sides and long hair on top. The top can be slicked back with help of some hair product.
Moreover, you can leave the top as it is if you do not wish to style it into a slicked back.
13. Tom Hardy's Warrior Look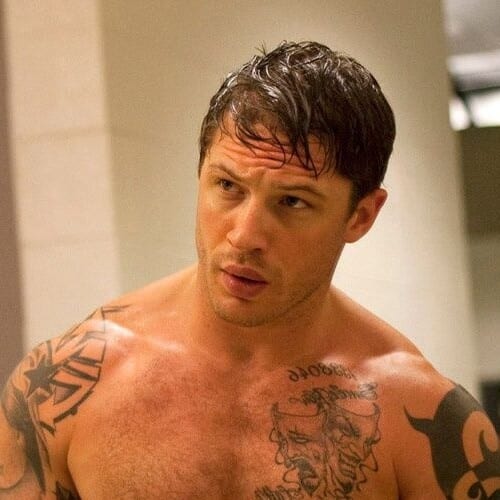 Tom played an MMA fighter in his 2011 action film Warrior. While trying to get the same physique as him in the movie might feel a lot of work, you can easily copy his hairstyle instead.
The side swept bangs are easy to manage and look great.