Fade haircuts for men have become increasingly popular among the masses. It is a modern hairstyle that looks sleek and stylish. Moreover, there are different types of fades you can choose from.
The fade cut can help to transform your entire look. There are numerous types of fades such as high, low, medium etc. out of which you can opt for the best one for you.
Consider incorporating a fade into your hairstyle for a fresh, modern look. There are many different fade styles to choose from, all of which can be tailored to your hair texture, length, personality, and style. Fades work well with any haircut, from the edgy and cool mohawk fade to the more subtle crew cut fade. Fades give your look structure and a polished finish. They can also highlight the hair on top, giving the appearance of thicker and fuller strands and contrast. Continue reading to find out the types of fade haircuts for men.
What Is A Fade Haircut?
A fade is a color and length transition on the back and sides of the hair. This means that the hair isn't all buzzed to the same length but rather various lengths.
The length of the shortest part of the hair before transitioning to a longer length determines the fade level.
The term fade basically originated in the barber shops, later making it a popular term used for a boldly tight taper in men's hair. Using clippers, the hair on the sides is trimmed as close as possible and tapers to any length on top. Gel or hair wax can be used to style the hair on top, either making it look messy or neat. This haircut is also confused with the military cut at times, but that is misleading because every branch has regulations of their own hair lengths.
Different types of fade haircuts have become the buzz of men's fashion all around the world. When the fade haircut came into popularity, little did we know that it would catch such fire among men of all ages, regions and classes. From professionals to teens, different types of fade haircuts have made their way into the lives of every man.
We have talked a lot about what a fade haircut is and how you can style it, but it feels like too much is never enough for this hairstyle. Thanks to the continuous evolution of the different types of fade haircuts, new and upcoming styles come in and go by the second. Hence, it can become a little tricky to keep a track of what's going on and how to keep your finger on the pulse about the freshest of ideas in the different types of fade haircuts.
History Of Fade Haircut
The hairstyle first appeared in the United States military in the 1940s and 1950s. Given the military's strict grooming standards, it's no surprise that the fade haircut was and still is popular among military men, as the harsh lines and angles signaled that you were serious about your job.
Naturally, new times bring new trends. Black people have experimented with various hairstyles, including the afro and the infamous Jheri curl. By the mid-1980s, a reworked, edgier version of the fade had emerged, thanks to Black barbers. During the golden age of hip-hop culture, it quickly became a standard.
How did the faded haircut get famous?
The faded haircut was a staple in the US army. The personnel was required to keep their hair neatly cropped at all times.
This hairstyle was picked upon by the African American community and popularized by the hip hop artists. The barbers brought this hairstyle as a new style to the market.
How To Do A Fade Haircut?
Plan your style before beginning to achieve a fade haircut, which features short hair near the neck that gradually grows longer toward the top of the head. Once you've decided where you want your fade to start, trim your hair with clippers. Adjust the guard as you go to create a gradual fade with varying lengths between the top, sides, and neck. Then, double-check your cut to ensure it's even and well-blended. Use a combination of clippers and scissors for a longer fade.
The freshness and hairstyle of your hair would deeply depend on the type of fade haircut, giving it a dramatic look. Let us go through all the different kinds of fade haircuts for men that you can get done during your next barber visits. But, if you are looking for something super clean, a cool fade would be the perfect choice for you.
Tips To Get The Best Fade Haircut
If you're considering getting a fade hairstyle or already have one, here are some tips and tricks to help you maintain a clean and fresh appearance while you're thinking about it:
Try and Find an Inspiration
Before making an appointment, it is best to seek inspiration. You can study the structure of the hairstyle and modify how you want yours to look if you know any celebrities or artists who already sport the look. Look for a celebrity with a similar face shape to yours who has a men's faded haircut you can try on to see how it looks on you.
Find an Experienced Barber You can Rely on
Nothing is more humiliating or traumatic than leaving a barbershop with a bad haircut. People's memories of your bad hair will outlast your hair. To avoid this mistake, seek out barbershops and barbers with experience and a well-established reputation for producing excellent results.
Pay Attention to Suggestions and Find the right look
You can pick a celebrity's hairstyle without knowing how it will look on you. Even if you want to mimic their style, listen to your barber if he advises against it. It will not work if the style does not complement your hair and face shape. Although fade hairstyles suit most people, not all accompanying styles, such as pompadours, side swept, faux hawks, and so on, will suit all facial structures and shapes. Always go for the right look to make your hair look "fly" and neat.
Maintaining your Fade Haircuts
Due to their fast-growing hair, most men's fade haircuts only last 3-5 days in their ideal condition. Don't worry, maintaining a good appearance with a faded haircut does not necessitate frequent barbershop visits. You are certainly capable of doing it yourself. Shave the areas on your neck, near your eyes, and between your brows with a straight razor. These areas are where hair grows the fastest, potentially resulting in a distorted hairstyle. If you wear a taller top, too much hair on your brows may crowd your face. If you're unsure, start with easier areas and have a friend assist you.
Purchasing the Best Products
To extend the life of your hair, look for good hair products that can enhance or keep your hair in good condition. You should use a pomade or hair gel that is appropriate for your hair type if you have a long top. Find shampoos and conditioners that are appropriate for your hair type. This will keep your hair healthy while also giving you a fashionable look.
What Different Types Of Fades Are There?
The fade haircut is the most popular and effective shortening of men's side and back hair. Fades are easy to do and look great on all hair types, lengths, textures, and styles. Barbers use clippers to gradually taper your hair from short to short for a clean, blended finish.
While there are many different fade haircut styles, the three most popular are high, mid, and low fade haircuts. Men should first describe where they want the fading to begin on the sides of their heads when requesting a fade. To personalize the cut, taper, skin, bald, burst, or drop fades can be used.
Types Of Fade Haircuts For Men
With so many different fade haircuts to choose from, it's important to look at examples before committing to a particular hairstyle cut. Find the best men's fade haircuts right now to inspire your next barbershop visit!
High Fade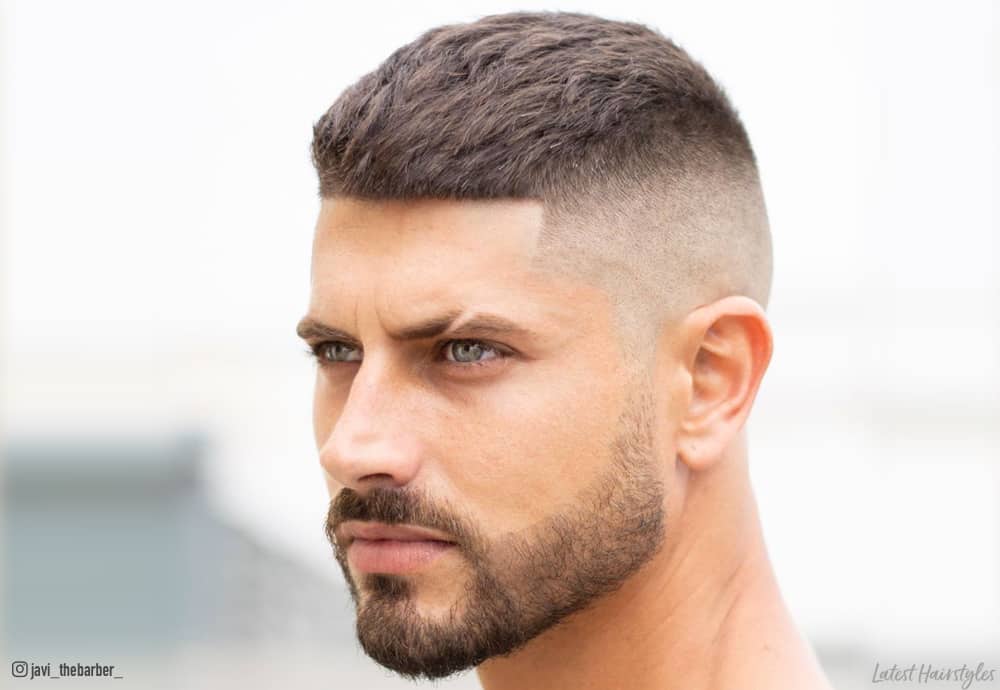 As the name suggests, the high fade makes the highest up in your hair. Just like the undercut, the hair is a lot shorter on the sides of your head. Putting more emphasis on the top of your look, it is a great cut.
A high fade is a modern fade that begins around the temples rather than midway above the ears. Hair on the sides and back is typically very short, sometimes shaved down to the skin. This cut is appropriately referred to as a high fade because the fade begins "high up" on the head.
The high fade is one of the most famous modern hairstyles. You will often see a lot of men rocking this hairdo. The high fade haircut starts from the top of your head and starts fading as you go down.
Barbers can get very creative when styling high fades. You can go for shaved lines or designs on your head to bring more attention to the fade. A slight trailing line just near the fade looks good and accentuates your hairstyle.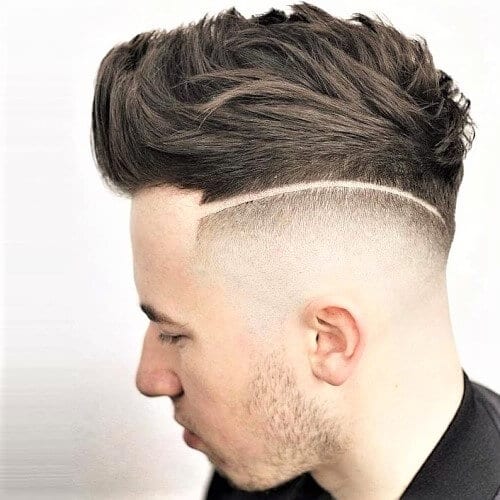 Because of the stark contrast between ultra-short hair high up on the back and sides and longer hair on top, the high fade is popular. There are numerous ways to wear it, but these two examples show how versatile it is.
Hi-Top High Fade with Designs
This retro look is making a comeback, and if you have the right hair, it's a great one to try. The fade line is extended all the way up to the temples with a high fade, and the hair on top is left long enough to be styled with a flat hi-top. The shaved design of the fade line is stunning.
Medium Fade
High fades start higher up, while medium (or mid) fades start lower down, usually halfway above the ears. When you close your eyes and imagine a classic fade, you're probably picturing a medium fade. For a perfectly balanced look, these clean-cut classics maintain the shorter portions of the hair toward the bottom. Mid fades look great with any hair type and length on top. A neat, short-top hairstyle with a clean-cut medium fade is our preference. If you want to be more daring, try a high fade.
Military Fade
Military haircuts are known for being short and functional, but they can also be quite fashionable. The military fade is a fashionable haircut that will improve your appearance. Shorter shaved sides and longer hair on top distinguish it. It's a low-maintenance option that looks good in a variety of settings and is perfect for a man who doesn't want to spend time or money on his hair, let alone on styling products.
Medium Drop Fade
While this is a very simple example of a drop fade, it perfectly demonstrates the concept of a medium fade. This is a great clean-cut look that works well with short to medium-length top hair.
Slicked Back Low Fade
If you're not sure how skin fades will look on you, leave some length on the bottom and go with longer hair on top for a slicked-back low fade like this. The long top is pushed back for a dapper look that will work with straight, curly, wavy, or coily hair.
Blown Out Low Fade
The variety of styling options provided by longer hair on top with low fades is one of the reasons we like it. A low fade can be dressed up with a blowout like this when the hair on top is long enough. To add volume up front, apply a small amount of mousse to damp hair and blow dry backward with a round brush.
Drop Fade
Drop fades can start high, medium, or low, but they all have one thing in common: the fade line at the back of the head is lower than the fade line at the sides. As a result, the fade line dips, giving rise to the term "drop fade."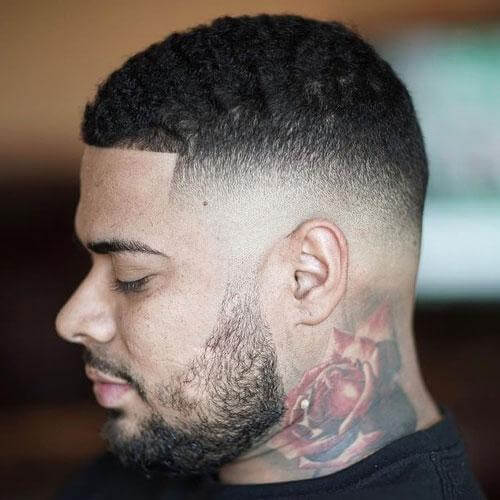 Drop fades can be used to achieve a number of different looks. Begin at the page's top, bottom, or center. Make a drop that is rounded or pointed. Style the top hair into a quiff or mohawk for a daring look. Alternatively, keep the top hair short and groomed for a low-maintenance look.
High Drop Skin Fade
This example demonstrates how to combine elements from various fade types to create something truly unique. In this case, the barber combined the height of a high fade, the dip of a drop fade, and the super-short length of a skin fade into a single modern look.
Mohawk Pointed Drop Fade
This is a fantastic example of how creative you can be with fades! The top hair is left long enough to form a mohawk. After fading high along the temples, the sides taper down to a point at the back (the drop portion).
Skin Fade
They are also known as bald fades and zero fades. Skin fades come in a variety of styles, but one thing they all have in common is that the hair is shaved down the skin at the shortest part of the fade.
Get a skin fade if you want a high-contrast look that demands precision and looks tough. Be aware that skin fades will reveal large areas of your scalp that are significantly lighter than the rest of your skin tone. After your first skin fade, you may need to start wearing sunscreen on your head.
Skin Fade Undercut
Considering haircuts for men, an undercut is similar to having a skin fade. However, the grade of shortening the hair is a lot more sudden leaving an undercut style. If you want to slick your hair at the back and grow it on the top, this style would be perfect.
Caesar High Skin Fade
A Caesar-style haircut is achieved by keeping the front hairline short and even, whereas a high fade is achieved by starting the fade line at the crown of the head (at the temples). Because the fade is shaved down to the skin, this is an excellent example of a skin fade.
Crown Fade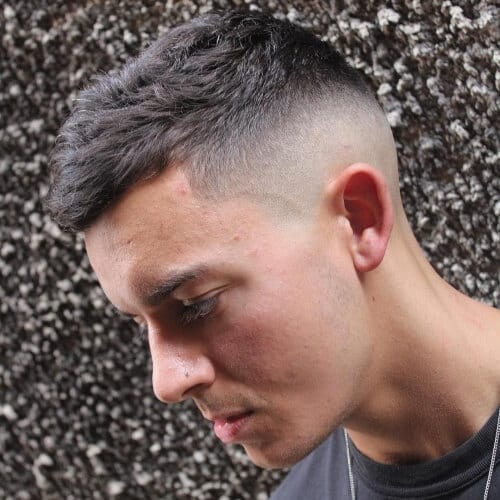 The crown fade is an interesting type of fade haircut. The crown fade is a versatile haircut that works well for men with thick and thin hair.
Moreover, it gives you the liberty to have any kind of length on top. So, if you want to keep it neat and short or have angular fringes, you can choose between the two.
Temple Fade
When it comes to temple fades, also known as temp fades or Brooklyn fades, precision is everything. For temple fades, the hair at the temples is shaved and clipped into a line-up or shape-up design. The fade line continues behind the temples.
Temp fades make your hairline more prominent. So, if you are trying to flex your hairline, then this is the haircut for you.  The temp fade is commonly known as the box fade.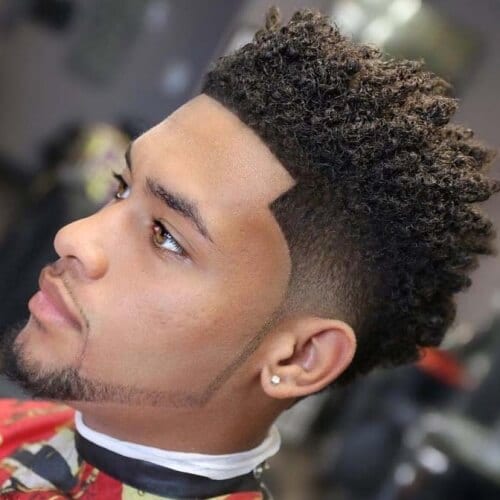 By gradually shortening the fade, temple fades are intended to create a precise line. Temple fades can be combined with any type of fade – drop, skin, burst, and so on – but they are typically done on high fades because other fades do not begin at the temples.
Actor Will Smith made this haircut for men very popular. Tapered around the temples, this haircut for men starts off with a mid-face or low-face. Clippers are used to give this look sharp lines. Only skilled barbers can do this look, so do not try doing it yourself at home, unlike the regular trims.
90 Degree Temple Drop Fade
This hairstyle is a classic temple fade with a 90-degree angled notch at the temples. The fade line continues behind that before dipping down in the back to form a drop fade.
Burst Fade
Burst fades from a semi-circle around your ear. The fade line moves in a circle around the ear as its center point. Drop fades are similar in that the fade line appears to dip down toward the back of the head. To create more unique looks, burst fades can be combined with any type of fade. Because the hair around the ear is tapered, it can be worn close to the skin or left long for a lower-contrast look.
Coily High Burst Fade
This fade appears to be a burst fade because the shorter sections appear to come from the ear. However, as it progresses upward, it transforms into a high burst fade. This looks particularly nice on coily hair.
Side Parted Burst Fade
The hair is parted to the side and slicked with gel for added hold. The "burst" section of the fade ends just behind the ears, giving the hair the appearance of dipping down in the back for the drop portion of this cut.
Low Fade
Another popular option when it comes to the fade haircut. If the high and mid fade do not serve your purpose, then you can choose to go for a low fade.
There is not much you can do to play with the gradient of your fade when you taper it low.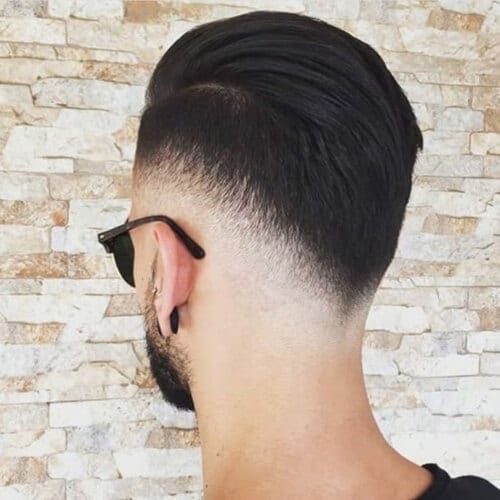 Low fades can be subtle or have more definition. You can add more definition to your hairstyle by using hair wax or pomade.
A low fade haircut is perfect for a man looking for a versatile and masculine look. The fade is understated and subtle, focusing on the bottom inch of hair and tapering down the sides and lower on the head. The top is kept longer and can be styled however you like, allowing you to experiment with proportions.
The low fade is appealing because it goes well with a variety of hairstyles, from the crew cut to the pompadour. Personalize your low fade to reflect your personality and style.
Mid Fade
The mid-fade haircut is located between the low and high fade styles. It's tapered and ends between the temples and the ears, giving it a sleek and professional look.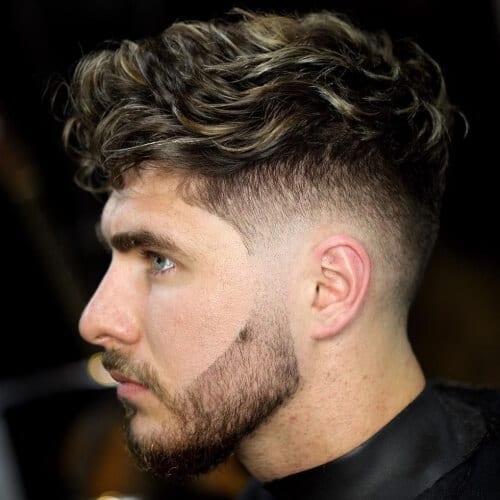 If you think that the high fade is too edgy for your style, then you can opt for the mid-fade haircut. The mid-fade is one of the most popular fade haircuts right now. The mid fade strikes a balance between the high and low fade. It is like the middle ground. You can ask your hairdresser to have the same gradient of fade all around as well with a mid fade.
Using clippers, medium fade starts halfway up from the head. The fade is gradual compared to the taper, but soft compared to the skin fade. It is perfect for men who prefer a look that is modern. Considered as a good base style if you are looking for a change.
It is an excellent choice for men of all ages, and its versatility allows for a variety of styling options. A side part and a mid fade or slicked-back hairstyle are among them, with the fade adding a modern twist to classic, masculine looks. You have options, so talk to your barber about which one is best for you.
Taper Fade
The taper is a popular fade that involves cutting hair from long to short on the sides and back of the head while leaving the top of the headlong. The fade starts in the center of the head. This look can be styled in a variety of ways, and it is an excellent choice for any man who wants to add structure to his appearance because it is adaptable to different hair textures and styles. It can be both sharp and neat, as well as stylish and cool.
Modern yet subtle, taper fade is one of the most famous fade haircuts for men. This low-maintenance haircut gradually tapers towards the neck. Being super classic, every man can adapt to this hairstyle. For a more understanding look, keep it long or taper it down for a look that is bold.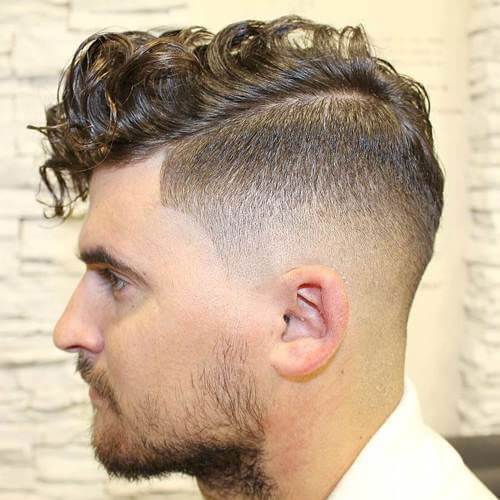 Bald Fade
While shaving the sides and back, the bald fade keeps the hair on top of the head longer. It's a versatile and masculine look that works well with a variety of styles, some simple and understated, others bold and daring. Experiment with different hair lengths at the crown of the head, keeping it short or leaving it longer to add contrast. This fade is popular among men because it adds structure while also making their hair look sleek and stylish. It also makes morning styling easier and faster, which appeals to a busy man.
If you prefer keeping your hair super short or prefer a haircut for men that gives you a buzz look, go with a bald fade. Although the length of your hair could be the same, great details can be added by fading your hair from the front and the back. This would relatively make a plain look appear classy and fashionable.
Comb Over Fade
The comb-over fade was popular in the 1920s and continues to be popular among men because it enhances their gentlemanly appearance. This timeless classic can also be modernized by changing one's hairstyle. You can try out different fades to see which one best complements your face shape and reflects your personal style. Another benefit of the comb-over fade is its adaptability; it suits men of all ages, hair textures, and lengths.
Buzz Cut Fade
The buzz cut is a popular military-inspired cut for men who want a low-maintenance, easy-to-wear look with minimal grooming time. This short haircut has a short fade on the sides and back and is clipped short to the head. The top hair will be gradually shaved until it is completely shaved. It is critical to remember that you want your scalp to be in excellent condition. Be comfortable with your hairstyle and any flaws, such as moles or scars, as these will be on display. It would be advantageous if you also considered your face's shape and proportions.
Long Hair Fade
Long hair challenges preconceived notions about what it means to be a man. It's cool, stylish, and relaxed, and it can be styled in a variety of ways. A fade is an excellent way to add a little edge to your long locks. The fade gives your hair structure, forming an interesting contrast and making it more tolerable. It looks particularly good with texture on the top of the head, making it appropriate for wavy or curly hair. That is not to say that men with straight hair cannot achieve this look; however, it is best to use a styling product to achieve a more windswept appearance.
Short Hair Fade
A short hair fade is a great choice for a man looking for a simple yet stylish haircut. A fade on the sides and back of the head can help you look better while also adding interest. Fades are both functional and aesthetically pleasing, as they make your hair easier to style and adaptable to different hair types and lengths. A short top hairstyle enables a smooth transition from top to fade. As a result, you will appear refined and fashionable.
The Neck Fade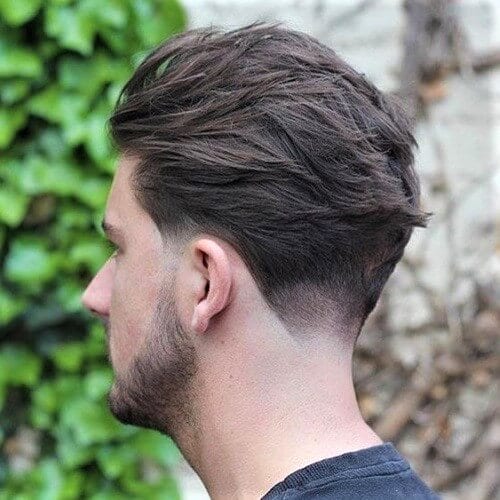 The neck fade is the way to go if you are not comfortable getting a full-on fade haircut. A neck fade will complement your usual hairstyle. This is more like a supplement to your daily haircut.
A lot of men would actually use it to accentuate their usual hairstyle, while some would base their entire haircut on the neck fade.
The opportunities are endless with this hairstyle.
Undercut fade
The undercut is a versatile style that works well with all hair textures and types. Because they have a single length on the sides and back, they are less complicated than fades. For a more voluminous look, keep the length on top and style it in a pompadour or fringe. This look is not only fashionable, but it is also practical, as it reduces hair weight and grooming time. Undercuts, on the other hand, necessitate some upkeep, and you'll need to visit your barber on a regular basis to keep it looking good. This will happen every three to four weeks, depending on how quickly your hair grows.
Faux Hawk Fade
The mohawk is distinguished by its rebellious and edgy appearance. It makes a statement and attracts attention. Another cool alternative cut that is far easier to pull off and style is the faux hawk. The faux hawk is typically cut shorter, resulting in less volume on top. It looks best on men with medium-length hair. There is still a texture strip in the middle, but the top, sides, and back are only slightly different in length. A fade, rather than shaving the sides and back of your hair, create a more blended appearance.
Faux Hawk is a combination of two different types of haircuts, creating a single style. The top of the hair must be long in length. The fact that it is a fade haircut, the sides of the hair must be trimmed short. To get such a style, use only clippers and no razors in order to taper the back and sides of the neck.
Long Afro Fade
A long afro fade is ideal for men who want to embrace their natural hair. It has all of the advantages of an afro, such as the ability to proudly wear your hair and show off the volume, but it also adds structure. The fade keeps the hair on the sides and back short. This is a contemporary take on the afro hairstyle that will assist you in creating an interesting and balanced contrast. This is the ideal blend of smart and cool.
Short Afro Fade
If you want to reduce styling time while still highlighting your hair texture, a short afro fade is a way to go. Shortening the afro hairstyle simplifies styling while maintaining voluminous and textured volume. Pair it with a subtle fade if you want to add structure or just give your hair a slight edge. By keeping the sides and back of the hair short, you can draw attention to the hair on top of the head. It is also capable of producing a smooth finish.
Pompadour Fade
It is a structured, volume-filled hairstyle. It became popular in the 1950s and remains so today due to its adaptability. To modernize it, the cut can be changed to accommodate different hair textures and styles, such as a fade. The faded sides and back give the pompadour structure by graduating to a shorter length above the ears. This also adds height to the top of the head by making it appear fuller and thicker.
This is one of the most classic haircuts for men that has been around since the 50s. Modernize this iconic look by combining it with a fade. Pomade, which is a product for wet looks works better with this haircut to give it a slick and stylish formal look.
Quiff with Fade
The quiff was a popular hairstyle in the 1950s, with length on the back and sides and volume on top. This look is great because it emphasizes the dimensions and is a timeless classic that can be easily adapted. One such technique is the fade. It will gradually reduce the length of the sides and back of the head. The forelock will draw the eye, creating a subtle contrast and making it appear fuller. Some men may add other details, such as a razor parting, to make it more tailored to their personal style. To give your look a sleek finish, use a high-shine gloss.
Quiff With Texture Fade Haircut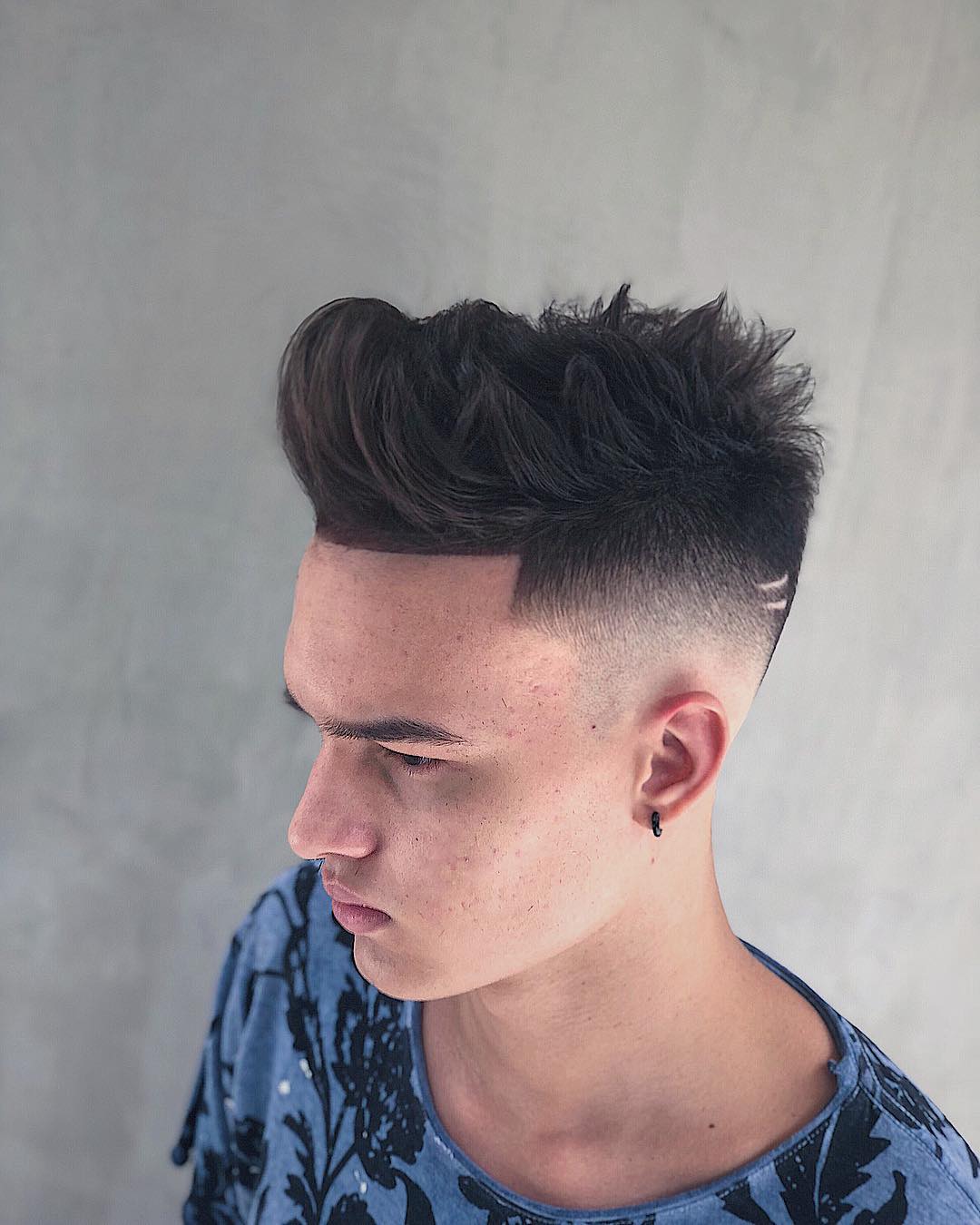 This is quite a different way of styling a fade haircut and stands out among the rest as one of the most innovative styles in the world of fade haircuts. While it is extremely hard to maintain such a hairstyle; especially if you are one of those who only get time for styling in the morning and have to carry it throughout the day!
But it is ideal for a few hours of evening parties or dinner get together, where you don't have to spend long hours in hopes that your hairstyle can maintain itself. The quiff on top is the cherry along with the blurry fades on the sides and the back which give a real bounce to the volume in the hair! Ideal for all men, all you need to ace this fade haircut is a tad bit of confidence!
Wavy Hair Fade
Wavy hair texture enhances even the most basic haircuts. This is especially true when combined with a fade that draws attention to your top texture. There are many different fade styles to choose from, but the basic idea is that the hair on the sides and back will gradually shorten, leaving more length on top. When paired with wavy hair, it creates a striking contrast. It can also make your hair look better. Furthermore, because of the practicality of the fade, style time will be reduced. Because your hair will be the focal point of your look, enhance its texture with a curl-defining product or sea salt spray.
Curly Hair Fade
This curly hair fade is enticing and versatile, and it can be styled in a variety of ways. Curly men are extremely appealing, and the texture can soften your appearance. Try pairing them with a fade if you want to style them in a stylish and practical way. This combination will make you appear professional. It may also draw attention to your hair curl pattern, turning it into the focal point of your outfit. Depending on how dramatic you want your appearance to be, a lot of volume with a fade will create a striking look that will make a statement.
Long Curls With Low Fade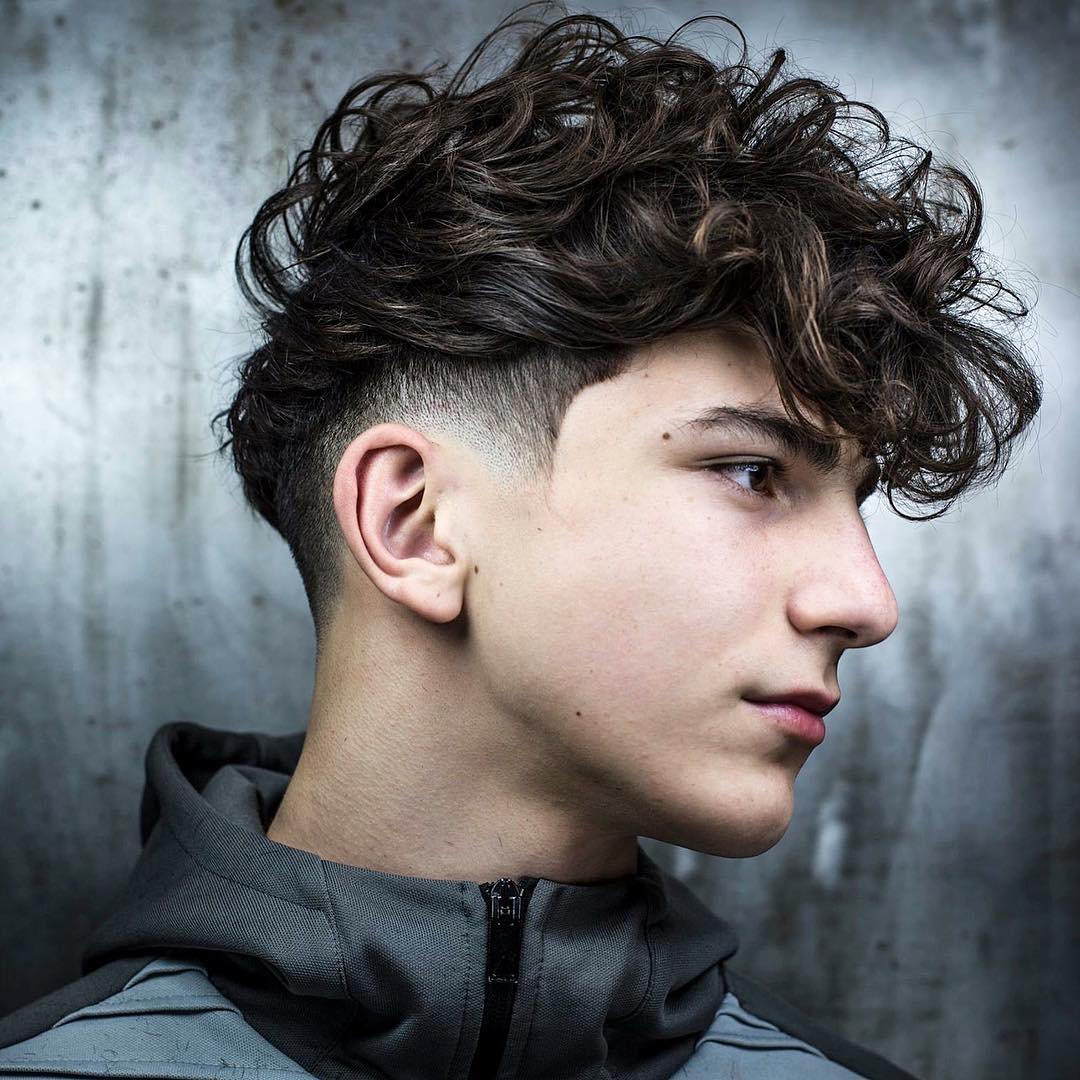 You don't have to think short only when thinking of the different types of fade haircuts! With a faded haircut, you have quite some room to play with the length in the center of your head. If you have got some curls, it is all the more suitable for you to grow them out and gel them in as they form well-defined curls in the center with fade on the sides. This will look gorgeous on young men and teenagers! So what are you waiting for? Get grooming now and wait to see head turns in your favor as you bounce and flaunt your curls away!
Flat Top Fade
There are numerous variations on the flat top, an angular hairstyle with shorter hair on the sides and back, and volume on top. It was popular in the 1950s, then again in the 1980s and 1990s, but it is making a comeback due to its versatility. The military flattop is an excellent choice for those seeking a straightforward and masculine appearance. It has a high fade, which creates an interesting contrast between the top and sides, and the back of the head hair. This is another low-volume style that looks great on a wide range of hair textures.
Man Bun Fade
For men with longer hair, the man bun is a popular hairstyle. It's trendy and cool, and it works well with shoulder-length or longer hair. It is also one of the simplest updos to create, requiring little skill and working well with all hair textures. To change up the look, pair the man bun with a fade. Shortening the sides and back is a trendy and cool way to look. It can also be used to get rid of extra hair weight. You can now keep your hair out of your face while remaining fashionable.
Crew Cut Fade
One of the most simple and masculine looks is the crew cut fade, which traditionally has tapered sides. It is typically short and sleek, and it can be worn for a variety of occasions, including more formal ones. The fade is typically quite subtle, with only a slight difference in hair length between the top, back, and sides. As a result, the look is approachable, practical, and fashionable while remaining understated. It is a great option for men of all ages and can be tailored to different hair types.
Dreadlocks with Fade
Dreadlocks are braided hairstyles that can be proudly worn. They let you express yourself, highlight your hair's texture, and can be worn in a variety of lengths and styles. Men who want to add structure to their dreads can use a fade. The fade shortens the sides and back of the hair, giving you more styling options for your dreads on top. It can also be faded to any length depending on the amount of contrast desired.
Caesar Cut Fade
A Caesar cut fade is a fashionable and versatile hairstyle that combines two different styles. The Caesar has short, straight bangs that are traditionally the same length across the top of the head. When combined with a fade, such as a taper fade, hair on the sides and back will gradually become shorter. It may appeal to men with textured hair because the top is longer. It is, however, appropriate for all hair types.
Line Up with Fade
Combining a lineup with a fade adds volume to the crown while emphasizing the shape it creates. The fade will gradually shorten your hair on the sides and back, while the line-up will draw attention to your temples. The combination is excellent and will draw attention to the details around the hairline. Create a look with your barber that complements your hair texture and length while also reflecting your personality. You'll get major cool points if you can pull off this look with confidence.
Slick Back with Fade
The slick back is a popular men's hairstyle because of its versatility and dashing, manly appearance. It is appropriate for a wide range of occasions, including more formal ones, and can be adapted to different hair types and lengths. That being said, a fade is an excellent way to modernize this timeless men's hairstyle. Depending on the fade you choose, the hair can gradually transition from longer on top to shorter on the sides and back, creating contrast.
Hard Part with Fade
The most difficult part is getting a clean line shaved into the hair. It is accomplished by shaving all the way down to the scalp, resulting in a sophisticated and fashionable appearance. It is also extremely versatile, complementing a wide range of hair textures and styles. The hard part can also add a neat and polished appearance to fades like a high fade. With more length on top, this fade begins at the temples and progresses to the sides and back.
Bowl Cut with Fade
Although the bowl cut was popular in the 1980s, its traditional, rounded shape turns off some men. The good news is that this style has been updated with more texture on top and interesting details such as disconnected sides or a fade. A fade also softens the cut's lines, giving you a fashionable and cool look. It's best for a younger man. Because the bowl cut improves fades, try different fades to find the one that best suits your personal style.
Hair Design with Fade
Hair design and a fade are great ways to achieve an edgy and cool look. There are numerous options available, ranging from simple details such as shapes or interesting angles to more detailed artworks such as a diamond or geometric design. A hair design makes a statement and draws attention to your head; therefore, maintaining a healthy scalp is essential. Keep in mind that any flaws or discoloration will be highlighted.
Fringe with Fade
A faded fringe provides a nice contrast. Depending on how long your fringe is, the fade can help highlight it and make it appear fuller and thicker, adding volume to the crown and top of the head. It can also cause proportional distortions. A fringed haircut has numerous advantages and can be achieved on a wide range of hair textures and lengths. Before deciding on a fringe, consider your hair type, as some work better with straight hair. Others look stunning with curly hair.
French Crop with Fade
A popular low-maintenance men's haircut is the French crop. This traditional hairstyle features short hair on the back and sides, longer hair on top, and a subtle fringe. When combined with a fade, this creates more contrast between the top and sides of the hair while gradually shortening it. Depending on how much of a statement you want to make, you can also go for more daring approaches, such as the burst fade or high fade. When a fade and a French crop are combined, you get a modern update that is easy to wear, simple to style, and masculine.
Ivy League with Fade
The Ivy League hairstyle appears to be preppy. Its name derives from its ancestors, who were students at American Ivy League universities. The simple and polished appearance is defined by the top volume, while the sides are kept short and neat. When combined with a fade, it adds interest and subtle contrast to the overall look. The Ivy League has the advantage of being adaptable to your personal preferences. This is an excellent choice for men of all ages because it is both gentlemanly and cool.
Spiky Hair with Fade (Spike Fade)
Modern spiky hairstyles are less defined and easier to wear, resulting in a textured look that is less defined and easier to wear. Spiky hair with a fade is designed to keep the top of the head longer while keeping the back and sides shorter. This draws attention to the spikes, making them the focal point of your outfit. The style is appropriate for all hair types, but it works best on naturally textured hair; this option requires far less product and produces a more natural and effortlessly cool appearance.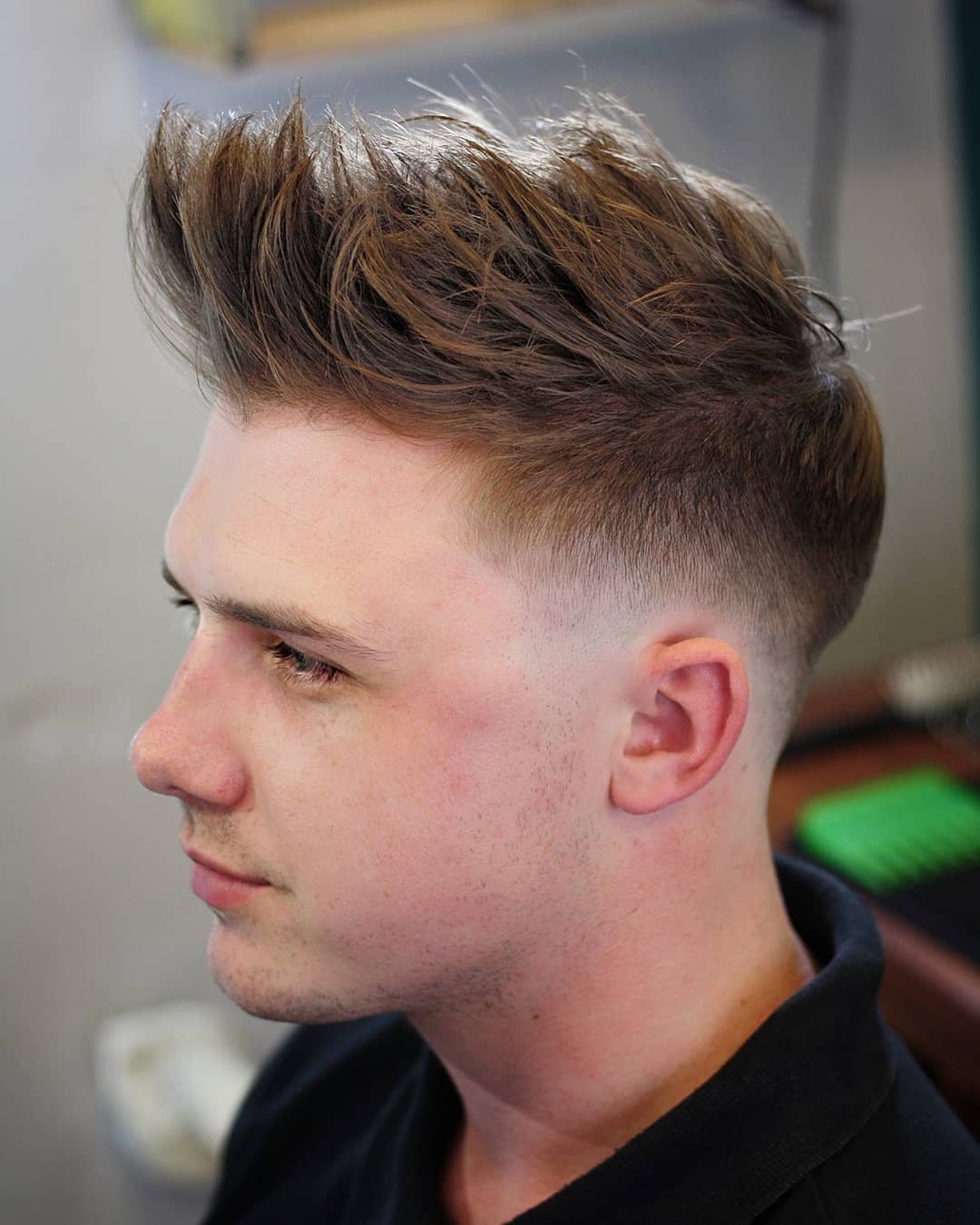 New in the market and picking up pace really quick, the spike fade haircut is a great addition to the different types of fade haircuts in the world today. Giving an edge of charisma yet keeping it young and trendy, the spikes on your head can accentuate your personality while the fade on the side can give you a clean, slick, and smart look. To be carried by men of all ages, barring restrictions of profession or need, this haircut can be carried off by anyone – as long as they are willing to style it right! The cherry on top, this haircut needs minimal styling so a few seconds spent and you are good to go for the rest of the day!
Side Part Fade
The side part haircut is without a doubt the most elegant, and it complements all types of fades. All you need to do is pick your favorite side part fade and have it done professionally.
Side Parting Mid Fade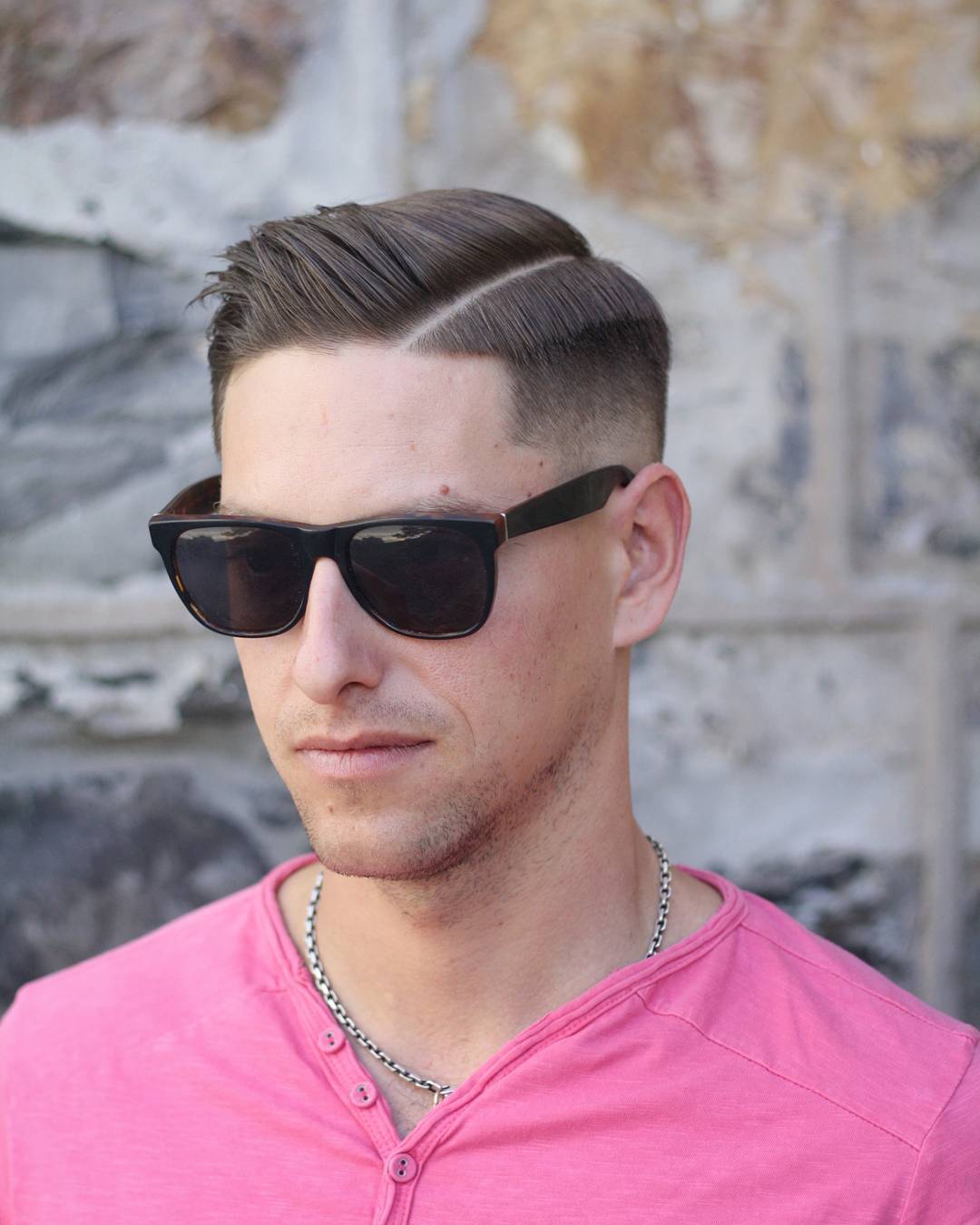 A twist on the classic fade haircut, the side parting with fade is a new addition to the different types of fade haircuts! With a slick look and edgy styling, this haircut is technically a regular side part but with the addition of a fade on the sides. You can make it look razor sharp with a well defined partition and a completely clean way of fading off the sides so you can bring the sharpness out in your personality. Perfect for corporate professionals, this haircut might be a little high maintenance but the look is totally worth it!
Pompadour Mid Fade
For decades, the pompadour hairstyle has been popular. However, it is time to update your favorite pompadour. The best men's 2022 hairstyles are the pompadour and fade.
Crop Top Fade
Choosing a skin fade highlights their incredible hair texture on top while keeping the overall look neat and clean. If you want to make a bold statement with your hairstyle, have your barber dye the tips of your top hair a lighter color. You'll be sporting the current trend of crop top fade.
Shadow Fade
Shadow fades are a good compromise between an edgy skin fade haircut and a reserved long hair fade. One of the reasons a men's shadow fade haircut is so versatile is because of this. Furthermore, the top can be worn in a variety of ways.
Quiff Bald Fade
A quiff can appear childish and plain at times. Combine it with any type of fade to avoid this. Remember that the higher the fade, the edgier your hairstyle will appear. You can change it depending on the effect you want to achieve and the environment in which you want your trending men's hairstyles 2022 to fit.
Curly Hair Mid Fade
A fade haircut is always a good choice for curly hair. The clean appearance of the sides and back contributes to the contrasty and edgy appearance. Because you can simply dishevel your top locks and go, it requires very little styling.
Mullet Fade
The mullet fade is a great hairstyle for men who want to look relaxed but professional. This low-key style becomes more business appropriate and laid-back as the hair on both sides recedes.
Short Texture With Simple Design
There are numerous advantages to a short hair fade. For starters, it does not necessitate a lot of upkeep or styling time. You can also use a skin taper to add design to your hairstyle. For a more understated look, have your barber shave a few lines behind your ear. More skilled men can use more intricate carvings.
360 Waves
A difficult hairstyle, such as 360 waves, is all too easy to overdo. To make it look clean and edgy, choose a fade on the back and sides. However, you do not want it to be too bald or too high because you want your waves to be visible.
These are 56 types of fade haircuts for men, we hope they're helpful for you.
Types of fade haircut by size
000 fade haircut
A triple zero fade is a hairstyle that progresses from shaved skin on the sides to longer lengths as you progress upward. A skin fade is the same as a triple zero fade. While the terminology can be challenging to grasp, keep in mind that different people may use different words to describe the same style.
0 fade haircut
Hairstyles with no fade are the most effective way to appear younger. These haircuts provide a neat appearance with little effort. A high, medium or low zero fade complements nearly every gender and face shape.
A zero fade haircut resembles the taper fade, but it had a decreased length comparatively. It goes further below your head. Moreover, the signifying difference is that the hair is shaved very close to the skin. For those who want to establish a break between their beard and hair, a side fade with a short back would be a perfect choice.
To balance the look, keep the length of your facial hair and hair on top the same, in order took to make the look appear more balanced. If you prefer a beard that is long, trim it sharp and straight around the face for a look that is clean.
1 fade haircut
A number 1 fade, also known as a "1 fade," is an effect that involves trimming the back and sides to 18 of an inch (3mm) with a #1 clipper guard before slowly transitioning into longer lengths as you go up. As with any other fade effect, the length gradually increases up the sides and back. The shortest length with 1 fades is 18 of an inch, which blends seamlessly into longer lengths such as a number 2 and beyond as you move up toward the top.
2 fade haircut
A number 2 fade, also known as a "2 fade," is an effect with a 14-inch length at the sides and back. The #2 clipper guard is used to secure it. As you progress up toward the top, the length gradually increases from this number 2 length.
3 fade haircut
The number 3 fade is a fade haircut in which the hair is cut on the sides and back of the head with a number 3 guard (10mm) and gradually grows longer as you move up the head, creating a fade effect.
In contrast, the number 3 fade is a term used to describe a fade cut with a number 3 guard rather than a specific haircut. As a result, you can mix and match it with any other haircut to achieve your desired look, such as a buzzcut, quiff, or pompadour.
3 2 1 fade
A 1 to 3 fade is a smooth transition of the hair on the sides and back from 1/8 inch at the bottom to 3/8 inch higher up. To achieve this, a barber will gradually progress from a #1 length to a #1.5, then a #2, and finally a #3 length.
Taper Vs Fade
A fade is a short side and back cut that is defined by a smooth gradient from longer to shorter. There are many different fades to choose from. They can be subtle or bold, beginning at various points on the head. It is a riskier option than a taper. Hair on the sides and back of the head gradually shortens while remaining longer on top in a taper fade. It will highlight your neckline and sideburns. It can be set to low, medium, or high to suit your hair texture and length.
Razor Fade Vs Skin Fade
In a razor fade, the shortest length of the fade is not shaved all the way down to the skin. The skin fade, on the other hand, shaves the shortest length before transitioning to longer lengths as you go up the sides.
A "razor fade" is distinguished by the shortest length at the bottom of the sides being a #1 length. As you progress, the lengths become longer. Because of the shaved skin, skin fades are usually more visible. The difference between shaved skin and longer hair is more noticeable on the sides and top of the head.
High Fade Vs Low Fade
The low fade is the shortest and most closely follows the hairline, whereas the mid fade is a few inches higher up. In both cases, the fade line falls behind the ear in an arc that follows the hairline and neck.
A high fade is typically achieved by drawing a line straight back from the brow's corner. In contrast to the one-length undercut with a similar profile, the fade gets shorter as it moves down the head, occasionally reaching the skin. The drop fade line will be followed by the high fade's shorter portion.
Mid Fade Vs Low Fade
The primary distinction between a low fade and a mid fade is where the fade begins. A low fade starts about a half-inch above the ear, whereas a mid fade starts about an inch above the ear.
The position of the fade affects the overall look and feel of the haircut.
A low fade has a softer transition because it begins lower, whereas a mid fade has a slightly harsher transition because it begins higher.
It all comes down to the difference between short and long hair. The contrast at the low fade isn't as strong because the transition begins low, and the hair on the sides isn't as short. A mid fade, on the other hand, has more contrast because it begins higher on the head, resulting in shorter hair on the sides.
How To Ask Your Barber For A Fade Haircut
If you've decided on a fade haircut and want to share it with your barber, be as specific as possible. Bring a picture, or several pictures, to demonstrate what you're looking for. If you don't recognize all of the names, an image can help. It's also a good idea to discuss your hair length and texture so that your look can be tailored to your specific needs. You should also discuss how to keep it going. Some fades are subtle, while others create an obvious contrast. The more dramatic your fade, the more upkeep it will require.
How To Maintain Your Fade Haircut
The amount of maintenance required depends on the type of fade you choose; less subtle fades will necessitate more frequent barbershop visits. Fades are very flattering and can add a stylish and structured element to any hairstyle. They do, however, require some maintenance. If you don't feel comfortable doing it yourself, visit your barber every three to four weeks. Alternatively, depending on how quickly your hair grows. Some hairstyles can be worn for up to six weeks.
Trendy Fade Hairstyles for Men
We have collected a list of trendy fade hairstyles for men. Shaved sides are a thing of the past. The fade is the latest addition to men's fashion.
It has quickly risen in popularity because it adds a unique texture to your hair while helping you achieve shorter hair length on the sides.
Moreover, you can play around with this technique to transform many different hairstyles as well. The multiple possibilities that come with this hairstyle makes it an easy choice.
1. The Simple Fade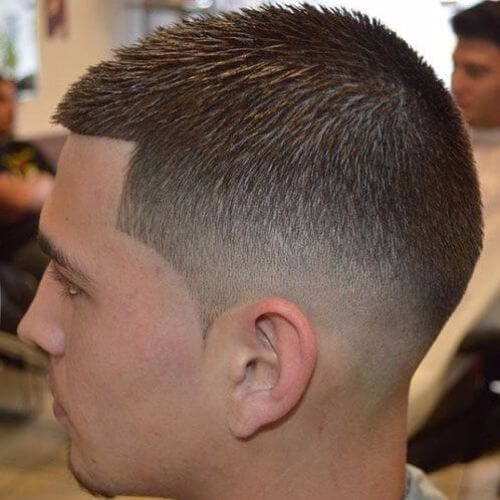 This subtle haircut is all about keeping a low profile. If you are looking for a shorter hair length, this haircut will work well for you.
This fade haircut features the gradual decrease in hair length from top to bottom. You can either go for a long top or chop the top off as well for a low maintenance hairstyle.
The choice is yours!
2. Fade Hairstyles for Men with a Pompadour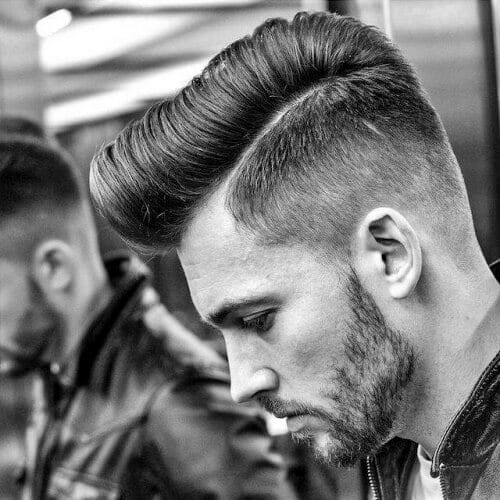 Our collection of fade hairstyles would be incomplete without the inclusion of this pompadour and fade fusion.
A stylish pomp on the top with faded sides is a sight to behold. It is an attractive haircut that looks modern, thanks to the faded sides.
3. The Fauxhawk and the Fade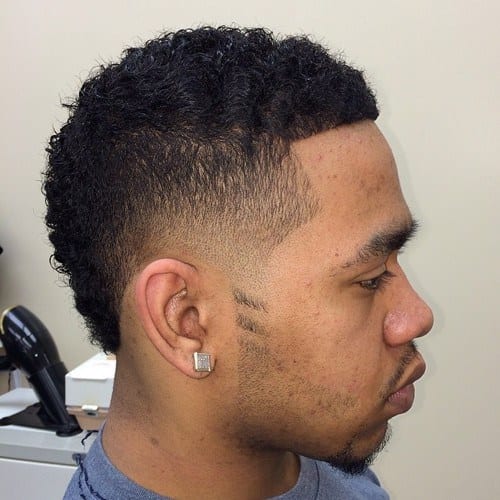 A fauxhawk is incomplete without a proper fade. It is like a match made in heaven. In this hairstyle, the fauxhawk in the middle is complemented by the light fade on the sides.
You can also go for a more buzzed fade as well if you are into that.
4. Thick Fade Hairstyles for Men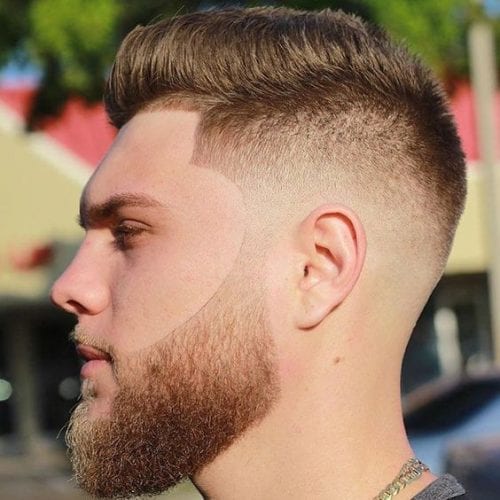 The fade hairstyle works well with all kinds of hair type but looks the best on thicker hair. Thicker hair provides more depth to the whole fade.
The added thickness gives great texture to your hair. You can pair this with an undercut and a beard for a stunning look, just like the one referred in the picture.
5. The Quiff Fade Hairstyles for Men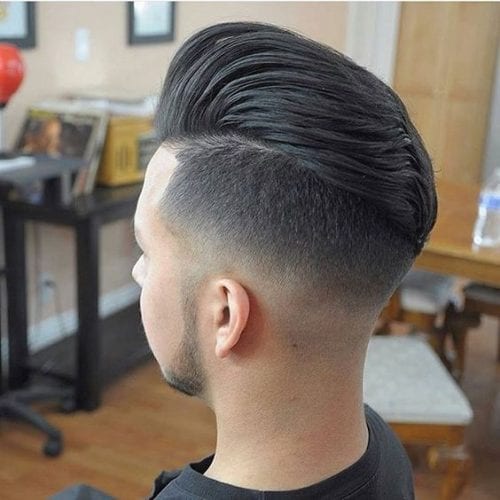 A quiff looks best with a fade. You cannot have the perfect quiff look without a fade. A quiff fade is all about a clean, voluminous quiff on top with faded hair on the sides.
This disconnected hairstyle creates a stark contrast between the hair on top and the sides. This contrast elevates the appeal of this hairstyle.
To get this hairstyle right, we advise you to book an appointment with a barber.
6. The Tight Pompadour and Fade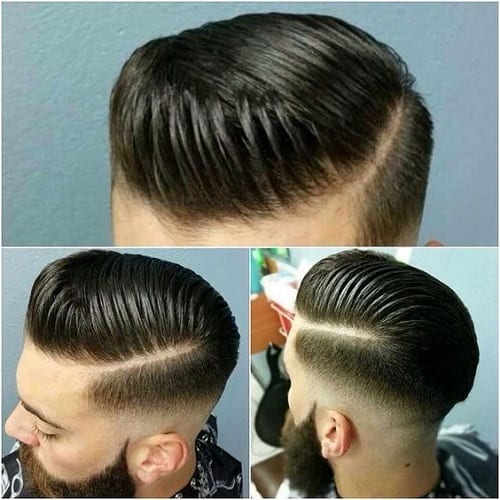 To get this sharp look, you need to have a tightly rolled pompadour on top. High-quality hair wax and a blow dryer is a must to get this look. A fine comb or a paddle brush can help in achieving this look.
Moreover, before you can style this look, you will need to visit a professional hairdresser to help you get this cut.
The fade is thicker at the top, and it gradually tapers down to a bald fade as you go further down. This hairstyle may look high maintenance, but this hairstyle is bound to leave many in awe.
7. Get a More Tighter Quiff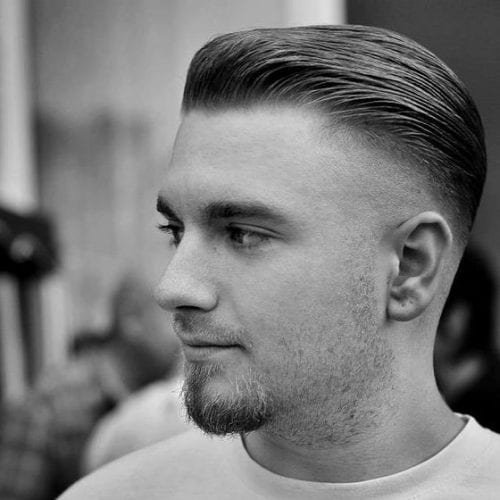 The name of this hairstyle may sound very familiar. You just read about the tight pompadour in the former point.
The difference between the two is that in a tight quiff, you neatly slick your hair back instead of rolling them into a pompadour. Moreover, quiffs are easier to maintain than pompadours.
To get this cut, taper your fade in an angle that it is aligned with the quiff.
8. Talk About a Fusion?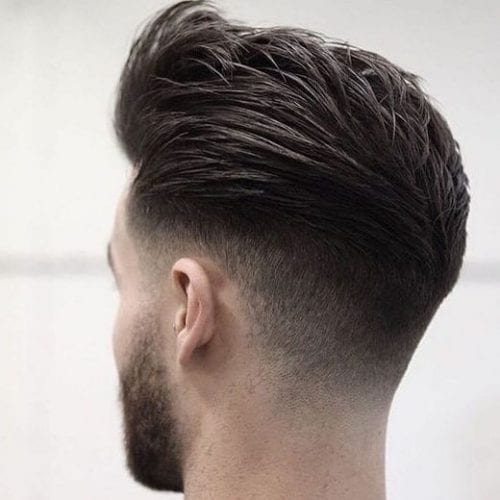 This fusion is extremely unique. You will not see many people going for this look. The idea is simple. The top and front of the head are styled as a pompadour while the back is slicked back into a quiff.
The fade follows the pompadour and quiff. It is thicker near the top and finer as you go down towards the neck.
9. Pompadour Descending Hairstyles for Men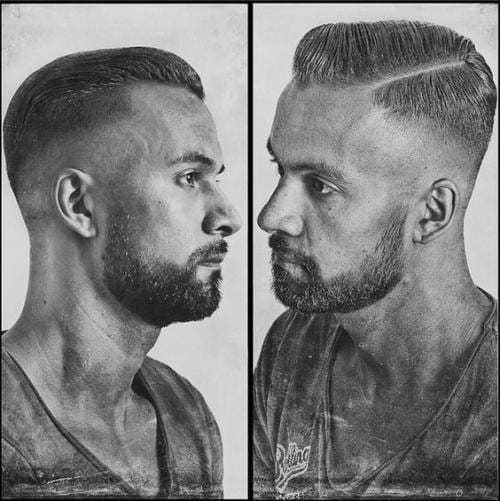 This hairstyle is about a pompadour on top that has two different things happening on the side. One side of the head is your typical rolled pompadour while the other is a descending fade.
Refer to the image for inspiration and consult a hairdresser if you have eyes on this look.
10. Piecey Quiff Fade Hairstyles for Men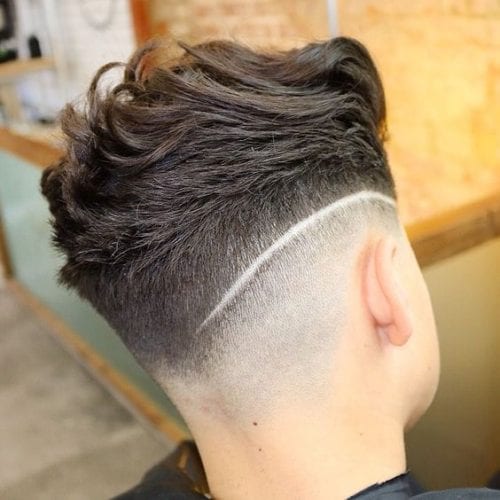 A hairstyle that is unique and new. If you have a fashion statement to make, then look no further for this is the hairstyle.
Works best for men with thicker and wavy hair.
FAQs
What does a fade haircut look like?
The fade is most visible from the side. From this angle, the haircut appears to be a gradient of longer to shorter hair, with some skin visible. From the front, a fade can appear as a high-and-tight or a short-back-and-sides.
What is the best fade haircut?
The low fade haircut is preferred by men who want a trendy and timeless look that complements all hair types, lengths, and styles. A low taper begins just above the ears and continues down to the neck. This low-cut fade is a versatile finishing touch that can be added to both short and long hairstyles to create a clean, fresh look on the sides and back.
What is a fade in a haircut?
A fade haircut is a hairstyle in which the hair is tapered and eventually "fades" into the skin.
How to Choose a Fade haircut?
Choose between a high, medium, or low fade, each with its own distinct appearance. In other words, the greater the coverage, the lower the fade. A high fade will only leave you with a mop-top, whereas a low fade will subtly taper down your head, with the shortest cut just around your ears.
How to ask for a fade haircut?
When visiting your barber, a lot of questions might occur in your mind. Most commonly the kind of haircut that you should prefer getting and how to go on asking your barber about it. While getting a haircut, it is important to take into account the kind of hair you want. In order to get the perfect haircut, it is necessary that you know the terminologies that should be used correctly.
Step 1: Know What A Fade Haircut Is
With the passing of time, the fade haircut has evolved itself into different variations. From the top fade to the lower fade, temple, scissors, and the likes. This haircut has some serious depth in it, and it will be very good for you to know which type you want as you go on to learn how to ask for a faded haircut.
Step 2: Know What Works For You
You cannot expect that something which looks good on Adam Levine will look good on you too! Do some basic research about the kinds of fade haircuts and which one will suit you best. From the color of your scalp to the cut of your face, length, texture and detail, knowing what combination (or combinations) can look good on you is a plus before you go to your barber and know how to ask for a fade haircut.
Step 3: Talk to your stylist about yourself
Tell them who you are, what you do, and what kind of style you think suits you best. Since you have already done your research, it will be much easier for you to explain yourself in terms the barber will understand. Such as the clipper size you want to make the fade on the sides. If you want to go near bald on the sides, you will ask him to give you a number 1-2 instead of number 7 or 8. Similarly, when you tell your barber about your lifestyle, he will be in a better position to give you the look you need. For example, the faded haircut of a doctor will be very different from a musician in a rock band.
Step 4: A reference picture can help
Keeping some references downloaded in your phone will help your barber visually imagine what you need and hence, get down to a suggestion, tailored just for you.
Step 5: A reference picture can help
Openly communicate about the length you want. You need to be clear on how short you want to go, and the barber will use the exact same clipper to maintain the length you need for the fade. Hence, having basic knowledge of hair clippers can come in handy when asking for a fade haircut.
Before talking to your barber for a haircut, make sure you go to the best one. Go to those who have a good reputation. Keeping your budget in mind, barbers can range from cheap to very expensive.
What are the types of fades?
The seven main types of Fades:
High Fades.
Medium Fades.
Low Fades.
Drop Fades.
Skin Fades.
Temple Fades.
Burst Fades.
How long does a fade haircut last?
The fade will last between 2 and 4 weeks. In general, the length and height of the fade will determine how long it will last.
What are the different types of skin fades?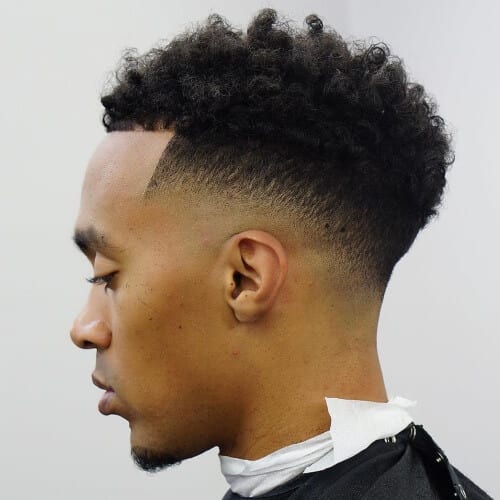 This type of fade may not be everyone's top choice. This fade is known as the skin fade, and it is particularly famous in the military.
As the name suggests, the sides are completely shaved to create a gradient of no hair to little hair near the top. You can play around with the gradient you want with your fade.
The different types of skin fade:
Mid Fade
High Fade
Hip Hop Fade
Bald Fade
High Taper Fade
Low Taper Fade
Razor Fade
Bald Fade
Is a fade unprofessional?
It is determined by the overall style and the added effect or drama.
What is a scissor fade?
The scissor fade is a simple fade that starts at the nape and works its way up with a tapered comb to get as close to the skin as possible. This method is typically used when a more customized shape is required to fit a specific head shape.
How often should you maintain your fade haircut?
It does take some maintenance to keep that skin fade looking good. To get this cut, we recommend going to your barber every 1-2 weeks.
What clippers do you need for a fade?
Clippers you need for a fade:
93.6 % Wahl Magic Clip Cordless
92.8 % BaBylissPRO GoldFX Clipper
90.3 % Andis Master Cordless
90 % Andis Cordless Fade Combo
88.6 % Wahl Elite Pro
87.5 % Oster Fast Feed
84.7 % Wahl 5-Star Senior Cordless
84.7 % Wahl Super Taper 2
A fade haircut is one of the most stylish and elegant ways to give details to hairstyles in men. Classically, this technique is going on for years, effectively tapering men's hair.
Moreover, as fade haircuts for men became tremendously popular with time, this vast selection of fade haircuts came through.
Although there are tremendous styles to choose, decide beforehand the kind of haircut you want. Several choices are not really of any benefit, they can literally be related to someone's first date. Go through hairstyle magazines and choose the kind that you think suits you better. Honestly speaking, the terminologies would not help, unless you are a professional. Once that syncs in, you are good to go!