The mullet was a staple of hairstyles, whether you were metal or country, yuppie or punk, jock or biker. This article will cover mullet haircuts for men. In many parts of Europe, mullet haircuts are popular, and there is an endless list of different types.
What Is A Mullet Haircut
One of the most recognizable men's haircuts from the 1980s is the mullet. Although this haircut, short in the front and long in the back, has been the subject of many jokes, it is currently making a comeback.
What Does A Mullet Haircut Look Like?
The style gained popularity in the 1970s and 1980s when stars of the time donned traditional mullets. Heavy mullets with voluminous, blown-out hair worn loosely or pulled back into a ponytail were typical during this period.
The mullet has gained popularity among football players, artists, and fashion icons due to its distinctive shape and cheery demeanor. The mullet is formal up front and funky back! It's a haircut for guys who don't take themselves too seriously and aren't scared to stand out from the rest. Additionally, it's a surprisingly attractive style that suits a range of face shapes.
How To Cut A Mullet?
The mullet is unusual in that it appears better the messier it is in some ways. Or at least, some men will be able to pull off the "I cut it myself" appearance rather than having it expertly trimmed and pruned by a barber.
We still advise visiting a barbershop, at the very least to have the top and sides of your hair cut to a shorter length because we can use blades and chop our hair to our exact taste. A skilled eye will make sure you achieve an even length in the desired areas.
How To Style A Mullet Haircut?
Start by preparing to comb
Brush or comb the sides of your hair either forward or backward depending on the direction your hair grows.
Generally speaking, males will sweep their hair back.
Use the product
To add shine and keep your sides in place, use a gel or pomade of your favorite brand.
Create your look
The top of your hair should be combed back and styled like a pompadour. Rough some wax or gel through your hair for an edgy, spikey appearance. Comb the sides of your top inward to give it a somewhat edgy finish using your hands.
Is Mullet Back on Trend?
The short answer is "Yes." Back to formal in the front and party in the back.
This haircut was initially popularized by a variety of sports and actors to represent style and a distinct appearance. Due to its appearance, which is different from the top that to from the back, it has been a blend of a meeting room with a nightclub.
The focal points of a mullet are the strands at the back that attempt to emerge from the cluster, giving the appearance of a jumble of strands scattered around the top of an organized short haircut.
The Return of Mullet
A return of the mullet makes sense following the craze of man buns and braids. So what defines the modern mullet?
The modern mullet is styled with a less striking contrast between the two lengths, while it still combines short and long lengths. The length of the hair can be kept longer in the back and somewhat shorter in the front and sides.
Avoid the overly styled look of the past and maintain a more modest length at the back of your head to keep it feeling modern (just above the nape of the neck). You may also experiment with brightening the color or adding more contrast with a faux hawk or a sharp fade to your mullet haircut.
Mullet Haircut Styles
All the details you require about mullets are provided below, along with tips on how to style one so that it looks fresh and fashionable.
Taper Mullet Haircut
A mullet hairstyle is a men's haircut that features short or medium hair in the front and long hair in the rear. For a unique appearance, the sides of the head are frequently faded or tapered.
Fade Mullet Haircut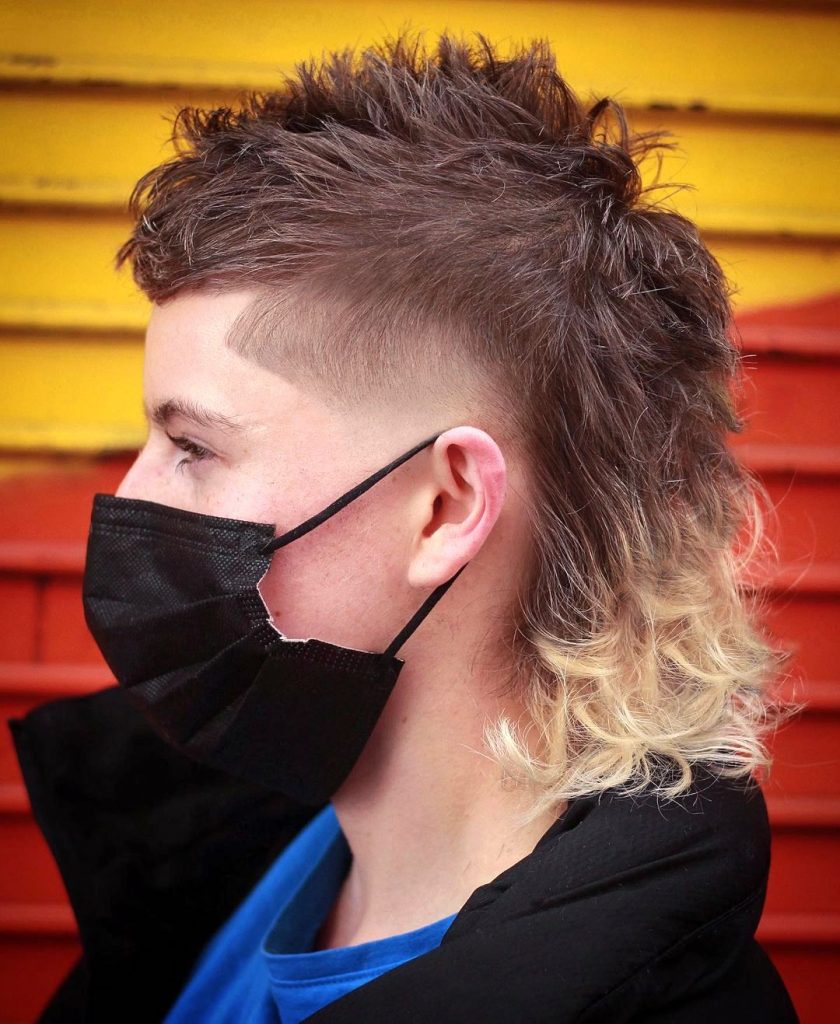 A modern twist on the traditional mullet is the mullet fade. Additionally, the hair is short in the front and substantially longer in the rear. However, the sides are faded rather than just cut. Your hair will seem nice and fashionable after doing this.
Burst Fade Mullet Haircut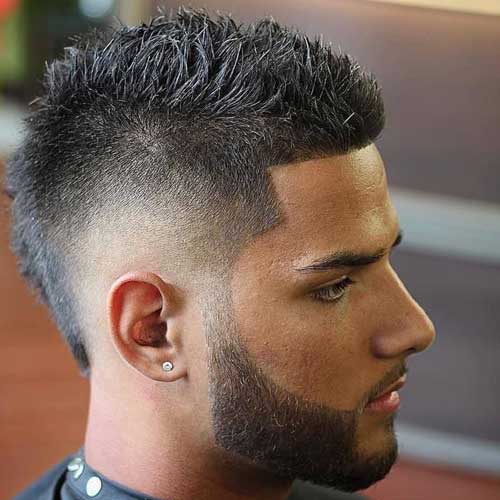 A burst fade is a way to trim the hair on the sides by achieving a smooth transition from shorter hair to longer hair and following the natural curvature of the ear. A mullet is a haircut with a short front and lengthy rear.
Undercut Mullet Haircut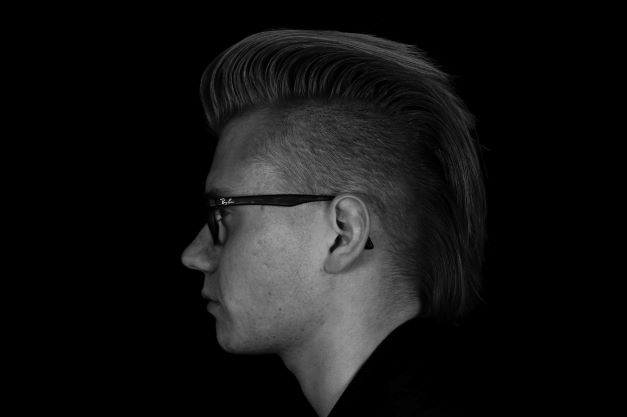 The mullet fade is an alternative to the undercut mullet. Undercut hairstyles include high, short sides that are all one length rather than tapered. All hair types look great with the mullet undercut, which may be styled to be spiky, brushed over, or untidy.
Blown Out Mullet Haircut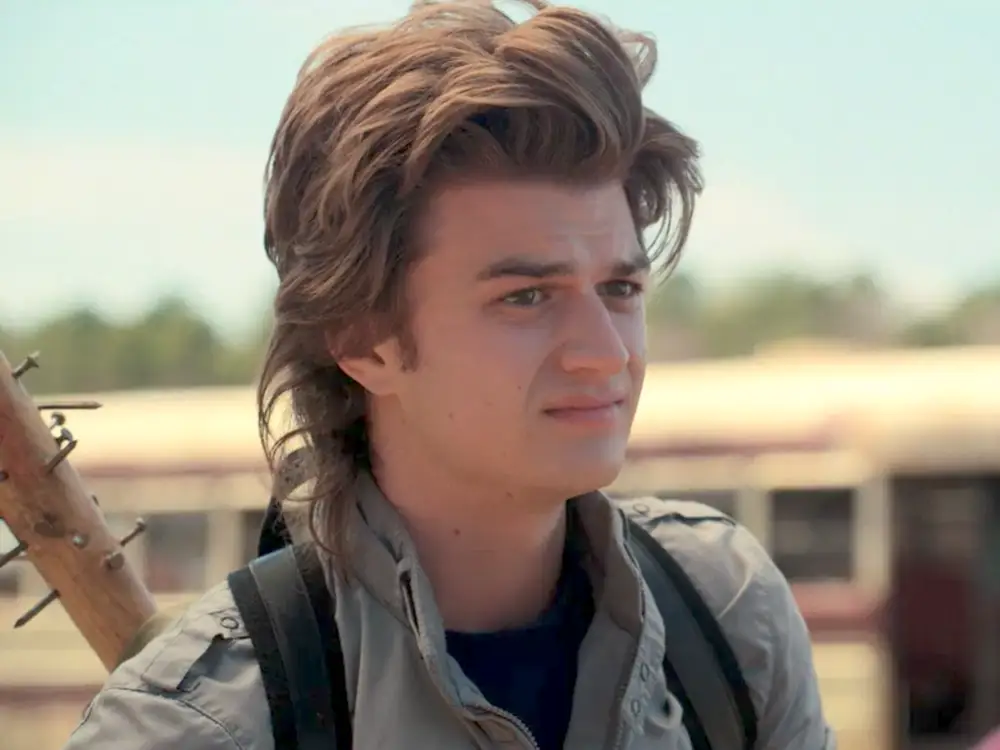 Joe Keery from Stranger Things was one of the more recent celebs to lead the campaign against the mullet. His luxurious locks were the talk of Hollywood until he eventually chopped them off in favor of a bowl cut or French Crop.
Here, he's used some high-shine product to blow his hair up and backward, emphasizing its length while also giving it a distinctly 80s look in keeping with the subject of the show in which he stars.
Curly Mullet Haircut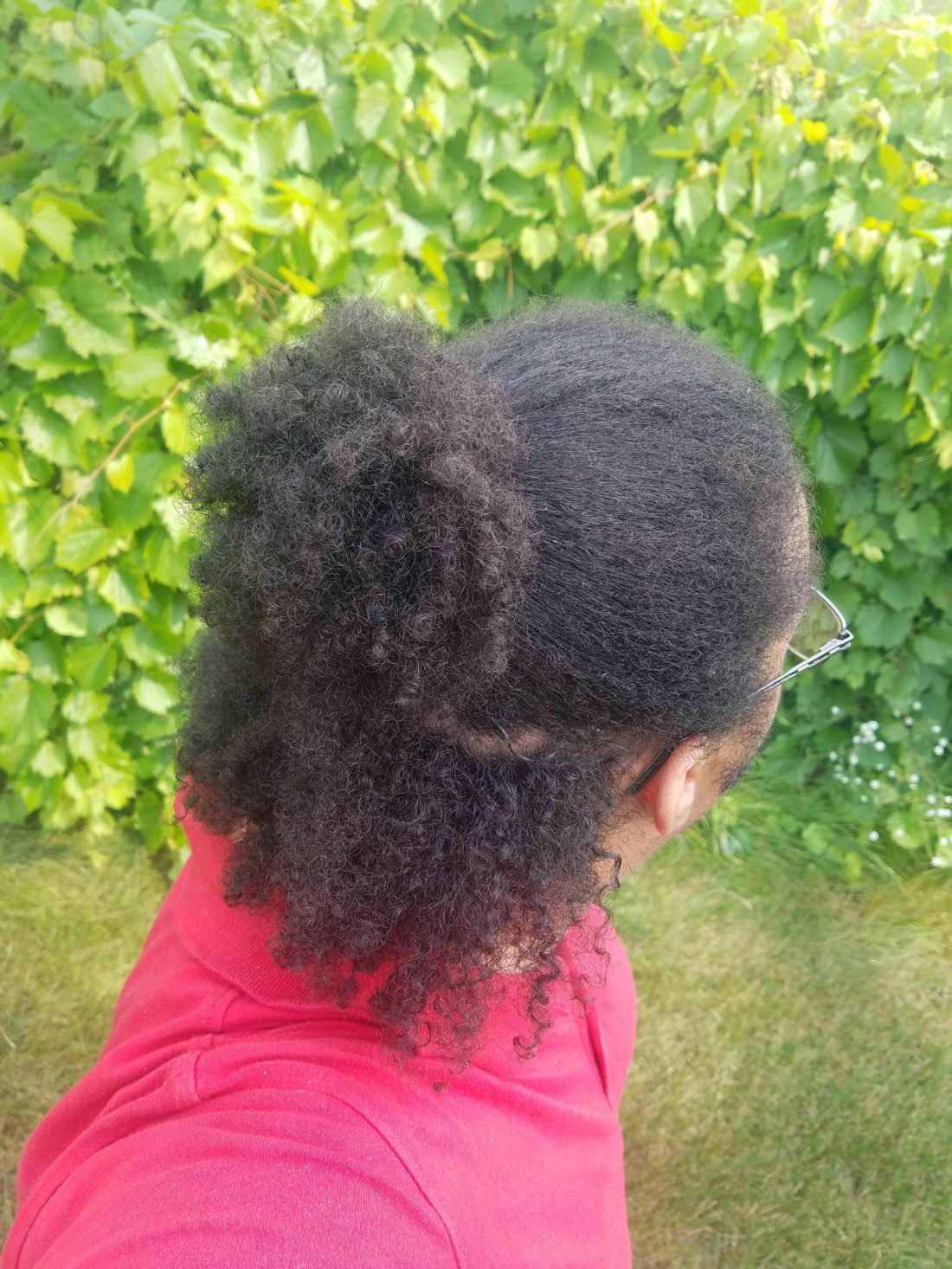 Guys with curly hair are always lucky. Curly hair naturally looks cool, natural, and textured, and it also complements the mullet style extremely well. The curly-haired variant appears, well, normal by trimming a little length off the sides or by applying some styling product to slick it back and hold it in place.
The natural volume effectively hides the length shift, making it a trendy and surfer-approved hairdo that will never go out of style.
Soft Men's Mullet Haircut
A round face would benefit from something softer. For characteristics like these, choose wispy bangs and unruly texture similar to Rowan Blanchard's famous mullet-lob.
Under Cut Mullet Haircut
A kind of hybrid haircut that partially combines the undercut and topknot styles. In order to achieve the undercut mullet haircut, you must let the hair at the front of your head grow long enough to be slicked back and appear to reach your neck.
Having the sides chopped short can help in this. The sides of an undercut should typically be cut to the same length, but if you want to add some fading over the ears, go for it.
Modern Mullet Haircut
Two factors define the modern mullet: a long mullet (i.e., a long body of short side hair and long back hair), and medium-length front and top hair. You are allowed to style this haircut any way you like since the term "contemporary" only refers to the shorter hair in the front.
Mullet Haircut With Beard
The sides are perfectly chiseled, the beard (which might be four times longer) is a good touch, and the rear (or mullet area of the cut) is nicely groomed and maintained.
Takuache Mullet Haircut
This isn't just a simple haircut. It is a way of life that is linked to a Latin American subculture. The Takuache or Edgar haircut is a unique style worn by guys who identify with this subculture. Other titles include a hood bowl and a Cuh haircut.
Shag Mullet Haircut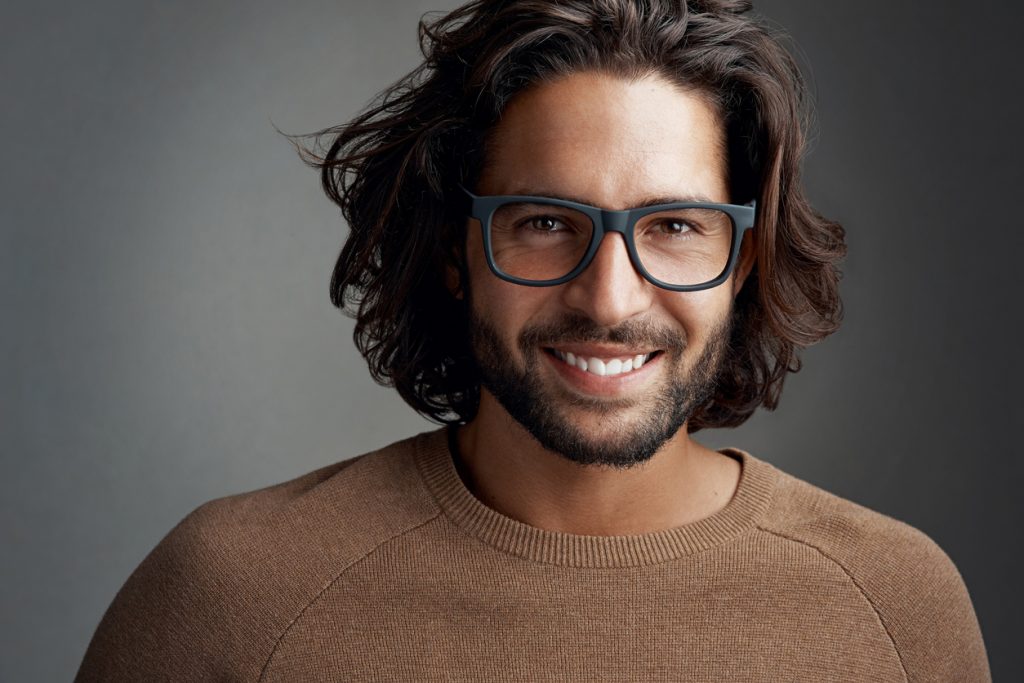 The sides and front of a mullet are trimmed short, but the rear is either uncut or longer. You will only notice a short hairstyle straight on, despite the fact that the hair will be longer at the back. With several internal layers, a shag haircut has long hair all the way around the edges.
Mohawk Mullet Haircut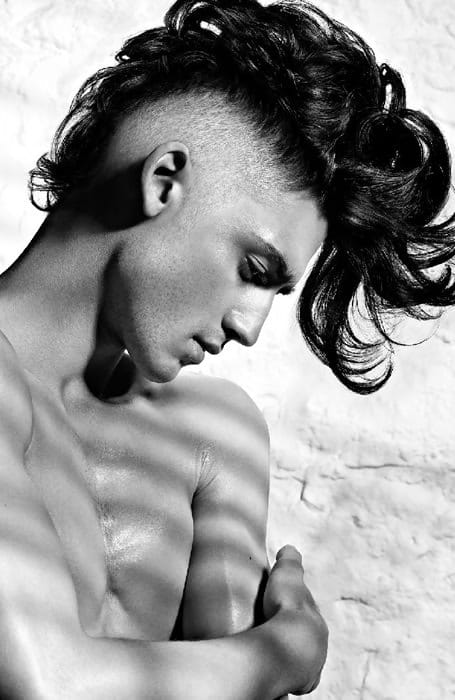 A hairdo in which the entire head is shaved, leaving only a strip of hair that runs from the forehead to the nape of the neck, usually with blunt, brush-like ends.
It is fairly clear how a mullet and a mohawk are similar. Both haircuts have short sides and a longer hairline that runs down the middle of the head. However, a mullet hairstyle features a tail that is substantially longer than a mohawk.
In contrast to a mohawk, a mullet has shorter hair on top of the head. Why not combine them then? A mullet mohawk is a unique and striking haircut that is ideal for men who wish to stand out from the crowd.
Faux Hawk Mullet Haircut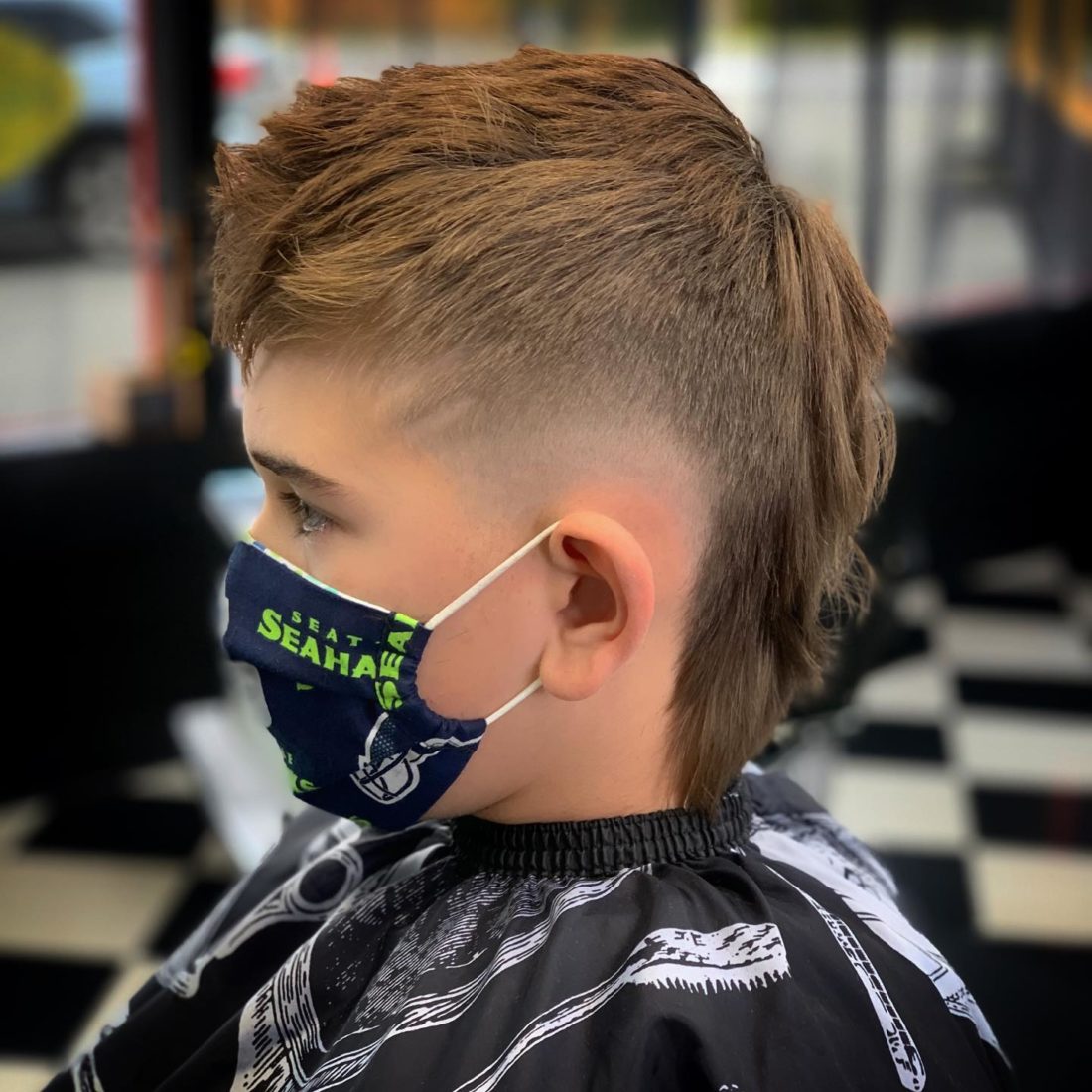 The sides of a faux hawk are chopped shorter than the hair on your head, but there is little difference between them and a Mohawk in terms of drama.
Wolf Mullet Haircut
According to Amy Abramite, Creative Director and Stylist at Maxine Salon in Chicago, "a wolf cut is a creative blend of a shag and a mullet." The top layers are short and transition into curtain bangs that frame the face in a scruffy style. The ends of the longer lengths flick out and are soft and light.
Viking Mullet Haircut
The top and back of the head are typically covered in long, thick hair, and the sides are typically shaved in Viking haircuts. The end effect is a striking and attitude-filled appearance that is ideal for tough gents. All you have to do to rock the look is include some trendy changes.
Alt Mullet Haircut
Think of rockstar and grunge hairstyles from the 1990s or emo hairstyles from the early 2000s, but with a contemporary twist. Bold layers with texture, vivid colors, and distinctive patterns are all big features of modern mullet haircuts.
Classic Mullet Haircut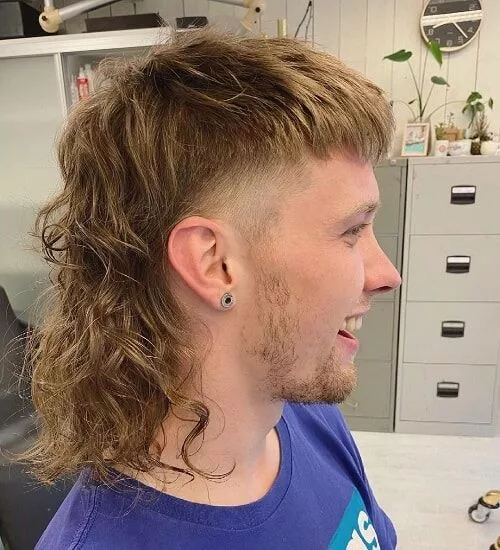 The traditional mullet is simple to pull off and still incredibly popular. You will need to grow your hair out to shoulder length for this style and then have the top and front layers of your hair cut to a medium length. The front and back hair then combine seamlessly to create a scruffy appearance.
Reverse Mullet Haircut
A hairstyle that resembles the classic mullet is the tellum, sometimes known as a reverse mullet or a frullet. Tellum is the reverse of mullet. A tellum is the opposite of a mullet in that it is long in the back and short in the front.
Classic Retro Mullet Haircut
The 1970s–1980s classic manly style is presented here with some additional flair on top. To bring it back, the sides are kept longer without any taper or fading, and the top is mix-curled and pulled together. The mullet, with its added length and rough texture, is the centerpiece of the performance.
Surfer Mullet Haircut
This type, often known as the long-haired mullet, can be seen in the surf off any Australian beach. Surfing icons like Mikey Wright are defending the famous cut, which sees the hair kept relatively short on top while the length at the back extends past the shoulders. The style was formerly demonized in Australia.
Skin Fade Mullet
While the skin fade is typically recognized as a refined look ideal for business and formal occasions, it takes on a completely new identity when worn with a mullet. The skin fade mullet is all about sharp angles and an unrelenting attitude, making it edgy and rebellious.
To achieve the almost geometric elements of this look, thick hair is necessary because you'll need natural volume to make the hair stand up. Combined with a streetwear vibe, the cut is lean and aggressive – and very stylish.
Mexican Mullet Haircut
The Edgar, often known as "the Mexican Caesar," is the most well-known Mexican haircut. Since crossing the border, it is also common throughout the southern United States. It was once popular among younger boys in Mexico.
Black Mullet Haircut
The other name for the black mullet is Shag. This 1980s hairstyle is referred to as the "black man's mullet" and is a blend of an Afro and a fade.
Permed Mullet Haircut
You simply cannot beat the long, curly mullet for the truly brave. Make sure your curls are intact and not puffy if you want this look to work. Try using a specific pomade or styling lotion for defining curls. To highlight the contrast in this mullet, keep the rest of your hair cut very short as well.
The long curly mullet is a great way to show off your curls if you have thick hair instead of growing them out all over, which may appear sloppy and be difficult to maintain, especially in the summer heat. By pairing it with a sharp suit and bold sunglasses, you can prevent the look from being overly retro.
Punk Mullet Haircut
Punk will never go out of style. For the man who isn't afraid to go all out, this tough-as-nails hairdo is ideal. Keep your top-of-the-head hair close to the skin, like a skinhead. However, leave the tips a little longer toward the crown of your head so you can spike them with gel or clay.
Long or short locks can be worn with this style, but make sure the length above the ears is as short as possible. You are now prepared for the upcoming show or a trip to the bar.
Hockey Mullet Haircut
Although having a long back is a given, the sides can be kept clean and cropped, giving the appearance of a mullet.
The majority of hockey hair has mullet-like roots. The sides can have patterns shaved into them. A player's mullet turns into a skullet if he keeps rocking it as his hair starts to fall out.
Dense Curled Mullet hair
Start with the exciting items on the top and sides. Although slight, the undercut helps to distinguish the sides from the top. Having said that, the curls' density is a show-stopper. To highlight the mullet, the top is slightly thinner than the back.
Slicked Mullet Haircut
The ability to maintain the same length on the top and bottom of a slick back hair mullet is its best feature, and for many men, it is essential. Slicked-back hair also always appears classy and manly!
Spiky Mullet Haircut
Frequently, how you style it decides more than the haircut itself. Because of this, a spiked hair mullet resembles a Caesar haircut more, and spiky hair paired with a fade looks incredibly cool and trendy!
80's Mullet Haircut
The 1980s are making a strong comeback, and they aren't going anywhere soon. The classic mullet look is very popular right now. Back then, maintaining fluffy, voluminous hair was key, with bonus points awarded for having shoulder-length hair behind the ears. Rob Lowe and Billy Ray Cyrus are two of the most well-known adaptors.
These days, you can recreate the hairstyle by maintaining the exact opposite extremes in hair length and adding a contemporary twist. Create a quiff or spikes to boost the volume by adding gel to the tips.
Asian Mullet Haircut
We should put the gigantic mullet haircut 2022 comeback on Asian tastemakers, and it makes sense. The haircuts worn by the K Pop culture's most notable exponents could not go ignored given its growing popularity.
Due to the structure of the natural hair, Kpop mullets are typically thick and textured. Additionally, it looks fantastic when the tips are highlighted with vibrant colors that stand out against dark roots.
Slick Back Mullet Haircut
Slicked-back hairstyles are quite "smooth," but if you're really serious, try it with a mullet. People who have long hair on their entire head, but shorter hair on their sides and hair that cascades down to their neck, enjoy this style.
As the name implies, this hairstyle has a sleek silhouette and is simple to imitate. Use a brush and volumizing products, like mousse or pomade, starting at the top of your forehead and moving down to the nape of your neck. Use hairspray to keep the style in place once you've coated the entire area.
Half Up Half Down Mullet Haircut
The half-up, half-down mullet flawlessly combines work and leisure, making it ideal for the guy on the go. Even if your hair is shorter on top or in the front, this hairstyle is perfect for people with longer hair.
Your head's crown tendrils should be gathered, and you should bind them as high or as low as you like. This is a great option because it works in all settings and keeps you slim and presentable, whether you're running a boardroom meeting or hanging out with friends.
Other Mullet Hairstyles
Apart from the mullet haircuts listed above. The wackiest and classiest mullet hairstyles you can try are listed below.
Hawaiian Mullet Haircut
American Flag Mullet Haircut
Mullet Bob Haircut
Chris Bumstead Haircut Mullet
Redneck Mullet Haircut
Blonde Mullet Haircut
Euro Mullet Haircut
Flat Top Mullet Haircut
Flow Mullet Haircut
Kanye West Mullet Haircut
Hector Bellerin Haircut Mullet
Middle Part Mullet Haircut
Mike Gundy Mullet Haircut
Mullet Haircut With Hat
Baseball Mullet Haircut
How To Grow Mullet Hair
Here are the steps you can grow mullet hair easily and quickie, consider the following guiding steps:
Step 1: Strengthen Your Hair
When you desire to develop a mullet, you must first let your hair grow out. The minimum length for a mullet is between two and six inches, but you must pick how long you want it to be. The finished product ought to contrast with the front being around four inches shorter than the back. Your hair should be allowed to grow out completely so that you may properly shape it.
Step 2: Create Sections in Your Hair
Once your hair has grown out, you must use clips to divide the top of your head into three portions. The top of your head, from the center of your forehead to where it starts to curve, should be included.
On each side are the other two portions. Take any area of your hair that you intend to leave long and use another clip to divide it into these three portions.
Step 3: Trim the Front
The front is the first area to be trimmed. Take a portion of hair from the top, let it loose, and comb it over your forehead. Cut the front to your desired length. Pick any cut; some individuals like their bangs cut straight across, while others prefer them angled.
Even buzzing the front and top might be a good idea. Begin by trimming the bangs; keep in mind that you will sculpt the style afterward. Divide your bangs into smaller pieces as you cut them. It will appear scraggly if you attempt to trim it all at once.
Grab a section of hair and begin on each side. Then, trim it starting at the middle and working outward. It's simple to trim it again, so don't be scared to leave a little length. If you chop off too much, you will have to wait till it comes back. Keep your scissors at an angle when you clip the hair if you want your bangs to fall to the side.
Step 4: Trim the Sides
Move to one side once you've completed the front. Comb the hair forward with your fingers. Cut the sides of your hair at an angle, bringing it over your bangs. The top of your hair should be longer than the area around your ears. Trim the hair near your ears by using a straight comb.
Cut the hair slowly and in small sections. Use vertical slashes to provide the appearance of tapering. Make sure to only chop up to a quarter of an inch at once. Finish one side first, then work on the other.
Step 5: Cut the Top
The portion on top of your head should now be taken. Straighten the hair up and hold it about the middle. You should coordinate this hair with your bangs or the front of your head.
It's important to move carefully so you can align and level out your hair. Move from the front to the back starting with the front. Knowing the style you want to attain is essential if you want all of these elements to flow together.
Step 6: Combine the top and sides
You must now merge the top with the sides of your hair after cutting the entire front section. Determine where you need to cut by looking at the points where the top and sides meet. Cut any sharp angles in your hair with a comb to make the hairs merge together. Bring your hair up and out.
Step 7: Comb from the back
Move to the back when you've completed trimming the front. Let your hair hang freely after removing the clip. After that, comb it to make it flat and smooth. It will be simpler to cut it uniformly as a result.
Step 8: Cut the Back
Make sure to cut the back in parts when doing so. Use your comb to comb your hair at an angle up and away from your head. To ensure evenness, only trim a very small portion at a time. Make careful to combine these portions if you still have long hair on the top of your head.
Step 9: Combine the sides and the back
Work your way to the backs of your hair. To appear natural, the back and sides must be blended. To make your hair appear smooth and tapered, start by scanning for any jagged edges and trimming them.
Some people add layers to the sides to achieve a shaggy mullet look. However, be careful not to include the bottom. Even if the sides are layered, the bottom should have a blunt cut.
Step 10: Hairstyling
Consider your styling options after cutting your hair in a simple mullet style. Some people prefer this straightforward look, which features long hair in the back and a standard haircut in the front.
Some people choose a more extreme style, like shaving the sides of the head but leaving the back long. Choose the style that appeals to you. Shaving the sides of your head is one of the current trends. People keep their backs a little bit longer while maintaining their long tops.
The Ending Note
Mullet haircuts come in a variety of styles. You can style your look based on the face cut you have. We have discussed many mullet haircuts for men.
FAQs
Which BTS member had a mullet?
One member of the K-Pop group BTS is the most recent example of why you might want to think about joining the mullet haircut trend. Jeon Jung-kook, well known by his stage as Jungkook, recently debuted a new hairstyle while appearing in an advertisement for the appliance manufacturer Conway Global.
Does Jin have a mullet?
Most of the time, Jin's mullet in the 2020 Season's Greetings previews stunned BTS fans. 'JIN Has a Mullet,
What is Jungkook's haircut?
One member of the K-Pop group BTS is the most recent example of why you might want to think about joining the mullet haircut trend. Jeon Jung-kook, well known by his stage as Jungkook, recently debuted a new hairstyle while appearing in an advertisement for the appliance manufacturer Conway Global.
How do I get a K-pop mullet? And what Do I tell my barber for a mullet?
Choose a mullet that has the ideal amount of balance throughout. If you have hair with a curly texture, you may choose to leave your sides roughly the same length as the top of your hair, or you may choose a low-side fade. This looks more uniform and less faux hawk-like because it complements the greater length at the rear.
Is the mullet hairstyle back in style?
Before gradually disappearing for the majority of the 1990s and 2000s, the cut gained its greatest popularity in the 1980s. But it makes sense that mullets are back in style again given that retro fashion is making a comeback on social media.
Are mullets in style right now?
In 2022, the mullet will undoubtedly return, but with a contemporary twist. This time, it's all about embracing natural texture, incorporating bright colors, and wearing more solid yet unique shapes. Compared to the 1980s, more hair is preserved on top, while the length at the back is not as dramatic.
What is a modern mullet haircut?
The long mullet (i.e., a long body of back hair and short side hair) and medium-length front and top hair are the two characteristics that define the modern mullet. The shorter hair in the front is what makes this haircut "contemporary," so you are free to style it any way you choose.
What is the meaning of a mullet haircut?
Mullet is a haircut where the back is long and the sides and top are short.
Who can pull off a mullet?
Anyone who is brave enough to pull it off can rock this style. "The mullet only requires the appropriate attitude; it doesn't require a specific gender, age, facial shape, or hair type to work. A mullet can be worn by anyone and by everyone. Although they have a powerful appearance, as long as you are confident, you can wear them.
What is a wolf cut?
A wolf cut is a creative blend of shag and a mullet. The top layers are short and transition into curtain bangs that frame the face in a scruffy style. The ends of the longer lengths flick out and are soft and light.
How do you care for a mullet?
The ideal mullet is a wavy one, so sprinkle some salt spray on damp hair and muss it up a bit with your fingers while it dries naturally to add texture. Don't wash your hair too frequently.
What face shape suits a mullet?
With a mullet on the long side, draw attention to that exquisite bone structure. Heart-shaped faces go nicely with a shaggy style that extends past the shoulders.
What are mullets called now?
The most recent variation of a gender-neutral hairstyle is the wolf cut. The mullet, which it was modeled after, has a long history.
Are mullets unattractive?
Out of 227 respondents, 139 agreed that mullets are unattractive. That is 65% of the population that feels that mullets are a complete disgrace. Many residents of North Forsyth have expressed their opinions over the mullet.
Is a wolf cut a mullet?
Yes. Wolf cut is another name for mullet.
Do mullets suit round faces?
A round face would benefit from something softer. For characteristics like these, choose wispy bangs and unruly texture similar to Rowan Blanchard's famous mullet-lob.
Are mullets high maintenance?
Over time, mullet normally requires "very low upkeep. good cut should style itself and look beautiful when worn carelessly for a "rolled out of bed" appearance. However, it must appear just as nice groomed and blown out.
Why you shouldn't get a mullet?
Mullets are frequently linked to rape, child molestation, drug usage, aggressive offenders, trailer parks, and drug use. These social stigmas against mullets are usually dissuasive enough to avoid most women.
How long does it take to grow out a mullet?
It's difficult to predict how long it will take because it depends on how quickly your hair grows. It depends on your hair growth level. However, it usually takes at least six months for someone to grow a mullet.
What is a step mullet?
This hairstyle, which draws its inspiration from staircases, has distinct hair "steps" and tiers. According to Australian artist Yan Yan Chan, it resembles a choppy bob. However, a three-tied style that combines bangs, a bob, and a longer bob is also common.
How do you start a mullet?
Slick your hair forward, starting at the back of your head. Allow your long side hair to meld with the hair on the back of your head. Work your way to the front while maintaining a polished appearance. Utilize your comb to lift your hair up whenever you reach the front.
What grows hair faster?
According to studies, nutrient deficiencies, such as those in biotin, riboflavin, iron, and vitamins B12 and D, are linked to hair loss. If you are balding as a result of inadequate nutrition, eating a balanced diet rich in certain vitamins and minerals may help encourage hair growth.
How do you make a mullet look good?
The greatest mullets have a lot of texture, so style yours with beach hair spray on damp hair and muss it up a bit with your fingers while it dries naturally. Skip your daily hair wash; mullets also look better on second or third-day hair. To remove extra oil between washes, use dry shampoo.
Is the mullet hairstyle popular?
Yes, at least in nations with larger surfing communities, like Australia. Because it prevents their long hair from falling in front of their faces while surfing, the haircut is usually associated with surfers.