No, we're not kidding. The world's most expensive office chair is really priced at $1.5 million. It's manufactured in Venice, Italy, and called the Aresline Xten.
A fancy name for an elite (an a super expensive) chair.
The Aresline Xten is an ergonomically designed chair. It is introduced and made by a popular Italian car design company. They go by the name of Pininfarina.
They are known for designing cars for Ferrari (Ferrari Enzo), Lamborghini and Maserati (Maserati GranTurismo).
No wonder they are commanding a $1.5 million price for a chair built with super high standards of innovation, technology and design.
It'll give you an experience of sitting in a super-car (pun intended), on your desk. The Aresline Xten has a sleek, modern design that should be durable enough to last you a lifetime (or maybe a few more generations at that price?).
Other Posts You Might Like:
Why is the World's Most Expensive Office Chair so 'Expensive'?
The Most Expensive Office Chair's Fabric
Supposedly its the MOST comfortable chair in the world. The fabric that goes into making this most expensive office chair is highly durable and breathable. The fabric (called Dynatec) is hard-wearing, has good protective abilities and is pleasant to touch.
It is used by Olympic Athletes for those reasons.
The Most Expensive Office Chair's Seating Material and Cushioning
It features Technogel, which is a unique non-toxic soft solid material that has 3D deformation and adaptability attributes of a liquid. Its supportive cushioning conforms to the shape of the occupants body, avoids the heating effect and provides a cooling effect.
According the Pininfarina, Technogel reduces fatigue and seating pressure by 60%. Hence, the outcome is a super comfortable seating experience.
The Most Expensive Office Chair Has the Most Advanced Tilting System and Revolutionary Ergodynamic Design
That's not all. It also offers the most advance and high tech tilting function. It enables the occupant to adjust the seat and the back independently to one another, and at complementing angles. That's due to the revolutionary ergodynamic design.
Plus, it features an adjustable lumbar support and headrest. Both can be adjusted to the height and the required comfort level.
According Pininfarina:
There is no finer ergonomic office chair anywhere in the world for comfort, construction and ergonomic design.
The Most Expensive Office Chair is Available in 4 Colors
It is available in the following 4 colors if you have an extra $1.5 million stashed in your locker for the most expensive office chair:
Metallic Blue
Grey
Red
Anthracite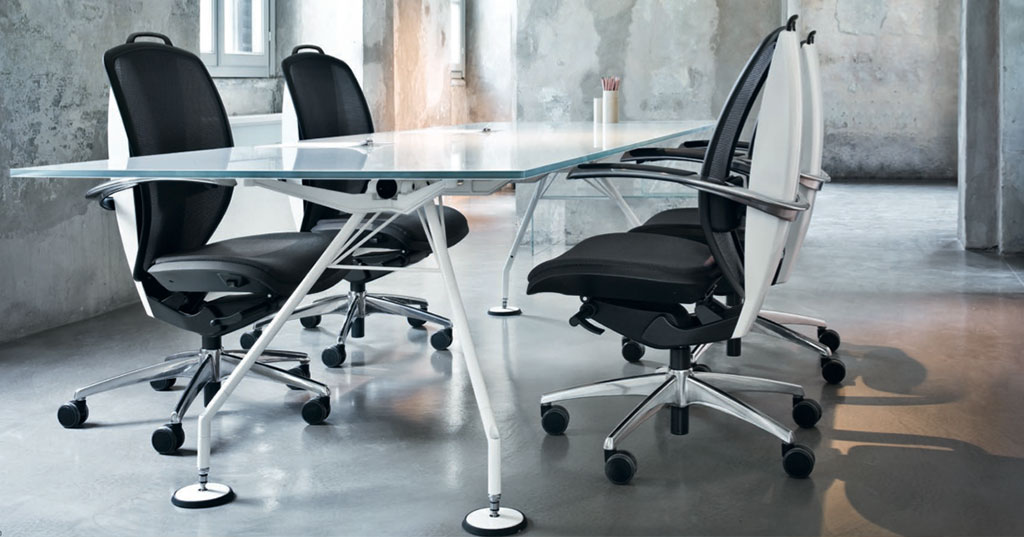 The Most Expensive Office Chair: Features List
Manufactured in Venice, Italy

The seating surface is made with Dynatec – a fabric known for its durability, range of motion and comfort.

Seating material features Technogel – a solid with the deformation and adaptability properties of a liquid to give the occupant the most comfort

High tech ergo-dynamic design that offers independently adjustable lumbar support, headrest and arm rests
The Dynamic Synchronized Tilting system is the most advance for positional seating – both the back and the seat adjust independently of one another

The option of getting pol

ished aluminum, or a high tech graphite composition
Solid die case aluminum back, arms and base
Available in 4 colors: Grey, Ferrari Red, Anthracite, Maserati Blue
The Most Expensive Office Chair: Is it worth it?
The Aresline Xten is not only the world's most expensive office chair, but it is also the world's most luxurious office chair. If you're looking for a $1.5 million treatment for your behinds (and if you can afford to do so), do give it a try. The company's goal was to design the best office chair in the world (and the most expensive office chair too).
Do you think it's worth splashing out that kind of cash? Some people would.