Are you an adventurous and a sporty man, looking for the best tactical watches?
But how can you define the best tactical watch, when it really boils down every individual's taste and preference?
Typically, sport watches or tactical watches refer to the watches worn by the military. Check our site MeetMatt-Conf for more latest branded watch.  The army men, soldiers on ground – during training or war. So what kind of watch would soldiers prefer?
Ideally, watches that are reliable and rugged. Ones that can help security force personnel get through their mission.
These are tough watches, that can stand tough beating and rugged environments.
However, from a broader perspective, a tactical watch can be any watch that is designed to meet the performance requirements of a specific job role, check vintage jewellery for sale online to find yours from home. Can we call a watch designed for a sports person, a tactical watch?
Why not? Hopefully, you get the point. But to clarify, we're only covering military tactical watches in this post.
We've covered our pick of the best tactical watch money can buy, based on a number of features.
10 Best Tactical Watch Brands
Here is a list of best tactical watch brands, with their details to follow.
| Preview | Brand | Tactical Watch | Key Features | Price |
| --- | --- | --- | --- | --- |
| | Suunto | Suunto Vector | Barometer, Compass, Altimeter | |
|   |  Timex | Timex Ironman Classic | Compact Size, Reasonable Price | |
|   |  Suunto | Suunto Alpha Traverse Stealth |  Real-time Shot Detection | |
|   | Garmin | Garmin Tactix Bravo |  Pedometer, Heart Rate Monitor | |
|   |  Casio / G-Shock |  G-Shock Rangeman GW 9400-3 |  Solar Powered, Barometer, Compass, Altimeter | |
|   |  Casio |  Casio Protrek PRW6000Y-1A |  Stylish, Solar Powered, Barometer, Compass, Altimeter | |
| | G-Shock | G-Shock GW7900B | Solar Powered, Barometer, Compass, Altimeter | |
| | G-Shock | G-Shock Mudmaster GG-1000-1A5CR | Professional Quality, Barometer, Compass, Altimeter | |
| | Tamlee | Tamlee Quartz Watches Auto Date Clock | Stylish, Long lasting battery life | |
| | Rolex | Rolex Submariner | Luxury, Status Symbol, Aesthetics, Water Resistant, Durable | |
Suunto Vector: The Military Watch for Loyalists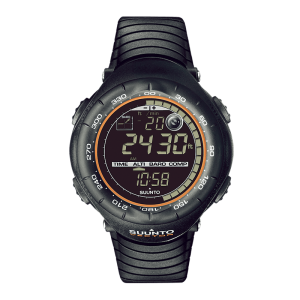 Suuntos is a known brand for great tactical watches, and it has attracted quite a loyal base of customers over the years. And the suunto core military is considered to be one of the tough watches that can go through even the harshest of environments.
It is known to be extremely durable, and covers all the features a tactical watch is designed to offer. Customers have also reported the Suuntos Vector to be very comfortable to wear. Its core features include a barometer, altimeter and a compass besides other essentials.
The battery is replaceable, but the customers often complain about the battery going out without any notification.
Also, you might not be able to find a specific battery for your Suuntos Vector, if you're wandering off in not-so-commercial locations. It's better to keep a backup.
Also, people who've bought it, don't recommend to go swimming wearing this.
Pros
Cons

Extremely durable and tough tactical watch
Barometer, Altimeter, Compass
Comfortable to wear
Robust and light
Weather trend indicator

Might feel slightly bulky to some people
Battery runs out without any notification
Plastic back casing and back cover seems cheap and weak
Limited water resistance (30M) / Don's go swimming wearing it
Markings on the bezel may wash-off despite the watch being waterproof
Timex Ironman Classic: The Affordable Military Watch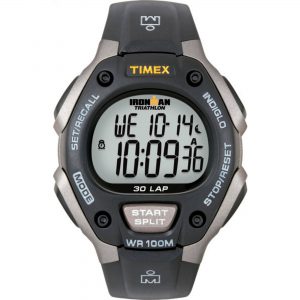 The Timex Ironman Classic is a minimalist and an affordable tactical watch that you can buy. It might not give you an upgraded style that you're after, but is a tough watch that can help you get through your next adventure.
Without a doubt, the Timex Ironman Classic is a durable tactical watch and has all the tactical features one would need for survival: it's easy to read and operate, has alarms, comes with 3 timers and a 30-lap memory stopwatch. This watch also features a night-light and is water resistant up to 100 meters.
Some customers have raised concerns with the strap being loose (or breaking). The paint of the watch is also reported to chip off within a few months.
Pros
Cons

Affordable / Reasonable price
All essentials of a survival tactical watch
Withstands rough usage
Water resistant (Up to 100M)

Only known to last a few years
Low quality wristband
The paint starts chipping off fromt he watch
Suunto Alpha Traverse: The Best Tactical Watch for Adventurers, Hunters and Fisherman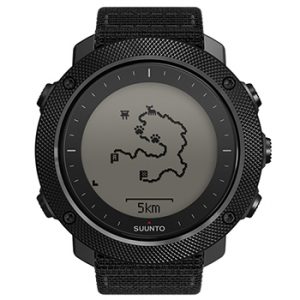 If you like hunting and fishing trips, the Suunto Alpha Traverse Stealth might be the best tactical watch you've been looking to buy. This watch may just be your perfect companion because of it's shot detection capability, besides being capable of delivering on other essentials.
Besides the rugged features, the Suunto Alpha Traverse Stealth is water resistant, GPS enabled and even lights up in darkness through its back-light.
It is made from rugged, stainless steel frame and sapphire crystal glass. The Suunto Alpha Traverse Stealth has a very modern look – yet its full of a number of tactical capabilities.
Specially made for fishing and hunting enthusiasts, the watch is completely water resistant to a distance of 100m. Its tough nylon textile based strap holds the watch in the upright position even during extreme outdoor activities.
Its long lasting Li-ion battery can go on for days without recharging. Made with military grade standards (MIL STD 819G), this watch won't let you down when you need it the most.
Features such as mobile notifications including call alerts, customizable night vision, red back-light make the Suunto Alpha Traverse Stealth stand out in the crowd.
What makes the Suunto Alpha Traverse Stealth more desirable is its ability to sense when a firearm was shot through advanced GPS mapping technology. Once a firearm is shot, the Suunto Alpha Traverse stealth will drop a marker at that location.
This is a feature primarily for hunters. A hunter will be able to track where the fire arm was shot, and then drop another marker where the animal was found.
Make sure to start the hunting activity tracker before you begin your hunt, and this watch will do the rest.
With Suunto Alpha Transverse Stealth, you can go the distance into the wild without being lost as it keeps tracks of your position through GPS.
It's also great for fisherman. Sunrise and sunsets, moon phases will never come between your fishing adventures. It can tell you exactly when is best to go fishing.
Suunto Alpha Traverse Features
GPS tracking makes it easier to keep track of your route
Location based moon phases suggesting best time for fishing
Keep tracks of shots while hunting telling you exactly when and where you shot
Almost everyone who bought the Suunto Alpha Traverse Alpha loved it. However some people found the display not as sharp in certain lighting conditions. So if you are looking for a sharp display, you should reconsider.
Also, it does not change time zones automatically. This could be resolved in a firmware update in our opinion. It would be best to get in touch with Suunto to re-confirm.
The temperature and barometer sensor is at the back of the watch, which may result in unreliable reading (since it's coming in contact with the wearer's skin).
The Suunto Alpha Traverse Stealth is handcrafted in Finland, its impeccably designed, has a tons of tactical features. It is built for the wilderness.
Pros
Cons

Modern / Stylish look
Durable
Shot-Detection feature
GPS Tracking
Location based moon phasing suggestions
Long lasting battery
Fast charging
Water Resistant

Some reported issues with firmware update
Temp / Barometer sensor at the back of the watch resulting in unreliable reading
Does not change time-zones automatically
Some customers found the display not as sharp as they'd like it
Garmin Tactix Bravo: The Best Tactical Watch for the Active Man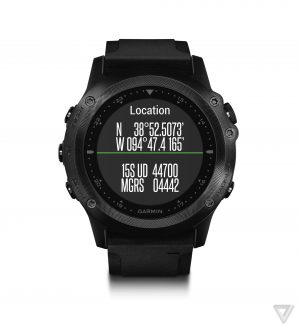 The Garmin Tactix Bravo watch is durable, rugged and light weight. It is also easily readable, even in direct sunlight.
The Garmin Tactix Bravo watch will monitor your heart rate, act as a pedometer and count your calorie intake. The pedometer is a very handy feature to track all the steps that you take during your adventure trips.
It's also water-resistant, has a GPS, and a battery life of up to twenty hours. Besides all of the above, it features other essentials including an alarm, a timer, a calendar and a compass.
If you're a hiker, swimmer, golfer or like to run, the Garmin Tactix Bravo is what you are looking for. It can withstand bumps and scratches that would break an ordinary watch. This watch is perfect for the active man – an all-rounder for your weekend adventures.
Probably just about everything you could ever need in a watch. Eh?
Okay, so not everything is amazing. We've talked about the good' let's talk about the bad now.
Some of units have been known to register swims as steps, roughly one step for every meter swam. Not a deal breaker if you take a look at the bigger picture. My smart watch often mistakes my typing for an aggressive workout session. I find it funny.
Some customers have also reported the app used to connect the watch to your smartphone, a little difficult to use.
Plus, it can sometimes be difficult to reach a member of the Garmin Customer Service team.
Don't think the negatives outweigh the positives. This may be the best tactical watch you've been looking to buy? If you're an active (or sporty) man, often seeking your next adventure. You might want to consider the Garmin Tactix Bravo.
Pros
Cons

Durable
Pedometer
Heart Rate Monitor
Water resistant

App that connects the watch to your smartphone may be buggy
The pedometer might register your swimming activity as steps
Customer Service can be unreachable sometimes
Casio (G-Shock) Rangeman GW9400-3: The Rugged and Tough Watch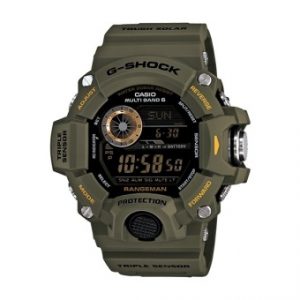 The Casio Rangeman GW9400 is another great contender for the best tactical watch. Its equipped with a number of features, like its other counterparts.
It comes with a barometer, so you will always be able to measure the air pressure. Its also equipped with a compass, which can come in handy when you're traveling in the wild, sailing in the ocean, or are gunning through a military assignment.
The best part about the compass in Casio (G-Shock) Rangeman GW 9400-3 is that it tells you the exact degrees rather than showing you the north.
The altimeter is also included for those who like hiking, climbing and mountain biking or even skiing. This watch can be a great companion for adventure trips.
It switches the time zones automatically, so you don't have to, and also features a thermometer. It also has Tough Solar (G-Shock's Solar Powered system), so you don't have to worry about the battery dying on you. Well solarkraft will definitely help you to understand about renewable energy.
Of all the best features of the Casino Rangeman GW 9400-3, the most outstanding feature is its durability and the solar powered system. This are two features which has made this watch to be rated well among the watches.
The negative display might not be very readable for some people, and it has quite a small display screen which makes it difficult to read.
Pros
Cons

Durable / Rugged
Solar powered
Altimeter, Barometer, Compass
Shock Resistant

Small display screen
Negative display might be unreadable for some
Casio Protrek PRW6000Y-1A: Great Combination of Style and Functionality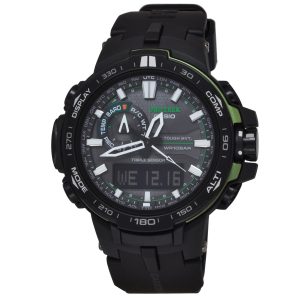 The Casio Protrek PRW6000Y-1A is a gem for sport watch enthusiasts who are looking for style and functionality. The latest addition to the Casio PROTREK family comes equipped with a powerful array of features that will satisfy even the most critical sports-watch fan.
Equipped with a scratch-resistant mineral dial window and durable black resin case and band, this quartz-movement watch packs a punch. It offers multi-band 6 atomic timekeeping, altimeter/barometer, thermometer, and compass functions. That's pretty much like the other counterparts in this post.
The stopwatch measures down to 1/100th of a second and you can program up to 5 alarms.
The Casio Protrek PRW6000Y-1A also provides its users with a world clock, hourly time signals, 12/24 hour format choice, and a power saving function.
It also comes with very powerful backlight and hand illumination to improve visibility at night and in low-light settings. Its Smart Access Electronic Crown with a quick look function makes it easy to adjust time and use the watch.
Its most impressive feature is its battery that can be recharged through a solar panel located in the analog-digital watch dial display. All Casio Tough Solar watches retain full functionality for between 5 and 23 months even when not being exposed to any direct sunlight.
The watch is also extremely durable: the resin band with buckle closure will ensure proper fit during even the most challenging exercises. The Casio Protrek PRW6000Y-1A is also water resistant to 100m (330 ft.) and is suitable for swimming and snorkeling.
Serious scuba divers might want to look elsewhere, however. Finally, the carbon insert adds stability and improves durability even further.
The only downside of the Casio Protrek PRW6000Y-1A would be its size. With a case thickness of almost 13mm and a case diameter of 45.45mm, it is not for slender wrists. Specifically, some users have complained about the crown extension being cumbersome.
Still, those looking for a great sports-watch with tons of functions will be in good hands with this particular piece.
Pros
Cons

Stylish
Durable / Rugged
Solar powered
Altimeter, Barometer, Compass
Shock Resistant

Bulky / Thick – Not for Slender Wrists
Some users have complained about the crown extension being cumbersome
G-Shock GW7900B: Great Combination of Style and Functionality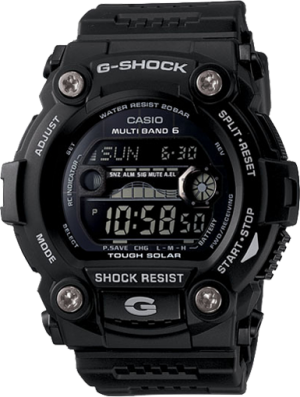 G-Shock provides people with tactical and military watches that are extremely durable, and are able to operate in even the most harsh conditions. G-Shock GW7900B-1 also stays true to this G-Shock philosophy.
Similar to other G-Shock versions, the G-Shock GW7900B-1 is solar-powered. It also features multi-band 6 atomic timekeeping, day/date/month calendar, alarm with the snooze ability, tide and moon data, and it can track 31 time zones, showing world time in 48 cities.
G-Shock GW7900B-1 is water resistant to 660ft (200m), which makes it great for water sports and underwater activity.
G-Shock GW7900B-1 is quite a convenient watch to wear with its aperture band design. Not only does it feel comfortable, it also looks tough and rugged.
It is equipped with four point design protector, and with its huge buttons and large display format is pretty easy to use in any condition, even if you were wearing gloves. G-Shock GW7900B-1 is almost entirely black (except for light grey numbers) which makes it a mean-looking tactical watch.
The display is scratch-resistant, which is to be expected for a watch that is supposed to go through a lot. It is full of handy features and comes at a reasonable price.
Black display with grey numbers may sometimes be difficult to read, but if you don't mind turning the light on every time, it is not a big setback.
Some customers noted that it was impossible at certain times to get the watch sync time with the region they were in.
There were also some reports of screws falling out right after buying the watch (the screws being of cosmetic purpose).
G-Shock GW7900B-1 might seem a bit bulky for some, and it can look rather odd at some angles, but it is still a good buy.
Pros
Cons

Durable / Rugged
Solar powered
Altimeter, Barometer, Compass
Shock Resistant

Bulky
Some reports of cosmetic screws falling off
The screen contract might make the watch difficult to read sometimes
G-Shock Mudmaster GG-1000-1A5CR: Highly Performance Driven Tactical Watch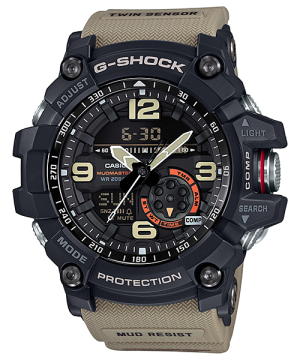 G-Shock Mudmaster (GG-1000-1A5CR ) is part of G-Shock's Master of G collection – the other 2 being Gulfmaster and Gravitymaster).
Just to clarify, Master of G is a collection of tough watches by G-Shock.They take feedback from professionals into account, and continue to evolve this series of tactical watches.
As of today, they have evolved to respond to 3 different fields where rugged military watches are an essential requirement:
The Sky (Gravitymaster)
The Land (Mudmaster)
Out in the Sea (Gulfmaster)
The G-Shock Mudmaster has earned its reputation as one of the best tactical watch through continuous evolution, and due to its capability to withstand harshest of conditions. It is perfect for men who work in extreme environments (and military, or marines, work in the harshest of environments).
The watch is dust- and mud-resistant, as well as shock resistant. It performs well up to 200-meters under water, and the pipes that guide buttons are protected by multiple gaskets which keep the water (and other elements, such as mud or dust) out.
It has a built in compass, with a measuring range is from 0 to 359. The compass has a bidirectional calibration and can display the direction reading which corresponds to your original traveling direction setting.
The watch also has a built in thermometer, with a measuring range from -10C to 60C (14F to 140F).
Large buttons ensure quick access to either one of the features, which can provide the most important information in dangerous situations.
Other features include a stopwatch, countdown timer, 12 or 24-hour format, alarm, auto-calendar, full automatic light-emitting-diode backlight which can last up to 3 seconds, depending on how you set it.
The watch can also display world time and city code, and has an option to turn on or off daylight savings time.
G-Shock Mudmaster (GG-1000-1A5CR) has just about everything you would need in a great tactical watch, and if you are down to being an adventurer,  or just work in an environment which requires you to tackle harsh environments, this watch is for you.
The batteries will last long too, so you will only need to change them rarely.
However, due to its many features, this watch may seem hard to read and difficult to set to those who are not used to military-style watches.
Also, due to its specific tactical watch style, the G-Shock Mudmaster is not for those who prefer design over functionality. You need to have a developed taste for military style watches.
Pros
Cons

Mud / Dust / Water Resistant (200M)
Professional Quality
Altimeter, Barometer, Compass, Thermometer
Shock Resistant
Large Buttons

Might be difficult to read if you're not used to military-style watches
Not for those who seek style over tactical watch's performance
Tamlee Quartz Watches Auto Date Clock: Best Tactical Watch for Style and Mild Tactical Conditions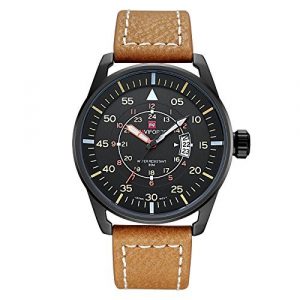 The Tamlee Quartz Watches Auto Date Clock is a great tactical watch to have in your collection. A good watch for style and mild tactical conditions. It could also be a great gift for important men in your life.
It is made with stainless steel, and comes in both black and brown cases. From a styling point of view, the Tamlee Quartz Watches Auto Date Clock offers a good combination of elegance and casual looks. It can pair very nicely with any casual clothes and even some formal outfits.
The watch is waterproof, up to thirty meters (not a lot compared to other tactical watches) – so you can probably go swimming, or in a shower wearing one of these. Not ideal if you're planning to go deep-sea diving.
It also features an incredible battery life of two years. The leather band is expected to withstand years of wear and tear (it's made with genuine leather).
The construction of the watch is solid. It is reported to withstand the harshest of missions or environments.
On the bad side, the watch hands do not glow in the dark – so it might be difficult to read in low light conditions.
Some customers also complained that the leather strap feels a bit too thick, however, that is more of a personal preference.
Overall, customer reviews show that it is a good watch for daily wear – probably not as rugged as its counterparts. It is probably good value for for your buck.
Pros
Cons

Stylish / Good Design
Impressive for Daily Wear
Water Resistant (30M)
Amazing battery life (2 years)

Not very durable
Some customers felt the leather strap is too thick
Difficult to read in low light conditions
Rolex Submariner: The Prestigious & Luxury Tactical Watch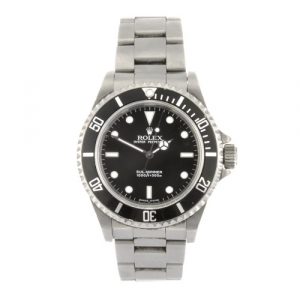 A quality watch is more than just a tool that displays time. It is something that represents a man to the world, shows his taste and where he is in life.
Apart from representing a man's social status, a luxury watch can be used as a jewel for all occasions. The Rolex Submariner watch is one such watch.
If you are a man looking for a prestigious fashion accessory as well as an elegant piece of jewellery it is high time you considered this priceless chronometer.
It comes with a stainless steel case, that provides protection to the inner components of the watch – and a steel oyster bracelet that complements the casing.
The self-winding feature eliminates the need for manual winding making the watch super convenient. The watch is adorned with sapphire on the window to prevent scratches and protect against impact (sapphire is super resistant to both).
The Rolex Submariner can also withstand water pressure up to 300M. So you don't have to take it off when diving in or a quick swim, or winding down in a Jacuzzi.
The luminescent hands and markers are purely for aesthetic appeal and they complement the watch's great design.
What makes this watch truly special is its elegance, beauty and versatility. It can be worn with a tuxedo for a black-tie event, or during dressed down evenings.
Perhaps the only downside to this watch is its price. It's more of a status symbol.
The Rolex Submariner retails at a whopping $6,750 minimum on Amazon and almost $8,000 on the higher side.
This difference in pricing depends on the material used to make the watch i.e a black dial stainless steel watch is cheaper compared to a black dial ceramic bezel steel watch.
Pros
Cons

Status symbol / Luxury
Elegant
Rugged
Beautifully Crafted
Water Resistant (300M)

Not for the average Joe – extremely pricey
Dislike for the Word "Tactical" Watch
Most hardcore military watch enthusiasts and people with a military background dislike the word "tactical." Primarily because they don't feel these military watches need to be branded as a category.
They blame marketing for that, because watch companies use this term to market army watch styles to civilians.
Then Why Are Military Watches Really Called Tactical Watches?
The word "tactical" reflects upon the tactics an individual (or a professional) would need, in order to achieve a certain goal or a mission.
Hence, a watch that enables a soldier to maintain discipline, follow orders, and accomplish a mission would be considered the best "tactical" watch for him.
The Essentials of Good Military Tactical Watches
For instance, the watch needs to be easily readable in high stress environment. This can refer to the choice of colors, contrast, size of the dial. Ideally, there should be a cover to protect the dial from dirt and damage as well.
Good Tactical Watch Brands Need To Have Low Light Readability, But Shouldn't Be Too Bright
Tactical watches also need to be discreet enough to not get noticed by the enemy, or a sniper. Otherwise, it can get the soldier killed. So a watch that is readable in low light, but not very noticeable during night time, or dark environments.
There is a story floating on the internet, that a German soldier was shot by a sharp shooter during World War II at night time when his wrist watch illuminated more than it was needed. We can't validate whether this story is true or not, but you get the point.
Another important functionality that good military watch brands should have is the alarm. It can help security forces wake up and stay on time.
Being Waterproof, Ruggedness and Reliability Make Them Tough Watches To Wear in Extreme Conditions
These tough watches also need to be waterproof, rugged and reliable. That's pretty much it from a very basic tactical watch. Reliability and ruggedness is what a soldier needs when on a mission at the very basic.
And most of them want to keep it simple when on a mission. Any other feature on a military watch, can be distracting.
And hence, most people in the security forces prefer to wear something reasonably priced. And a tactical watch that can take a beating. Most popular options are the G-Shock, or Timex.
But then, there are more tactical features that high-ranking officers or commanders might require. A flashlight. Maybe a GPS? An adventurer would consider this his survival watch.
Looking for the Best Tactical Watch? What are Your Preferences?
It's vital to know why you are looking to buy a tactical watch for yourself. Are you only looking for a stylish tactical watch for daily wear that goes with a number of outfits?
Or would you be going on adventure trips wearing it? Or maybe you've joined the military, and need one for your mission?
Learn more at What Kind Of Watch about the different types of watches that celebrities wear and where to get similar watches.
The Best Tactical Watch – What's Your Pick?
Soldiers, survivalists, sportsmen, men with interest in sports & survival-ism, and anyone who loves living on the edge should get a tactical watch for themselves.
What's your definition of "tactical"?
Which one of these would you consider the best tactical watch that you'd want to get for yourself?