Your hairstyle affects your overall look. A chic haircut redefines your personality and helps you to make a solid fashion statement. Though trendy haircuts reclaim the hairstyling market now and then, very few manage to become timeless – the lightning bolt haircut is definitely one of them.
A lightning bolt haircut is an excellent way for men to create distinctive styles. It helps them express their personality in their unique way. It boosts their confidence and makes them look daring and exciting. Anyone can rock this stylish haircut with ease.
What is a Lightning Bolt Haircut?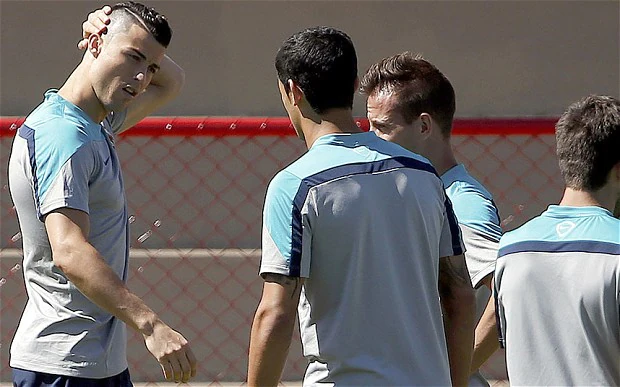 A lightning bolt haircut has a pattern similar to an ordinary lightning strike in appearance. It appears on one side of your head once your barber has shaved the hair on one side. You can determine the size of the lightning bolt in the haircut.
The lightning bolt haircut has infinite variations to help you stay trendy while also doing wonders for improving your physical appearance.
What are some Lightning Bolt Haircut Designs?
If you want to join the bandwagon of lightning bolt haircuts, you've come to the right place. The hairstyle is appropriate for all hair types and ages. A lightning bolt haircut is pretty simple when your barber is highly skilled at his craft.
Here are some of the best lightning bolt haircuts to consider if you want to create a one-of-a-kind look.
Lightning Bolt with Low Fade
It is the perfect option if you want a haircut that screams fashion. It requires the use of a razor blade. It makes the lightning bolt the focal point of your look. While you can wear it with any outfit, pairing it with vibrant clothing will suit you the best.
Lightning Bolt with High Fade Fro
A high fade immaculately highlights Afro hair. You can add more contrast to the hair on top and give the overall appearance a distinctive feature. Use coconut oil or even a pea-sized amount of hair custard to style the hair to add shine and definition.
Patterned Lightning Bolt with Short Afro Top
Afro hair combined with a low fade looks fantastic. You can experiment with your wardrobe and differentiate the look by including a lightning bolt icon. Wear something that accentuates the energy of this hair because it is so versatile.
Lightning Bolt with a Curled Top
It should be your go-to haircut if you are trying to highlight your curls and add a little spice to them. Although subtle, the lightning bolt will enhance the curls on top and highlight and heighten the disconnect between the fade and the curly strands.
Two-toned Lightning Bolt
Colors can make your lightning bolt haircut look even more daring. The color chrome on top can be a good choice if you want to make the most of your haircut. You can use a clipper to get a lightning bolt and a razor blade to add important details.
Lightning Bolt with Pink Highlights
An edgy haircut boosts your personality by another notch. Pink highlights not only give your hair a more youthful appearance, but they also significantly increase the shafts' puffiness. Hairstyles like the comb-over or the traditional slick back suit these haircuts, but you can also swap a caesar look.
Temple Lightning Bolt
If you want the lightning bolt to look more distinctive, start designing around the temple. While you will need a professional to assist in the process, the finished result will be effortless hair that requires little maintenance.
Designed Lightning Bolt with Afro Buzzcut
It is another excellent option for people with afro hair, keeping them cool. The outgrown buzz cut on the head is a perfect hairstyle for anyone, but the wavy, three-legged lightning bolt is unquestionably the show's star.
90s Flat Top with Mid Lightning Bolt
The 90s flat top, a typical hairstyle among musicians in the 90s, is not new to those who are well-versed in fashion trends. However, this look only has half as many visuals as the first. In addition to making the haircut flashy and distinctive, the additional adjustment, the lightning bolt design, also gives the flat top a tonne of shine and sheer volume.
Lightning Bolts with Tight Taper Blends
The fade must be tight around the nape line to get the look right. You can use a zero-guard clipper or even an electric razor for greater accuracy. Additionally, you can use shapes and apply them to the desired area to create the lightning bolt for a similar effect. Then, if you want a close-up look or have sensitive skin, you can use a razor blade.
Faux Hawk with Lightning Bolt
The unkempt yet appealing texture distinguishes a faux hawk. Although it has a lot of volume overall, a lightning bolt design enhances the visuals. Since both of them can't be pulled off simultaneously with this haircut, one can prioritize the visuals or the disconnect it contains.
Multi Pattern Lightning Bolt with Low Taper
Does a standard lightning bolt doesn't satisfy you? Try this one. The design includes two razor lines on the left side of the lightning bolt in addition to the familiar lightning bolt figure. A lightning bolt is an excellent option for a distinctive haircut because it is a little wavier than a typical lightning bolt icon.
Metro Mullet with Lightning Bolt
A metro mullet and lightning bolt make up a classic combination. You can revive the mullet trend while also pulling off the business in the front, party at the back appearance. This haircut offers a contemporary aesthetic in contrast to the traditional metro mullet, making it appropriate for the modern age.
Lightning Bolt for Waves
The beauty of waves remains unparalleled. You can gain a look that is both versatile and very in style, in addition to being able to embrace their culture. It can be challenging to pair waves with any haircut; it goes well with a lightning bolt look. One lightning bolt icon will be sufficient; adding one motif to each side will undoubtedly modernize the appearance.
Straight Edge Lightning Bolt with Light Up
A buzz cut is great when someone needs a more masculine appearance, but it can sometimes look overdone. An ordinary buzz cut will look less boring thanks to designs as elegant as a lightning bolt, and certain features will also stand out more. The bald fade around the lightning bolt can be instrumental if you wear jewelry or have a bushy beard.
Duo Tone Pastel Green Lightning Bolt
Pastel highlights have long dominated the show. Even though platinum blonde frequently steals the show, a color like a pastel green also merits some recognition. Adding pastel green highlights will make your lightning bolt haircut stand out even more, and you will have a flawless appearance that will make you the center of attention.
Man Bun with Lightning Bolt
Hair needs a lot of maintenance, and damaged hair can affect your confidence. Try this look to keep your hair from reaching the awkward stage. When you tie your hair up in a bun, your sides won't look too plain, and you'll also get a fresh new look.
Lightning Bolt with a Shadow Fade
A lightning bolt design will look flamboyant and in place if you wear it with a shadow fade and will have a significant impact if you wear it with a buzzcut-length haircut.
Lightning Bolt with Undercut
This style, which consists of an undercut with a twist, represents class and refinement. A skin fade will undoubtedly enhance the lightning bolt pattern, but one can also swap the skin fade for a medium or even blended fade to give it a more top-end appearance.
Additionally, this style is very adaptable because it enables frequent hair changes. If someone chooses to incorporate this look, they will have the freedom to choose their hairstyle, whether it's a side part comb over or a contemporary slick back.
Blow out Afro with Lightning Bolt Haircut
If you have Afro hair, you can recreate this hairstyle for a modern, lively appearance. Your Afro hair will also have a tonne of natural shine and density, and the fade underneath will look very admirable to those with a sense of style.
Lightning Bolt Haircuts for Redheads
Vibrant colors bring out the best in expressive haircuts like the lightning bolt haircut, so redheads can rock this look. You can use a bald fade at the bottom, a subtle skin fade, or an even larger guard to achieve blends. The lightning bolt icon will unquestionably stand out because the hair color will continue to be vibrant regardless of the fade.
Lightning Bolt with Pixie Cut
The pixie cut is one of the more innovative hairdos in the fashion world. A pixie cut tends to go well with any design and adapt well to vibrant colors. You can opt for it to up your game.
Mid Taper Lightning Bolt with Liberty Spikes
By combining liberty spikes with a lightning bolt icon, you can have the ultimate hairstyle that is perfectly styled and makes you look rebellious.
Lightning Bolt Pompadour
You can recreate this look if you love the pompadour but dislike how short the fade is around it. The lightning bolt is reasonably understated but has the power to increase the pompadour's level of polish significantly. Along with enhancing the top visuals, the bolt will also separate the haircut, improving the visibility of one's facial features.
Textured Caeser with Skin Fade Lightning Bolt
The caesar cut texture blends seamlessly with the lightning bolt design. With this hairstyle, you can achieve the ideal amount of thickness and exceptional shine using hair gel or hair wax.
Edgy Duo Tone Mawhawk with Lightning Bolt
The best feature of mohawks is that you get to play around with patterns. A lightning bolt icon will give your look some justice because the fade around the sides can occasionally look a little out of place. The sides will appear more menacing, and the outcomes will astound everyone.
Lightning Bolt Haircut for Kids
Allowing your kid to have this haircut can teach them to express their personality. It will make them look distinctive and presentable. It is also a time-saving option because the hairstyle is easy to maintain and manage.
Flash Lightning Bolt Haircut
The haircut has the appearance of a bolt inside of a circle. Typically, fans of the DC superhero Flash opt for the haircut. Little kids, especially, favor it as their go-to haircut. The Flash lightning bolt undoubtedly makes you the center of attention anywhere you go. It also makes a bold fashion statement.
Harry Potter Lightning Bolt
This haircut is for all the Harry Potter fans out there. You can get the well-known Harry Potter lightning design on your head. It looks cool, and you can say something powerful about it. On top of that, the barber will give your head a zigzag that resembles the patented Harry Potter lightning bolt. You can choose to have it as an undercut or on the side.
Lightning Bolt with Spider Bolt Haircut
Do you like Spiderman? Then try the lightning bolt with a spider web haircut and satisfy your inner Spiderman fan. It appears hip and stylish. Many hairstylists are specializing in it as the haircut gains more popularity.
Bad Bunny Light Bolt Haircut
Puerto Rican rapper Bad Bunny is the inspiration for this haircut. He is well known for his songs as well as his distinctive haircuts. The famous rapper frequently messes with his hair, shaving it in striking patterns and dying it in vivid colors. You can experiment with your hair like Bad Bunny if you want to try more daring looks. To get the ideal Bad Bunny haircut, you must seek help from a highly-skilled barber.
Paul Pogba's Lightning Bolt Haircut
You usually see this haircut on Paul Pogba's head. The vivid colors and the volume of this haircut make you look stylish and pleasing to the eyes. You can achieve a more natural look by employing a low-maintenance styling method.
Lightning Bolt with Hard Part
The hard part is a trendy haircut among men. You can get the hard part with a lightning bolt haircut to get the best of both worlds. You can create the lightning bolt hair tattoo on the side, where you can also part your hair.
Lightning Bolt with Tattoo
You will enjoy getting a tattoo if you are experimental with your hair. The trend of shaving the head in the design of various lightning shapes is similar to the lightning hair tattoo. One of the most well-known undercut hairstyles is this one. Additionally, you can follow the fashion by getting a lightning bolt haircut.
Lightning Bolt with Diamond
This hairstyle is an excellent option if you want a neat and successful haircut that symbolizes success, wealth, and rarity. Additionally, its straightforward and recognizable geometric form will catch people's eyes.
Star and Lightning Bolt Hair Design
It is another trendy hairstyle that makes you stand out. For men who like to be the center of attention, it's a great choice. The haircut looks best with a fauxhawk, but it goes well with any buzzed or faded hairstyle.
Rose Gold Lightning Bolt
This hairstyle looks great with a high skin fade. Without the help of a professional hairstylist, it can be challenging to master the complex pattern of the rose hairstyle. This pattern makes use of various clipper lengths. It's also a great 3D effect for passionate men who want to demonstrate their originality.
The Ending Note
If you like bold and daring haircuts, you shouldn't hesitate to try the lightning bolt haircuts. It is also an excellent haircut if you enjoy experimenting with different haircuts.
Avoid opting for this haircut in a professional or corporate environment. But, it will undoubtedly make you the center of attention at parties, family events, and bonfires.
Pair lightning bolt haircut with other cool haircuts and dye your hair in vibrant colors to make the most of this funky and stylish haircut!
FAQs
What is King princess haircut?
King Princess is an American singer. She's known for her shaggy hair. The singer's bangs and haircut frame her face, framing her healthy-looking yet artfully wild curls. The shaggy bob will allow your curls to run wild because it is ideal for wavy and curly hair textures.
What is a "soldier" haircut?
It is also called a high and tight army haircut. The sides of the head are clipped with a low guard clipper, leaving the top of the hair about an inch long. There is no gradual modification between the sides and the top of the head.
What is a mop-top haircut?
In the mop-top style, the hair frequently reaches the collar in the back and typically extends toward the eyes in the front. It has a boyish, almost shaggy appearance. It is a hairstyle for guys with type I and type II curly hair.
What is a Chanel haircut?
The Chanel haircut is characterized by chin-length hair. It is ideal for people who want to cut their hair but don't want to lose their elegance. There are many ways to style a Chanel haircut: You can go full vintage by cutting it ultra-short or asymmetric cuts. You can style it with waves and color it.
What is a shaggy bob?
It uses the razor-cut method to add choppy ends and textured layers that can be blunt or asymmetrical. It is a low-maintenance hairdo. The shag bob comes alive with all the movement that comes with texture and layers without effort with just a few styling products and fewer wash days.
What is it called when hair is shorter in the front and longer in the back?
These hairdos are called bangs or fringes.
How do I ask my stylist for a lightning bolt haircut?
If you have trouble expressing what kind of haircut you want, show your stylist photos of your desired haircut. Talk to him about the haircut's final result, style, and length. Make sure to record videos so they can provide you with the best results.
Can I get the lightning bolt haircut at home?
You can achieve the lightning bolt haircut at home—but only with the proper tools. You might need a mirror to check your hair, a hair clipper to make the lightning bolt, and a razor blade to create a precise lightning bolt logo. Ask your friend or partner to do it if you don't know how to cut your hair.
Is the lightning bolt haircut unprofessional?
The lightning bolt haircut exudes boldness and tends to elicit a lot of frowns in a professional setting, so it is not the best choice for people who work a 9–5 and want to be seen seriously at their job. But less corporate settings may not have a problem with your hairdo.