While it might seem satirically simple, there are plenty of men who don't know how to wear cufflinks. For the right occasion, that is.
We don't want to bore you with unnecessary details, but there are a couple of rules that are to be followed while wearing cufflink. And unfortunately, this gets a bit trickier if you're styling or dressing up for black-tie or formal occasions. Rest assured, this fuss-free guide will take care of all the basics.
How to Use Cufflinks
Before we get down to the details, it's important we cover the basics first. Here's your basic guide to using cufflinks:
Fold the Cuffs: Wearing cufflinks starts off by wearing the right shirt. Opt for French cuff dress shirts that don't have buttons on the sides. Once you've chosen a shirt, fold back the cuffs, ensuring that you're able to form an even and neat lining.
Hold the Cuffs: Next, hold the two cuffs together to ensure both edges remain flat. In other words, these two edges need to be pinched together in order to overlap. If you're wearing a single cuff shirt, the two edges must overlap to form a barrel shirt. However, we recommend you only stick to French cuff dress shirts for formal events.
Rotate the Backing Clasp: Once you've selected a cufflink of your choice, place it through the adjoining hold and rotate the backing clasp to form a "T" shape. Also, ensure the decorative part of the cufflink is displayed outward.
Ensure the Cuffs are aligned: Ensure the two holes are assigned and then push the backing end of your cufflink through the buttonhole.
Secure the Cufflink: Pinch the ends of both cufflinks together and secure it into place.
Rotate Backing Clasp: Finally, secure the backing clasp to hold the cuffs in place.
When to Wear Cufflinks
There aren't any strict rules to when you should wear cufflinks or not. You can wear them to work or for leisure when you're feeling a bit upbeat or perhaps add it to your minimalist wardrobe. However, you may have to follow a couple of basic rules when wearing cufflinks at a formal event to look your best.
While cufflinks are meant to be worn with French cuff and double cuff dress shirts, you wear it with other shirts too by having the buttons replaced. Simply visit a tailor and ask them to get rid of the buttons and you'll be good to go.
How To Wear Cufflinks: Formal Edition
Cufflinks are typically a part of most formal outfits and complete the overall star-studded look you're trying to achieve. Not to mention, they're a great way to add a hint of personal touch to your attire. Here's a simple to wearing cufflinks the right way for black tie and white tie events.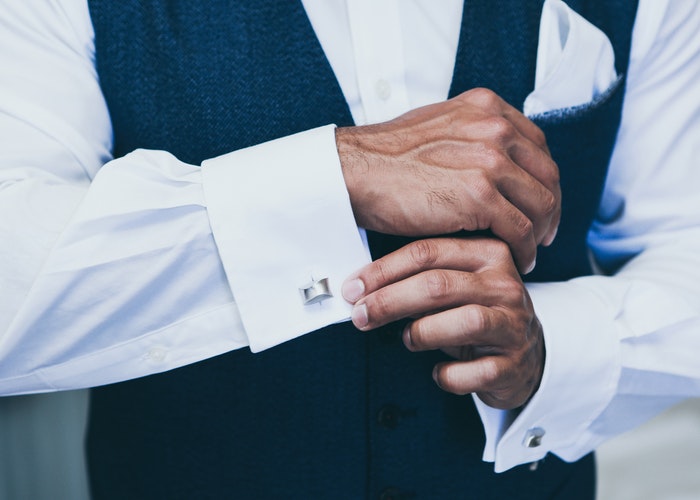 How to Wear Cufflinks to a Black Tie Event
Headed to a glamorous black tie event? Opt for simple yet elegant cufflinks that won't steer away too much attention from what you're actually wearing (your tux, that is). We suggest you go for silver sterling cufflinks, anything works so long as you keep it elegant. Avoid cufflinks with suggestive symbols or comical styles that are a bit too over the top. Keep the overall look classy but go ahead and experiment with something like rose gold cufflinks if you're up for it.
How to Wear Cufflinks to a White Tie Event
Headed to more exclusive white tie event? Well then, we suggest something that's a bit more extravagant than your basic black tie event. White tie events hit a higher bar in formality which is why you may have to adhere to a dress code at times. So if you're invited to a white tie event, be sure to read the invitation carefully.
This may sound a little too much but consider wearing Mother of Pearl cufflinks to this star-studded event. This will certainly help you turn heads and you can always get yourself something similar for a lower price if cost is a problem. Alternatively, you can opt for other white or pearl cufflinks to wear.
How to Wear Cufflinks with Tuxedos
The day is here! It's time you dust off that old tuxedo from your closet or rent one for your best bud's wedding. Metallic and silver accents complement tuxedos quite well so if you're pairing cufflinks, search for something along these lines. You'll find that adding matching cufflinks to the equation will take your overall look to the next level.  Alternatively, you can also opt for something that is bold and high-fashion such as an emerald pair.
How to Wear Cufflinks to Work
Wearing cufflinks to work is a great way to add a little pop of color to your otherwise monotonous work wardrobe. You can pair up cufflinks with the same color palette of the shirt you're wearing. When in doubt, a hint of silver is always good option since typically looks great with everything. All in all, keep it subtle if you aren't able to pick a color.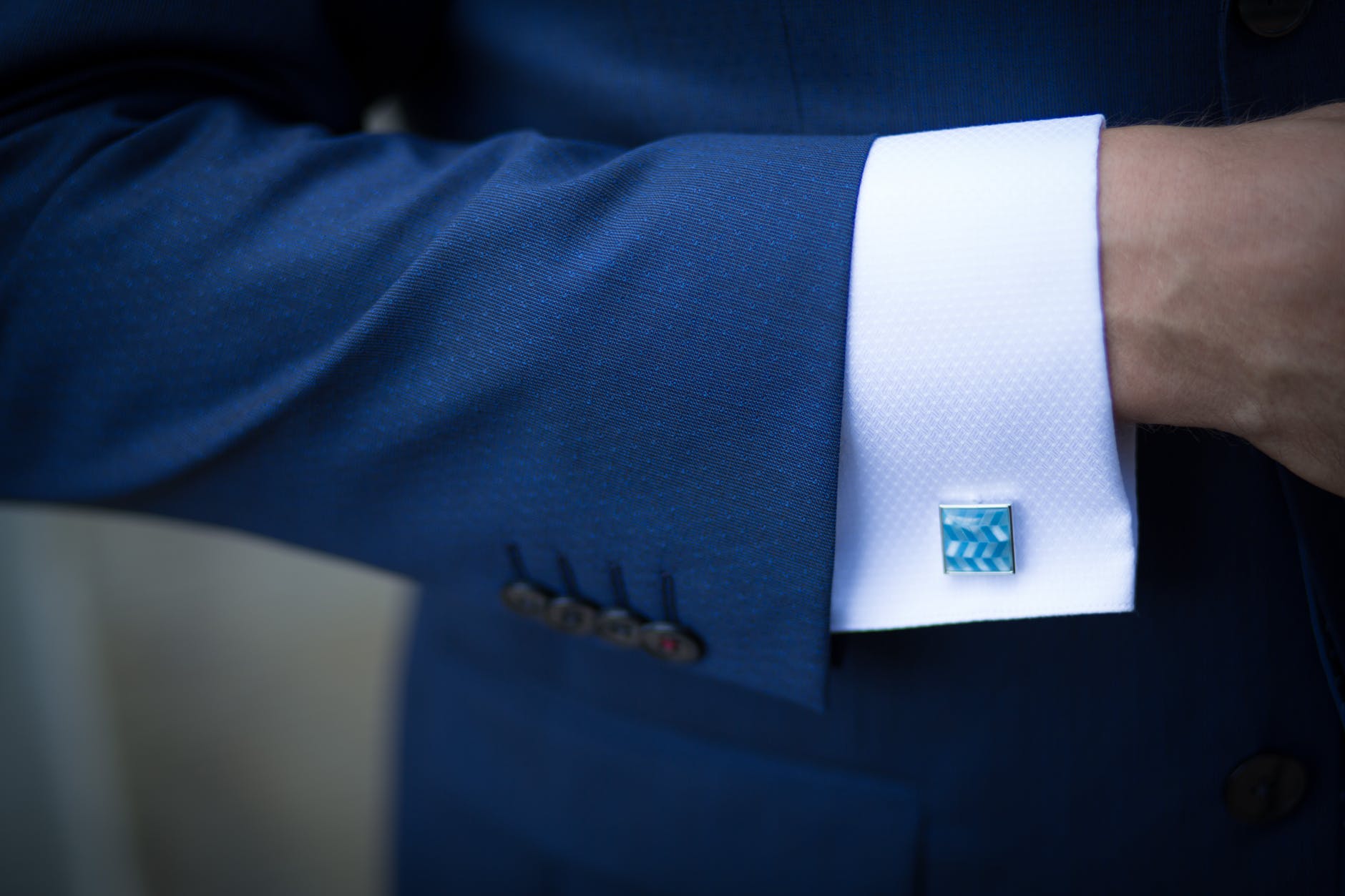 What about Silk Knots?
If you're fond of experimentation, perhaps you'd like to try out silk knots. These are variants of cufflinks that are made of fabric instead of metal and can easily be placed through the cuffs of your dress shirt. Silk knots are a great alternative if you don't want metal cufflinks to clash with the rest of your outfit.
How to Wear Cufflinks: Ending Note
So you see how something as tiny as cufflinks can take your overall look to the next level? Cufflinks are great for adding a bit more character to your overall look while elevating your personal style.
Did you enjoy reading about our guide on how to wear cufflinks?
Let us know what you think in the comments section below.