The mullet is an unusual hairdo. Even weirder is a curling mullet. Nonetheless, if you can get it off, it can look extremely fantastic. Men who can carry off a curly modern mullet have a strong sense of style. Some individuals dislike the mullet haircut, while others are enamored with it! However, we can all agree that it is a classic hairstyle.
The curly modern mullet haircut is ideal for men who know how to deal with backbiters and keep pushing forward because, since the 1980s, this hairstyle has been mocked for the appearance it lends to your personality. The most famous aspect of this haircut is that it falls between long and short hair, providing you with a stylish look as you go around the city.
Unique Curly Modern Mullet Hairstyles For Men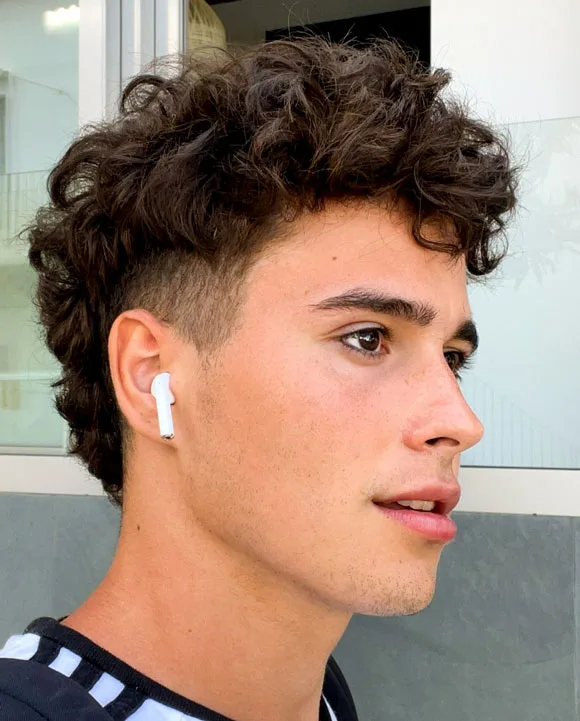 If you're weary of your current curly hairstyle and are eager for a haircut that will bring out the best qualities in your crinkle curls, we hope this article helps. The following are some of the unusual variants of curly modern mullets that will not go out of vogue anytime soon. Look through these ideas to find an iconic curl hairdo.
Outgrown Mid Length Curly Mullet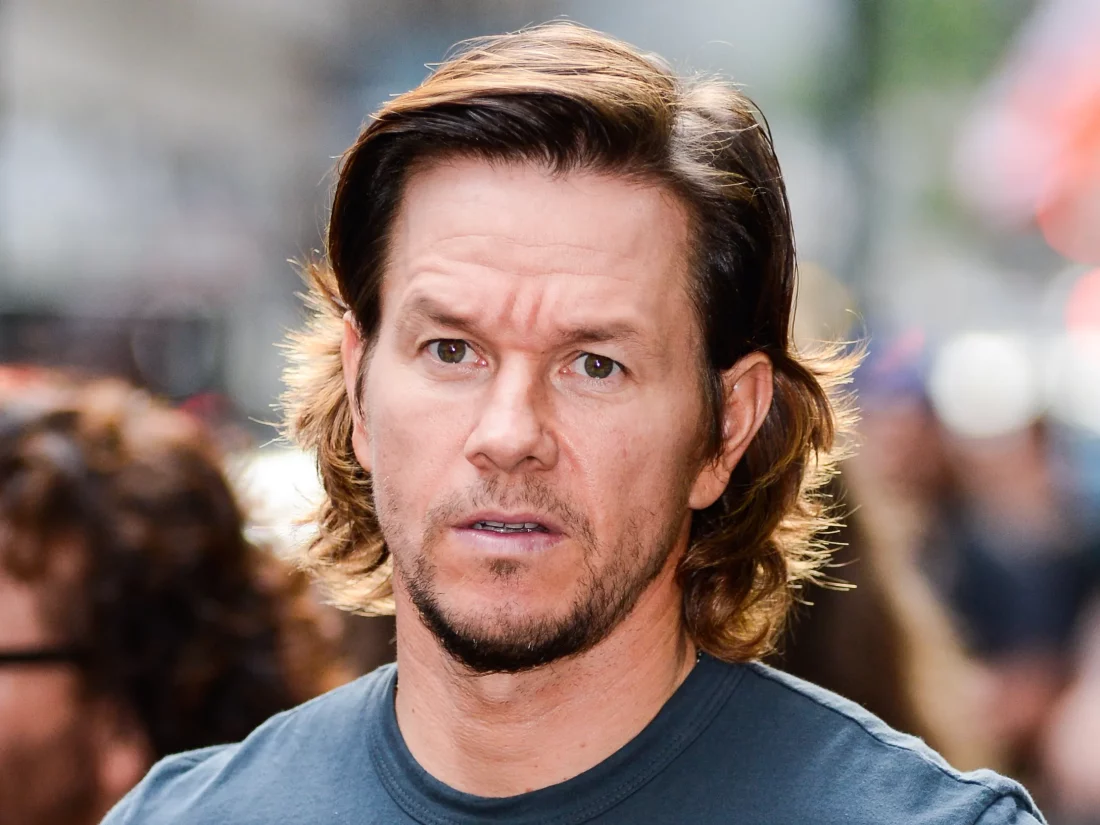 The nicest thing about curly mullets is how simple they are to style. Some of the alternatives don't even provide a detailed hair care regimen. One of them is this. Getting this look may take some time, but the results will be well worth the effort.
The simplest technique to achieve this hair may need you to forego shampoo and condition it more frequently. This will increase the definition and make the locks wavier. It will also lessen the amount of weight that curly hair normally bears and keep the strands grease-free. Make an appointment with your hairdresser every four weeks for a clean-up. Eliminating split ends will make the mullet appear healthier.
Short Curly Modern Mullet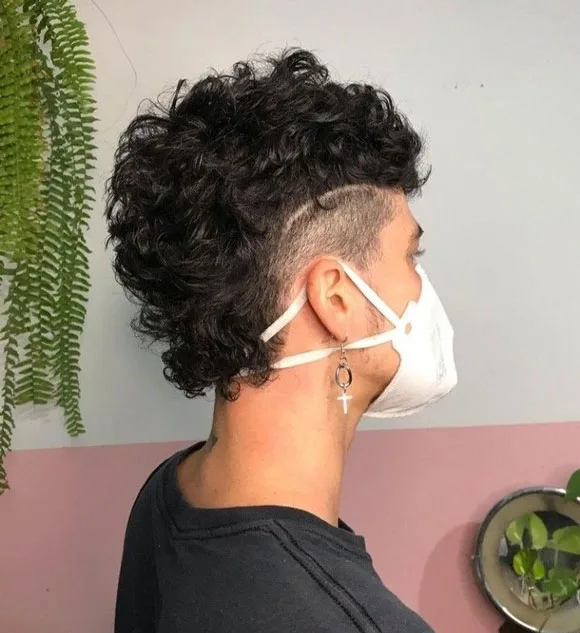 Short curly modern mullets are becoming popular hairstyles. It has several layers that tumble all over the place. The longer length adds texture and allows waves and curls to develop. 
Mullet curly hair is a wonderful option for males who wish to wear a curly modern mullet but lack thick hair. The curls will give structure to your hair, making it appear fuller in a good amount.
Curly Mullet for Long Hair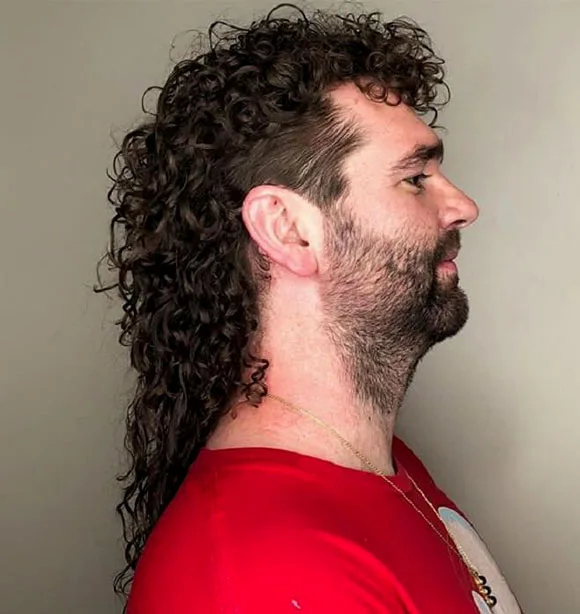 This is a look that takes little effort and attention to detail. It's done with a diffuser blow dryer, and the sides are cut down and mixed with the mullet to highlight the strands.
With each scrunch, the consistency of this hair will improve. Style it using your fingertips since it looks more natural than most of the other alternatives. Massage your scalp and play with your hair shaft to add more twisted curls.
90s Curly Mullet with Frosted Tips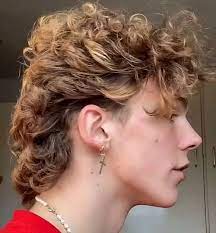 The curly mullet haircut originally gained popularity in the 1990s owing to its cool and informal appeal. It would be the go-to option for anyone who wants to experiment with their clothing and dress up.
The frosted tips were maybe the most noticeable feature of this mullet. They not only add volume to the hair, but the blonde color also made the hair look very pleasing to the eye. The deeper color beneath the crown also contributed to the success of this style.
Hazel Curly Mullet with Blends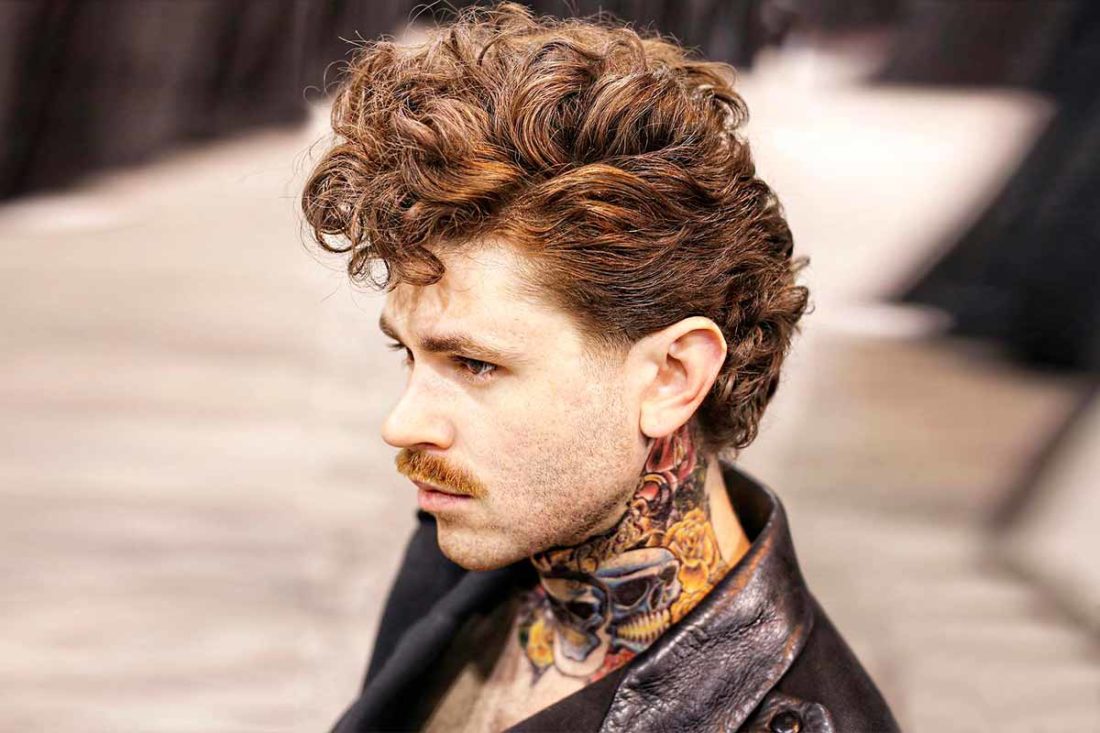 Light colors bring out the finest in a mullet. Blending the sides gives the curls a significant lift, which improves their appearance and makes them appear more natural.
Texturizing powder or hair mousse can be used to get this look. To get a matte finish, massage it into the strands. To avoid damaging the curls, refrain from using a comb.
Messy Curly Mullet with a Taper Fade
This haircut will let the curls make their own design. The hair's chemical-free nature makes it one of the safest selections on this list. When it comes to this hairstyle, the combination of mullet and curly hair is unmatched.
You may need to use an afro pick to generate sloppy and voluminous curls. Using this will help enhance blood circulation in the scalp and hair, increasing hair density and quality.
Side Swept Curly Mullet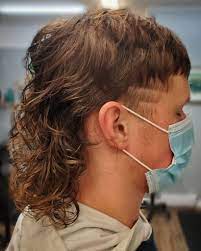 A side-swept mullet has several short yet tight curls throughout the hair. Blends are commonly used on the sides, and curls are frequently parted on one side exclusively. This brings out the best in curls in terms of definition and density and is a perfect option for those searching for a simple-to-replicate solution.
To produce smooth and wavy curls, apply a hair mousse to hold the hair in place. However, for a tighter hold, apply some hair custard to damp hair and get a firmer hold with hairspray.
How to Style Mullet with Curly Hair
It is significantly easier to style a curly modern mullet for males than most people believe. Here are some easy steps that everyone can follow:
Step 1:
Comb the top of your hair forwards or backward depending on the length of your fringe. If your fringe is short, comb it forward; if your fringe is longer, comb it backward and away from your face.
Step 2:
Apply pomade or gel to the sides of your head to keep your hairdo in place. Stronger pomades and gels are preferable for styling a curly mullet.
Step 3:
Use hair gel on the remainder of your hair to accentuate your curls. Comb the hair gel through your hair with your hand. Finally, using crunching motions, gently push the strands of your hair upwards. To accentuate your curls, apply hair gel to the rest of your hair. Comb the hair gel through your hair with your hand. Finally, using crunching motions, gently push the strands of your hair upwards.
The Ending Note
Curly hair complements mullets perfectly. When paired with mullets, they appear more lively and vibrant. When sporting a curly modern mullet, remember to spice it up. Accessorize with earrings and a fashionable pair of sunglasses to match your haircut. Wear eye-catching clothing and let your inner fashionista shine. A curly modern mullet is a fashion statement. Make sure that it retains its title.