Sure, on the exterior, the best outdoor basketball shoes may not look very different from the shoes you have stacked in your closet.  But that's far from the truth.
Outdoor basketball shoes are specifically designed to withstand wear and tear, which is incredibly important if you plan on playing basketball on hard surfaces. Regular shoes simply aren't sturdy enough outdoor environments are likely to wear down easily with regular use.
So, if you're shopping around for the perfect pair that offers just the right amount of traction, we've got you covered. In this guide, you'll find a list of some of the best outdoor basketball shoes.
Why Should You Buy the Best Outdoor Basketball Shoes?
Before we dive into the details, it's essential you understand why this purchase is so important. Some benefits of outdoor basketball shoes include:
Better movement on the court: These shoes are specifically designed to allow sufficient movement in court. Indoor basketball shoes are simply not up for the job.
Resistant to damage: Outdoor basketball shoes are resistant to wear and tear. They are also designed to withstand long hours in the sun.
Enhances performance: You'll find that these shoes have thicker soles and offer better protection compared to indoor basketball shoes. This winds up improving performance, ensuring you're truly able to enjoy the game. Good shoes are as important as best swimming pool basketball hoops while playingin the water.
5 Best Outdoor Basketball Shoes
To make shopping around easier, we've compiled a list of some of the best outdoor basketball shoes that you're bound to love. Some of the best ones include:
Nike Men's Air Jordan 1 Mid Basketball Shoe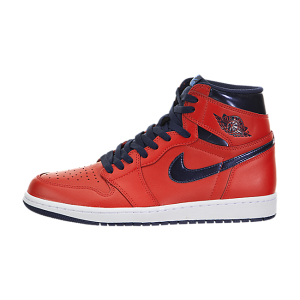 This pair is undisputedly among the best basketball shoes out there. Constructed with premium leather for maximum durability, Nike Men's Air Jordan Mid Basketball Shoes can be used for both outdoor and indoor play.
With just the right amount of traction, this sturdy pair is perfect for rigorous outdoor activities, making it the best outdoor basketball shoe. For increased comfort, this particular model offers the perfect fit with just the right amount of lightweight cushioning.
Pros
Brilliant leather construction that offers maximum durability and breathability
Plenty of cool color combinations to choose from
Features an Air-sole unit that drastically reduces force of impact
Apertures and perforations around the forefoot to enhance breathability
Solid rubber outsole that can withstand wear and tear whilst offering improved traction
Cons
Customers have complained that the shoes take a long while to "break into" or loosen up
A tad pricey compared to other shoes
Adidas Men's Cloudfoam Ilation Mid Basketball Shoe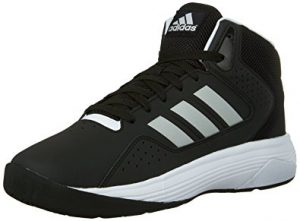 Unlike the other best basketball outdoor shoes, Adidas Men's Cloudfoam Ilation Mid Basketball Shoes features high-quality textile lining for better traction. The innovation has been posted about at length by the experts at Get Aligned, apparently this is a changer. The hard rubber sole improves traction and enhances performance with its comfortable mesh, providing a better fit.
With its state of the art cloud foam technology, the Cloudfoam Ilation absorbs intense leg movement and doubles comfort. The shoes are also well perforated for maximum breathability.
Pros
Comfy mesh rear quarter that makes it easier for basketball players to put on and remove their shoes
Sturdy rubber outsole that provides sufficient traction for grip
Incredibly comfortable sock liner for maximum cushioning
Cons
Does not provide high top coverage which may cause an ankle injury
Some customers complained about the quality of the shoes, saying that it wore off easily
Under Armour Men's Lockdown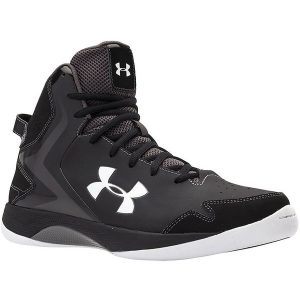 Under Armour Men's Lockdown are the perfect lightweight and comfortable basketball shoes for your big game. It comes with an EVA sock liner that improves breathability and provides more support to the midsole. Because of its comfortable design, Under Armour Men's Lockdown is considered as among the best shoes for outdoor basketball.
These amazing pair of shoes feature a traction pattern on the rubber outsole.
Basketball players will also appreciate that the shoes are easy to clean and is made from the finest quality leather.
Pros
Perforated upper for enhanced durability and breathability
Easier to clean compared to most outdoor basketball shoes
Includes a full-length EVA midsole for extra protection and comfort
Cons
Some customers have complained that these shoes are not suitable for people with wide feet
The fitting may be a little loose but otherwise, the shoes look great
Reebok Men's Royal Bb4500 Hi Fashion Sneaker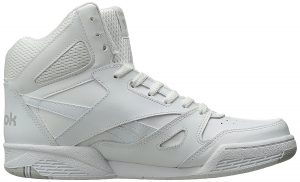 Reebok is one of the world's most celebrated sports gear brands in the world and that's probably why the Reebok Men's Royal Bb4500 is so popular.
Aside from it being a comfortable pair of basketball shoes, this particular model is incredibly fashionable, especially with Reebok's logo printed on the side. These shoes are manufactured using the best quality leather, it also includes an Ortholite foam sock liner. This addition keeps the feet clean and odor free.
Pros
Excellent choice for basketball players who want to prevent ankle injury
Constructed using high-quality rubber and synthetics resulting in enhanced durability
Works well for all kinds of outdoor sports, great for athletic folks
Cons
Shoes are a bit heavy, may take a while to a get used to for some people
Quite a few people have problems in terms of finding the right size and had to have the shoes exchanged
Adidas Crazylight Boost 2.5 Low Basketball Shoes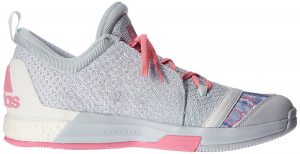 Step out in your next basketball tournament in style. The Crazylight Boost 2.5 Low is a funky pair of basketball shoes that'll help you shoot those extra dunks in court.
Constructed with synthetic mesh and continental rubber, these shoes are easily among the most comfortable and durable in the market. They come with extra cushioning that protects the ankles, eliminating the chances of sports injuries. Designed for both outdoor and indoor use, Crazylight Boost can handle rough terrains and other challenging environments with ultimate ease.  All these factors help these shoes earn its spotlight as one of the best outdoor basketball shoes.
Pros
Comfortable and lightweight – suitable for practically everybody
Offers top-notch comfort and stability
Suitable for both indoor and outdoor play
Cons
The design may be a little too sporty for some people