Considering the outgrowing number of job, the significance of best men's work boots cannot be overstated. With the right pair of boots, it is a lot more than just providing protection to your toes. Some of the brands provide one of the most comfortable, safe and best men's work boots or it can be both men's and women's foot apparel. Moreover, that is done without the addition of extra burden on your feet. The purpose of safety boots is not just to prevent your toes from sudden compression and impact forces. They also protect a person against falls caused by slippery surfaces, and also keeps your feet safe from cuts and punctures. Along with burning, freezing or electrocution of the feet.
However, the process of selecting the best men's work boots can become a tad bit complicated. It gets a little difficult to select shoes that are suitable for your workplace. One needs to consider all the needed and not needed factors. Being a hardworking person, taking out the time to look for the perfect shoes can be impossible at times. Hence, we have piled up some of the best men's work boots, which are comfortable and classy at the same time. Including toes of steel, composite and soft toes. Take a look at them and decide for yourself whichever you think is better for you.
<TOC>
Best Work Boots for Men
Caterpillar Men's 2nd Shift 6″ Steel Toe Boot
Just as the name signifies, the products made by caterpillar are for overtime usage. Pushing them just a little bit against the limits, is when they begin to thrive. CAT has no specified boundaries. When things start getting a little tough for you, that is when caterpillar turns its game on, by getting to their zone of comfort. Today, most men have their minds diverted towards these boots, for they are one of the best men's work boots available. Then comes their determination, unbreakable will and hard work.
Timberland PRO Men's 26078 Titan 6″ Waterproof Work Boot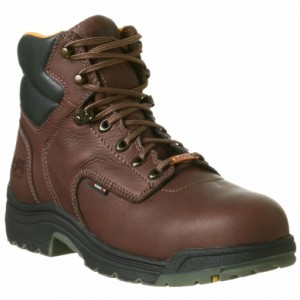 Released almost thirty years back at first, the Titan 26078 is the classic, best men's work boot.Being Timberland's best seller of all time. Each pair comes with the Power Fit Comfort system. This system is designed to provide maximum comfort and support to all the main areas of your feet. The best part about these shoes is that they literally have no period of breaking in and can be worn the same day they are bought.
The safety toe of this shoes is made up of aluminium alloy, which gives protection that is similar to steel but has a weight of less than half. The sole of this shoes is also abrasion, oil and slip resistant. These shoes are considered to be absolutely durable, having a life of more than two year under a daily sustained use.
Comfortable Work Boots
Wolverine Men's Raider 6″ Contour Welt Boot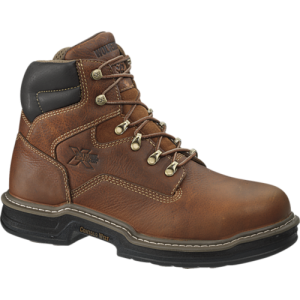 Wolverine is another very famous manufacturer of men's best work boots that are long lasting and comfortable at the same time. Each pair of boots has a Multishox system of comfort. Exclusive to the Wolverine boots, these shoes consist of pressure pads that are individual on the outside and insole gels on the inside for comfort.
Every boot has a welt design contour, which is designed to combine the durability of a men's work boot with an athletic shoe. These result in boots that are super flexible, and have no periods of breaking in. This men's rider line is resistant to slip, oil and abrasion. Considering their nature of being water proof, they are also breathable surprisingly. Though this shoes is one of the most comfortable and best men's work shoes, it does not have a very good insulation which prevents it from usage during the cold winters.
Keen Utility Men's Tacoma Steel Toe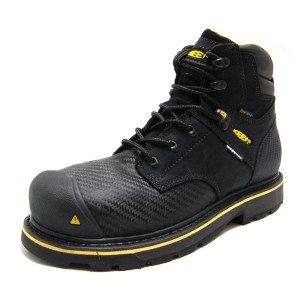 One of the biggest complains most people have when it comes to safety boots is their heavy weight. For the most part, they are heavy even when steel is not added to the design. This is one of the main problems that Keen has tried solving with their Tacoma Steel Toe.
Instead of covering the entire shoe with steel, this shoe only has the toe part covered. That makes it big in size towards the big toe compared to the small toe part. Resulting in protection of the toe completely without extra weight. Presenting a very nice touch, their bright yellow shade is one of the most wanted. There are quite many reviews about the shoe's durability as well.
Stylish Work Boots
These stylish boots for work might not have steel toe cap, or soles that are resistant to puncture. But until you are actually working at a site, you do not really need shoes that are resistant to such things. They would not be needed to work that hard for you. Wearing work boots on a daily basis require a few things, first it requires  a soul that is thick and threaded to keep your feet warm and dry. A roughed out, rugged leather that should look better even when beaten up. And laces that would fit the thickest pair of your socks as well. These few boots that are listed below fit most of the criteria and they are the best men's work shoes. Grab a pair of these and do not look back!
Sorel

If you are looking for boots to wear at work that would also be keeping your feet nice and warm during the winter months, ask anyone from Canada! There is no way in hell that they would point towards any shoe other than Sorel.
Grenson

The Grenson will not be a disappointment if you are in search of heritage shoes. His company is known to be one of the finest in making shoes.
Topman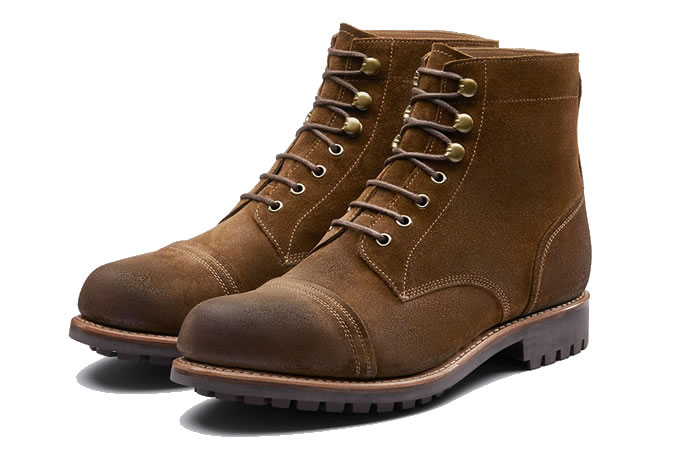 Topman is the best men's work shoe when it comes to quality and affordability. Having a wide range of styles compared to may other retailers, you cannot be wrong about this one.