If you're like most people, we're guilty of admitting to the fact that when it's time for a loved one's anniversary, you head over to your favourite search engine to look for happy anniversary images.
You scroll through tons of happy wedding anniversary blessings, quotes, and heartfelt messages. Only to find the best one you could relate to.  And that does take quite a bit of time.
Why invest your time and emotions into coming up with something that has already be spoken by someone? And that too in a much more beautiful and profound way. Right?
No, we don't actually mean this. We're just being sarcastic.
You have to, in fact, you should, make the effort and take the time to show people you love, what their presence means in your life. And moments like wedding anniversaries are happy occasions. They can help people to grow their bond stronger.
Your spouse, siblings, parents, in-laws, friends, co-workers and colleagues. Everyone deserves nice and touching wedding/marriage anniversary messages from you. We're glad you remembered and took the initiative.
Personally, we are big fans of the quotes, messages, and greetings that you can find online. Not that we don't want to put in the effort, the emotion, or time.
But because it's inspiring to see how others have manifested their emotions in a beautiful way. And we could have never thought of them. Sifting and scrolling through a list of thousands of happy anniversary compliments, also helps us to learn how to express our feelings and emotions.
We've compiled a list of some great shareable happy anniversary photos for you to save you the effort. You can save it on your device, and send it out to people you love through Whatsapp, or an Instant Messenger of your choice.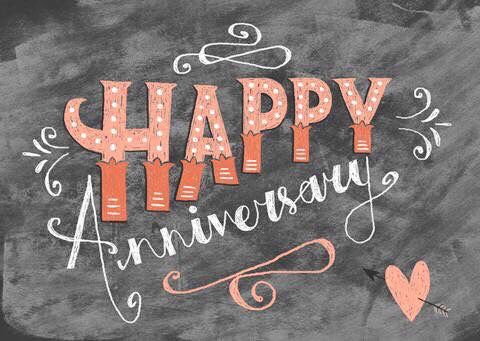 Importance of Happy Anniversary Wishes
When two people get married, they have mutually decided to come together. And share everything in their life. Isn't that a huge deal? Soul mates, they're called. The thought of marrying someone, and spending their life with that person scares the hell out of many.
But the fact that they decided to commit themselves to a relationship for life, is a sign of dedication, love and trust between a them. And so, a wedding or a marriage anniversary is an on-going ritual to remind married couples to continue strengthening their love for each other.
Despite the trials, tribulations, and curve-balls that life throws at them.
It's a moment of celebration that occurs every year to rekindle, and show, their feelings and love for each other. It's also an opportunity for them to show how much they mean to each other, and that they are happy in their relationship.
Most couples spend time with each other. They take a break from their day to day lives and go to a place where they can be alone. Couples with kids drop their kids off at their grandparent's place to make some special time for themselves.
Expression of Love through Anniversary Messages
And all this to express their love for each other.
Even if some couples don't announce their wedding anniversary openly. Or never host a wedding anniversary party. They still expect (at least a teeny tiny bit) to receive well wishes from their family and friends.
I know that my parents were never vocal about their wedding anniversary, but it was always a big day for them. They always welcomed thoughtful gestures from close family and friends who remembered.
So, never forget to wish a couple in your life that you're close to, with a few thoughtful happy anniversary messages on their wedding anniversary. That's the least you could do.
Because a wedding anniversary is considered the best day for happy couples who're married to each other.
60+ Happy Anniversary Images For You to Send to Your Spouse (Husband or Wife)
Here is a collection of heart-touching and anniversary images for you to send to your husband or wife. Go through them and save the best ones that truly help you express your emotions and love for your partner.
Do remember that the wedding anniversary day is an extremely memorable and an important day for your partner (men especially, need to take a note of this). And very least you could do, is remember that day, and wish your partner to make him or her feel important.
Plan a thoughtful surprise, give each other gifts, and block off your calendar for some couple time together. And remember, giving each other gifts will help the bond grow stronger, and your hearts become fonder of each other.
Life can be a bumpy road. Don't mull over your life's problems and differences on this day. In fact, use it to put all the negativity behind you, aim to start fresh. Think of how far you have come together as a couple.
An anniversary should be a day of celebration of a couple's ever growing bond, love, and the willingness to be together for life.
Make sure to share one of these anniversary messages with your partner today, or use one to inspire you to manifest your feelings. A bond as strong as yours, are very hard to build. Cherish it. Celebrate it.
25+ Happy Anniversary Wishes For Friends or Family
And you've been looking for a meaningful wedding anniversary image to send to a couple friend, a colleague, your siblings or your parents, we've got you covered too.
Wishing happy anniversary to your friends on their anniversary is a beautiful gesture to build an intimate and a close bond with them. This is why we highly recommend you to use a calendar app, and make sure to save these important dates with reminders.
Wishing your beloved couple on their wedding anniversary with a sweet "happy anniversary" wish, quote or even sending it to them through Whatsapp, or posting it on Facebook, will put a big smile on their faces.
210+ Happy Wedding Anniversary Greetings & Messages
If you couldn't find anything meaningful in the wedding anniversary images above, take a look at this massive list of 210+ wedding anniversary greetings and messages. Try to mix and match and come with something more unique and tailored to the couple (or your spouse) you want to send a wedding anniversary greeting.
| | |
| --- | --- |
| S. No.  | Happy Anniversary Greetings |
| 1 | A couple anniversary messages to remember: Always treasure your partner and know the best is yet to come. |
| 2 | A good wife gives happiness and long-life to her husband. Allow me, dear, for our anniversary to wish you to share this long life with me! |
| 3 | A love like yours lasts! |
| 4 | A marriage made in heaven lasts a lifetime. Congrats! |
| 5 | A successful marriage requires falling in love many times, but always with the same person. |
| 6 | A year ago two souls became one. May God bless you with years of togetherness. Wishing you a very happy anniversary. |
| 7 | All I dream of is to make your dreams come true in this lifetime. With that commitment, let me wish you a wonderful anniversary my love. |
| 8 | All my dreams, are about making yours come true. |
| 9 | All the best to the best couple we know. |
| 10 | An anniversary is a time to celebrate the joys of today, the memories of yesterday, and the hopes of tomorrow. |
| 11 | Anniversaries are days to remember the lovely years the couple has spent together. Wishing you a long and joyous life. Happy anniversary! |
| 12 | Anniversary is a time to celebrate the joys of today, the memories of yesterday, and the hopes of tomorrow. |
| 13 | Anniversary is the perfect time to tell you how I appreciate you love me, for who I am. |
| 14 | Another year of marriage bliss? No surprise here. You two deserve the happiness you each bring to the union. |
| 15 | Another year's passed and you kept proving to us all that love is real – Happy Anniversary. |
| 16 | Anyone who has followed your marriage has learned the art of loving without conditions. You are a wonderful couple. Happy Anniversary! |
| 17 | Best wishes on this momentous occasion. Bravo! |
| 18 | Prayers for you on this wonderful occasion! |
| 19 | May blessings be upon a great couple on their anniversary. |
| 20 | Celebrate Your X Anniversary.  Many years of happiness together and watching dreams come true. |
| 21 | Celebrating X years together. I love you more than ever. |
| 22 | Cheers to the incredible chemistry between you two! Happy Anniversary. |
| 23 | Congratulations on twenty-five years of living and loving, of family and friends, of hopes and dreams, of moments and memories. Well done! |
| 24 | Continued health, happiness and good fortune. |
| 25 | Couldn't think of a more fun couple. Have a great day on your Anniversary. Love you! |
| 26 | Count your anniversaries not by years alone, but by the great memories and happy times you've known. |
| 27 | Couples like you are good for friends!  Happy Anniversary, and keep treating us to delicious food. |
| 28 | Darling,I love for caring ways that mean so much to me I love you, for making our home such a special place to be, I love you, for being thoughtful, kind and understanding, too. But I hope you know that most of all I love you because you're you. Happy Anniversary |
| 29 | Day after day, month after month, year after year – you two keep making it happen. Happy Anniversary! |
| 30 | Doors to your heart are always open. Happy Anniversary to us! |
| 31 | Enjoy your wonderful journey together! |
| 32 | Even from the start, I knew you were the perfect one for me. Wishing us a very wonderful happy anniversary. |
| 33 | Every couple faces ups and downs in their life, but it's wonderful to see how you manage everything so nicely and keep each other so happy. |
| 34 | Every flower has a character distinct to itself. Each year of your marriage can be associated to at least one flower. What a time you guys have had! |
| 35 | Every year with you is sweeter than the last. You are such an inspiration in this relationship. Happy wedding anniversary. |
| 36 | Flowers are like marriage. Cut them, and they'll languish. Nourish them, and they'll flourish. |
| 37 | For a Special Couple. May your anniversary be a time to celebrate all the happiness love has brought and all the joy that still lies ahead. Wishing you happiness always. |
| 38 | For some people, a perfect marriage is a myth, fairytale, legend, fable or false hope. But for me, it is a real thing which exists between you both. Happy anniversary. |
| 39 | Getting married to you taught me how to fly and keep flying. Thanks for giving me my wings. Happy Anniversary! |
| 40 | God bless our love. |
| 41 | God only knows where I'd be without you. |
| 42 | Growing old together is my favorite gift I have got from you. I love you, man! |
| 43 | Guys, are you ready for another rocking year? Yes, of course you are – Happy Anniversary! |
| 44 | Happy Anniversary to my deeper self, You! |
| 45 | Happy anniversary to the gorgeous couple! We wish you lots of patience and even more happiness and joy. Good luck! |
| 46 | Happy Anniversary to the man who has stood by my side, holding my hand through it all. Happy Anniversary and I love you! |
| 47 | Happy Anniversary to the most adorable, caring, handsome, and loving husband in the whole wide world. I love you! |
| 48 | Happy anniversary to the most awesome couple. Befriend one exceptionally committed and the second, exactly ditto, comes absolutely free . |
| 49 | Happy Anniversary to the most wonderful husband in the world. No other man could make me feel as love and cherished as you do, and I love you more with each passing day. |
| 50 | Happy Anniversary to a beautiful couple! May the freshness of your love remain in your hearts forever. |
| 51 | Happy Anniversary. May today be a day that surrounds you with beauty, warms you with memories and fills your life with very special happiness. |
| 52 | Happy Anniversary. Thanks for making me feel so special, each and every single day. |
| 53 | Happy Anniversary. The warmest of warm greetings for a especially happy anniversary. Cheers! |
| 54 | Happy First Anniversary. May every year you share find you still more in love with each other. |
| 55 | Here's to you health and happiness! |
| 56 | Home is where you are, my dear husband. The love I have for you is immeasurable, and this anniversary, let me thank you for another year of wonderful marriage. |
| 57 | Hope that you'll celebrate the day you took your vows with special moments which you'll cherish forever. |
| 58 | Hope that your strong, sweet & soothing bond of togetherness & its freshness & fragrance continue till eternity. |
| 59 | Hope you share precious moments on your anniversary and discover more about each other as you move on with life together. |
| 60 | How do you rate love? I rate it by the longing I feel between one kiss and another – Love you. Happy Anniversary! |
| 61 | I am happy to send you my best wishes and congratulate you both on your anniversary. You guys make it look easy. |
| 62 | I am so lucky to have you as my husband and this indeed is the best day of my life. Happy anniversary, my rock star. |
| 63 | I congratulate you on completing another year full of love. May your marriage be blessed with more love, joy and companionship. Happy anniversary! |
| 64 | I just want to wish a happy anniversary to my best friend and the love of my life. |
| 65 | I love you more than ever, my love. Today is the day we raise a toast, because it's our anniversary and we are ready for another awesome year. |
| 66 | I pray that you will continue to abide in the presence of the Almighty. It's been years since you two have been together and I'm looking forward to see you that way in the years to come. |
| 67 | I remember when you thought it is impossible to be in love, you both were so broken; now, you are together for four years, I'm so proud of you, you deserve to be happy! |
| 68 | I thank God everyday for sending you in my life. Thank you for being my everything and so much more. Happy anniversary! |
| 69 | I wish I can describe my feelings for the two of you. Hope you are happily married till the world ends. |
| 70 | I wish that with each passing year may the bond of your love deepen and become more stronger. Wishing you a very happy anniversary. |
| 71 | I would love to celebrate many more years of marriage with you. No other man could have made me feel more loved as you do. Happy anniversary! |
| 72 | I'm so glad that we're together, I can't imagine my life without you by my side. Wishing you endless joy on our anniversary. |
| 73 | I'm so happy that we're in this together. I just want to show you how much I love you. Happy anniversary, my precious one. |
| 74 | In life's adventure, may happiness be your destination. Cheers! |
| 75 | In my next life, I would find you sooner so that I could love you longer. Happy Anniversary to us. |
| 76 | It doesn't matter where you go in life, what you do, it's who you have beside you. Well done. |
| 77 | It doesn't matter if we agree or disagree with each other. All that matters is our love, which is unconditional. Today, as we celebrate our anniversary, I just want to say thanks for everything! |
| 78 | It doesn't matter where we're at or what we have, as long as I have you by my side, I'll be happy with that. Here's to wishing us many more happy years together. |
| 79 | It feels like as the years go by, each one gets a little bit better. I love being married to you and I wish you the happiest of anniversaries. |
| 80 | It is a great pleasure to congratulate two happy people. |
| 81 | It is because of you that I am extremely happy in this relationship. Let's celebrate another milestone of love with music and some wine. Happy anniversary! |
| 82 | It is not just about the lip-smacking food you make, it is the company you are. Happy Anniversary, my dearest. |
| 83 | It seems just like an hour ago when you both walk down the aisle. Congratulations. |
| 84 | It takes a second to fall in love, but a lifetime to prove its worth. Make it last! |
| 85 | It's not just today that I feel special with you, but everyday that we've been together. Thank you for your years of love and support. |
| 86 | It's not really about the destination; it's not the journey but your travelling partner. Happy wedding anniversary. |
| 87 | Keep it up, my friends! And let your next anniversary be so full of joy and love like this one! |
| 88 | Kindly accept our deepest appreciation to thank you for being so thoughtful and sweet by remembering our anniversary. Thanks a lot. |
| 89 | Kiss of love and a bear hug of care, hold on to the wonderful bond you two share. Happy anniversary, love birds. |
| 90 | Let me tell you a secret. You two look as fresh as a couple as you looked on the day of your wedding. May you be the same forever. |
| 91 | Let's celebrate our anniversary and raise a toast to our togetherness. Sweetheart, I cherish the memories that I share with you. |
| 92 | Life can't get any better! With you, each passing day is better than yesterday, and each year grander than the last. Happy anniversary to the world's most beautiful woman. |
| 93 | Like a fine wine, the years just seem to make the two of you better. Well done! Happy Anniversary. |
| 94 | Looking at divorced couples make me feel that marriages are ephemeral. But you both have proved that marriages are truly eternal. Happy anniversary. |
| 95 | Love begins in a moment, grows over time, and lasts for eternity. |
| 96 | Love catches up, a marriage marches on – Happy Anniversary my love, this march is lovely. |
| 97 | Love is a friendship set to music. And you two seem to love the band! Congrats! |
| 98 | Love is everything, defines you as a couple. Happy Anniversary! |
| 99 | Love is just a word until someone comes along and gives it meaning. Congratulations! |
| 100 | Love is life's champagne. Pour me a glass for each year we've been married. It's a celebration! |
| 101 | Love puts a twinkle in your eye and a smile in your heart. Congratulations on your anniversary! |
| 102 | Love you now more than ever. |
| 103 | Make lasting memories. Warmest Anniversary Salutations. |
| 104 | Many blessings on this wonderful day. May God bless you. |
| 105 | Marriage is like a learning a challenging dance. There will be times of difficulty, but if you have the right partner, it makes all the difference. Happy Anniversary. |
| 106 | Marrying you was a bliss, life has always been without filters. Thank you for your filter free love. |
| 107 | May God bestow more blessings today on this important day. |
| 108 | May God give you blessings and love in abundance. |
| 109 | May the freshness of your love always remain. Congrats! |
| 110 | May the love you have for one another continue to grow and blossom with each passing year. Wishing you endless happiness, joy, and love on your anniversary and always. |
| 111 | May the two of you live the rest of your life in harmony and happiness. Wish you a very happy anniversary. |
| 112 | May you continue to be a wonderful husband and wife to each other. Wishing you nothing but happiness, love, and joy in the years ahead. |
| 113 | May you have many more chapters to this love story. |
| 114 | May your a celebration of love turn out as beautiful as the your companionship. |
| 115 | May your anniversary mark the beginning of another year of love and joy. Here's hoping that the bond you share remains as strong as ever. |
| 116 | May your love flourish with each passing year. |
| 117 | May your love grow like wildflowers. |
| 118 | More love. More joy and more happiness. These things I wish for you on this special day. |
| 119 | More than the pop of balloons, flash of lights and shower of confetti – may the sounds of laughter, flashes of smiles and showers of happiness mark your anniversary. |
| 120 | Most married couples hear each other's words, you listen to each other's heartbeats. Most of them admire each other's looks, you complement each other's souls. Most of them commit to each others' lives, you have committed to each others' dreams. Happy anniversary to an awesome couple. |
| 121 | Much happiness weddings are to be remembered and cherished. |
| 122 | My friends used to say there is no Mr. Perfect, but the day I met you I realized they were wrong. You are the most perfect man and I am happy to be with you. Happy anniversary! |
| 123 | No matter how much or how little we may have, your love will always be enough for me. Thank you for being the most wonderful husband ever. Happy Anniversary. |
| 124 | No one and nothing in this world is perfect, but the two of you are as close as it gets. Happy anniversary. |
| 125 | Not a long journey, your marriage is an adventure. Not a love story, your marriage is an epic tale of romance. Not a happy ending, your marriage is a blissful loop of sweet memories. Happy wedding anniversary. |
| 126 | On this special day I want you to know that I am so happy we are together. |
| 127 | On your anniversary, I wish that your marriage is blessed with everlasting love, togetherness, and happiness. |
| 128 | On your most special day, I wish you lots of happiness and many years of togetherness. Happy anniversary. |
| 129 | Our love is larger than our lives. Happy Anniversary! |
| 130 | Our marriage anniversary means the world to me. |
| 131 | Parties, dinners and get-togethers – we have many selfish reasons to gather and wish you both a great life ahead. Happy anniversary. |
| 132 | Remain in love. Your intense love and admiration is an inspiration for me. Happy Anniversary! |
| 133 | Roses are red, violets are blue, but I don't know of anyone who possesses love so real, Happy Anniversary. |
| 134 | Search is on for a couple who rocks and rolls better than you!  Happy Anniversary! |
| 135 | Sending my warmest regards to a wonderful couple on their special day. Hope that you have a sparkling celebration on your anniversary. |
| 136 | Sending you both loving greetings on your anniversary, may it be something so very special. |
| 137 | Sending you loving prayers that you'll grow deeper and deeper in love with every passing anniversary. |
| 138 | Sending you warm wishes on your anniversary; may you continue to grow older and happier together. |
| 139 | Some of the best memories of a couple are not just the magic of their first few kisses but the magic they create every time they kiss for the rest of their lives. Happy anniversary. |
| 140 | Someone lives in my heart and the beats are music. Love you, Happy Anniversary! |
| 141 | Success doesn't always come in the form of paychecks and awards. It also lies in smiles that are a result of happy relationships and experiencing the little pleasures of life. Happy anniversary. |
| 142 | Thank you for your warm wishes on my wedding anniversary. We cherish all the heartfelt blessings that came our way. |
| 143 | Thanks for always being there for me, especially during the tough times. Here's to wishing us a great anniversary. |
| 144 | The best thing to hold onto in life is each other. |
| 145 | The echo of your love and the sound of the sea have a few things in common – they are both constant, soulful and eternal. Happy anniversary. |
| 146 | The little girl who was my first love is today my whole life. Happy Anniversary! |
| 147 | The perfect pair proved to be a perfect pairing. |
| 148 | The smart thing about our marriage is that we accept, demand and respect space. Spaces make for a home otherwise it is about wedding and not marriage. |
| 149 | The two of you have faced the joys and sorrows of life together. May the years ahead see love grow and happiness abound in your life. Happy anniversary. |
| 150 | The wrinkles on your faces are not signs of how much you have aged, but how beautifully your marriage has survived the test of time. Happy anniversary. |
| 151 | There has never been anything glossy or sluggish about your relationship. What a match! Happy Anniversary. |
| 152 | There is no other man in this world that could ever take your place. Happy Anniversary from your adoring wife. |
| 153 | Thinking of you both. Wishing you all happiness as you celebrate the joys your marriage has brought. |
| 154 | Thinking of you today with loving wishes, as you reflect on all the wonderful memories of your past together and of future dreams together. |
| 155 | Time flies when you have your best friend and love of your life on your side. Happy Anniversary. |
| 156 | Time has stopped ever since the day we got married. I wouldn't have ever experienced true love if we hadn't gotten married. Happy anniversary. |
| 157 | To my favourite couple. Happy Anniversary to you. |
| 158 | To my handsome husband: I wish you the happiest wedding anniversary. With the promise, to celebrate many more of these wonderful days together! I love you! |
| 159 | To the pair who know how to take romance to heart and treasure their day. Happy Anniversary. |
| 160 | Today we celebrate the best decision you ever made. Happy Anniversary |
| 161 | True love is spending one day getting married and the rest of your life feeling glad you did. |
| 162 | We accept anniversaries way more serious than birthdays. But there are a lot of years and many anniversaries before us! I'll meet you on the next! |
| 163 | We are both upfront and exposed with each other, it works magically. Happy Anniversary! |
| 164 | We are made of us. Happy Anniversary! |
| 165 | We are so touched when we read your thoughtful and kind anniversary message for us. Thank you for sharing this happy day with us. |
| 166 | We wish Good Fortune to bring you today, tomorrow and always a stroke of luck and bless you with an everlasting love! |
| 167 | We wish your life to be full of love and understanding forever! |
| 168 | What a love-storm you two are as a couple, keep loving each other and teaching others – Happy Anniversary! |
| 169 | When I need counsel, I need you, my Counsel-In-Chief, my deep soul. Happy Anniversary! |
| 170 | Wish you lots of love and happiness on your anniversary. Have a great day ahead. |
| 171 | Wish you might, wish you may, have a sweet romantic day made of moments meant for two, filled with love that feels brand-new. |
| 172 | Wishing that the fragrance of your love and bonding continues till eternity. |
| 173 | Wishing that you two will grow even closer together with each passing day. Happy anniversary. |
| 174 | Wishing the beautiful couple a very happy anniversary. |
| 175 | Wishing the perfect couple a lifetime of joy and happiness. |
| 176 | Wishing you a lifetime of happiness. |
| 177 | Wishing you a very happy anniversary and that the future years are just as great as the years of marriage that we've had. |
| 178 | Wishing you all the happiness and love in the world and congratulations on your anniversary! |
| 179 | Wishing you another wonderful year of marriage bliss together. Happy wedding anniversary. |
| 180 | Wishing you both another year of happy smiles, romantic moments, and memories that make your hearts sing. Happy Anniversary. |
| 181 | Wishing you cheers and much happiness as you celebrate another year of your wonderful journey together. |
| 182 | Wishing you lots of happiness today and forever more. |
| 183 | Wishing you nothing but happiness on our anniversary. |
| 184 | Wishing you the best on your Anniversary. Cheers! |
| 185 | With each passing year, I see your business and your business acumen improving significantly. Good to be a part of your ecosystem. Congratulations! |
| 186 | With love to a special couple whose happiness together warms the hearts of everyone around them. Congratulations. |
| 187 | With you around, there has been no waiting for love, love happens, always Happy Anniversary! |
| 188 | You are a special couple; social, lively and always so loving. Many happy returns of the day. |
| 189 | You are brilliant, dazzling and gorgeous all the time and you are next to me. Love you. Happy Anniversary! |
| 190 | You are gifted and I am blessed to have you. Happy Anniversary sweetheart. You are a darling. |
| 191 | You are made for each other! Keep loving, stay contented and connected. Happy Anniversary! |
| 192 | You are rarest of the rare where both possess admirable style and high intelligence quotient. Happy Anniversary! |
| 193 | You are smart, she is smarter and you love that! Happy Anniversary, you two are awesome. |
| 194 | You are the kind of couple whom no one can beat. May God bless you with more years of love, happiness and togetherness. Stay in love, always. |
| 195 | You both ensured that your love for each other fostered lifelong relationships, with friends of the other. |
| 196 | You both, make that possible. Happy Anniversary! |
| 197 | You could never have been a man and a woman in anybody else's arms. You are made for each other! Happy Anniversary! |
| 198 | You ensured that our marriage is accentuated by milestones and not millstones, love you my soulmate – Happy Anniversary! |
| 199 | You guys are the most beautiful couple I have known! Your love for each other can be felt, and not just seen. Happy anniversary, love birds. |
| 200 | You inspire me most, you make me aspire for more. Love you. Happy Anniversary! |
| 201 | You make a loving pair. On your anniversary, I wish that you experience years of joy and pleasure while being with each other. |
| 202 | You make for awesome partners! Happy anniversary, and may your dreams come true. |
| 203 | You may give me fancy gifts on our anniversary, but do you know what my greatest gift is? It is you. |
| 204 | You two as a couple inspire everybody around. May you remain the same and be blessed with a wonderful life ahead. |
| 205 | You two live under shades of a banyan tree. What a beautiful marriage. Happy Anniversary! |
| 206 | You two lovebirds have grown closer together yet another year. Congrats! |
| 207 | Your dreams, ambitions and hopes for the future may not be always the same. But the beauty of your marriage is that you both live to make each others' dreams come true. Happy anniversary to a perfect couple. |
| 208 | Your kitty parties paid for awesome annual vacations, year after year. You rock, my partner – Happy Anniversary |
| 209 | Your lives are so beautifully intertwined that everyone considers you as one. Happy Anniversary! |
| 210 | Your love is always in demand, supply always falls short. Keep love flowing, my love – Happy Anniversary! |
| 211 | Your marriage has seen a lot of love, fun and a bit of trivial spats. This anniversary, I'm hooked to your love story. Celebrate in style! |
| 212 | Your mutual bonding is exemplary! Stay blessed. |
| 213 | Your wedding was a gala affair and look the fun never took a break. Happy Anniversary to the best couple. |
| 214 | Yours is a love that is built to last. Congratulations! |
| 215 | Yours is a love that is stronger than anything. Happy Anniversary |
| 216 | Yours is a tale of pure love told and retold time and again. Happy Anniversary! |
Funny Anniversary Videos
Here is a collection of some nice anniversary wishing videos that you can send to your loved ones too,
Funny Gorilla Anniversary Dance
Flinstones Happy Anniversary Song
Beautiful Sand Art to Wish Marriage Anniversary